As an interior designer, you'd think that designing outdoor spaces would be easy for me. hint hint it's not! Decorating patios, decks, outdoor living spaces..it's a whole new ballgame and it's not the simplest. One of the main reasons my deck sat vacant for 8 months after I moved it was because I had no idea what to do with it and even more than that, I couldn't afford to make it look nice. That's what I thought at least! Outdoor furniture is so expensive…am I the only one who is always stick shocked by how much an outdoor sofa is?
However this year, I decided to do what I can with what I have and stretch my dollar far to make my deck useable and cute! I learned a lot while I was piecing it together and ended up transforming my deck for under $50. Now I want to share some thrifty ways I did this with you!
Don't break the bank!
: Prioritize money
If you have a budget, no matter how small, prioritize the bulk of the cash towards furniture. Furniture is the base of the space (obviously) and even if all you can afford this season is a new set of chairs, you can still bank on that and thrift for the accessories. I use 75% of my funds for furniture and then 25% for decor.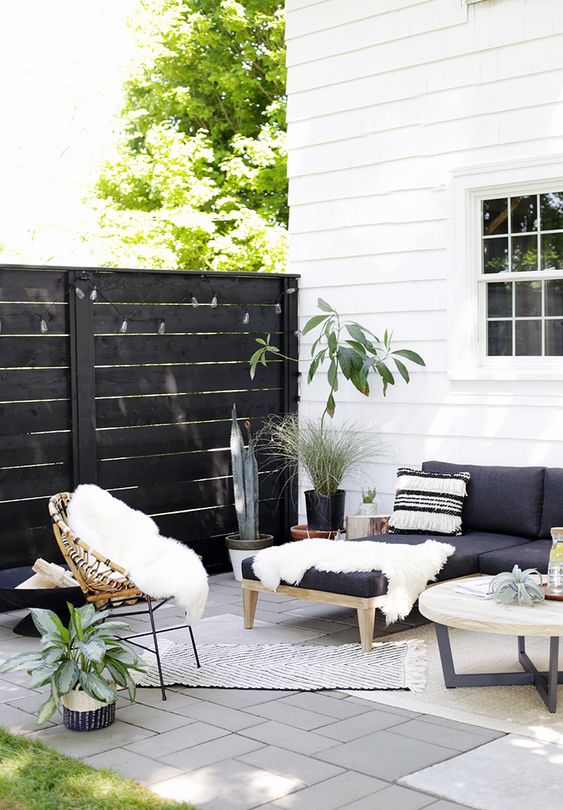 : Lighting
Maybe your house is like mine – there is one dingey outdoor light from 1985 that gives off a motel vibe. Adding lighting is essential! The cheapest way to do this is with string lights and candles. I buy candles from the Dollar Tree, add a few citrenella for the bugs and scatter then in votives and lanterns around my outdoor space. Never underestimate how beautiful candlelight can make any space!
I also love adding string lights – or market lights as they are usually called in an outdoor setting. Adding lighting above your seating can make the space feel even more like an outdoor living area and create a coziness.
(if you have no posts to hang lights from check out this great DIY to create cheap posts!)


: Plants
I'll be the first to admit that I have the farthest thing from a green thumb, but I couldn't possibly finish my deck without plants. They add a fullness and there are many low maintenance plants that make spaces look lush!
Try adding some plants around the perimeter of your outdoor living area or along pathways leading to it – it will take it to the next level.
4 plants for outdoor spaces (if you have a black thumb!)
– Little Bluestem
– Boston Ferns
– Lemon Grass
– Marigolds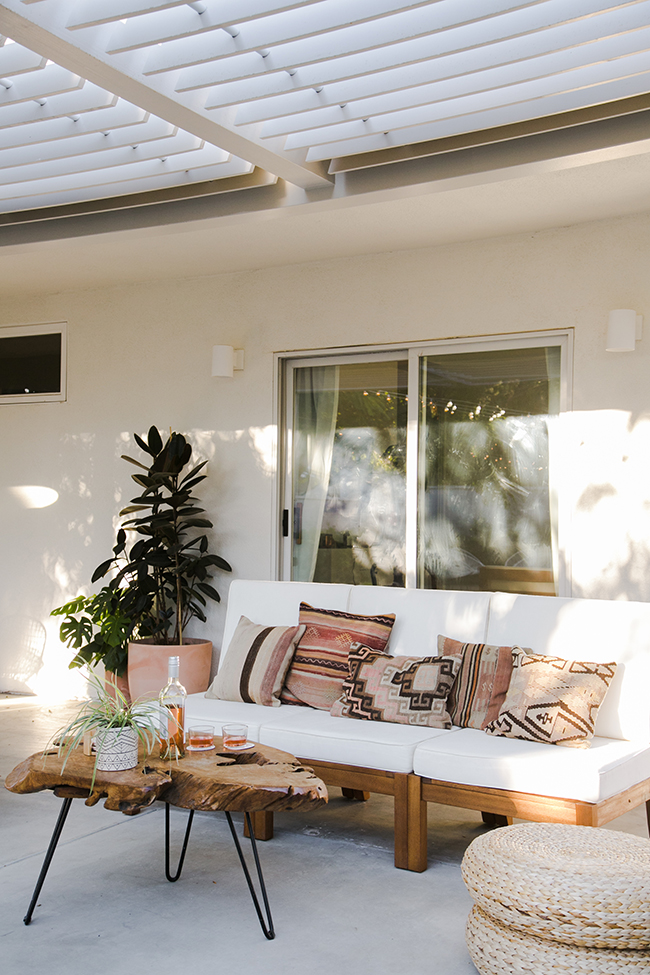 : Wait for Sales
This seems pretty obvious too – but I've bought most of my lights and outdoor accessories when there was a sale. Check during Memorial Day, and even 4th of July for really low prices on outdoor items (especially furniture). If you don't mind shopping out of season – most lawn furniture and outdoor accessories go on major discount at the end of summer. I'm talking like 75% off! Sometimes it's worth the wait – especially if you live somewhere where warm weather extends farther than the typical "summer season".

: Buy used
I buy as much as I can used for many reasons (costs, eco-friendly, ease) but buying outdoor items used is often passed up on for some reason. Many times you'll see outdoor furniture for sale that looks a little worn…as in the owner left it outside for years and now wants to get rid of it. If it's sometime you can repair, repaint, clean or repurpose, it's always a good idea to snag up a deal like this! A can of Rustoleum spray paint, a bottle of bleach and some new accessories can go a long way in fixing up outdoor furniture (and for 1/10 of the close)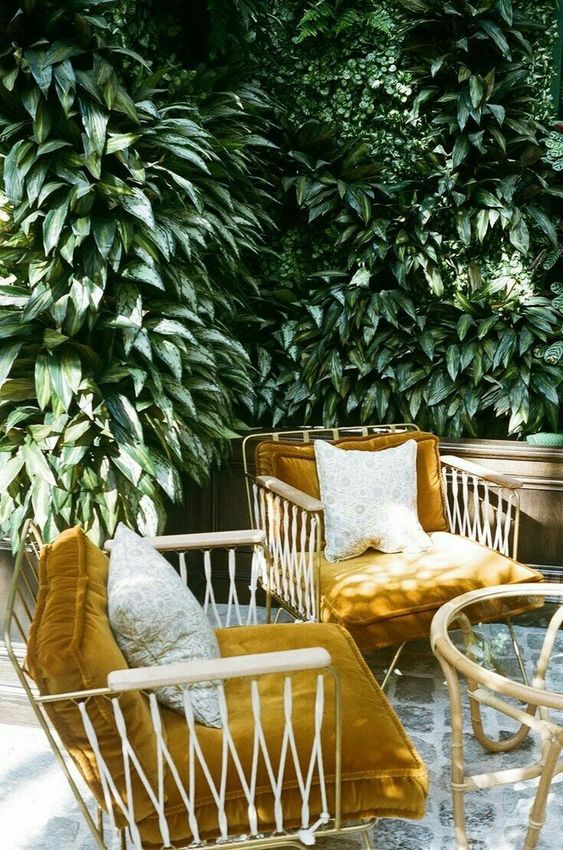 : Items don't have to be "outdoor" to be used outdoors
Sure, you don't want to put your faux sheepskin rug outside all the time, but thinking outside of the box with what you use really saves. When things are labeled as "outdoor items" they are automatically marked up. Things like stools, side tables and coffee tables don't need to be outdoor only. If they of durable material (and you can weather proof just about anything) then they will be okay! This goes for pillows as well – I bring my pillows inside when I'm not using them so they don't need to be outdoor fabric (more $$)