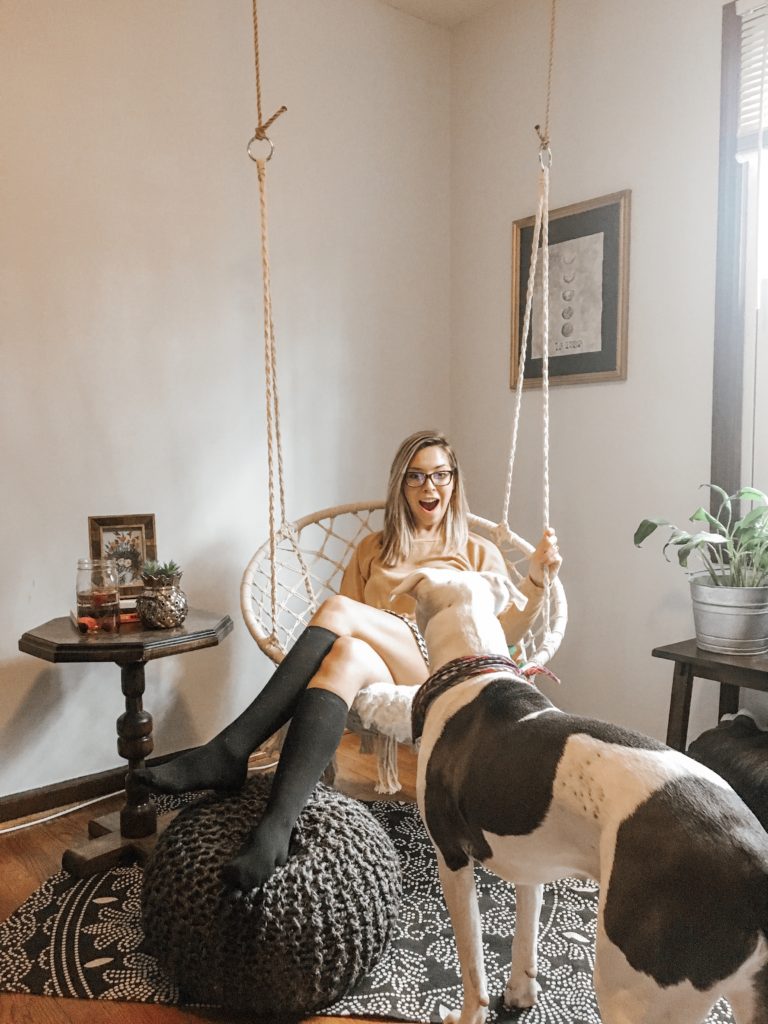 When I got my macrame hanging chair, I was so excited! But I immediately knew I didn't want a big clunky chain seen above the chair so I knew I had to figure out how to hang my chair with rope. It was simpler and cheaper than I thought and I wanted to share my easy tutorial with you!
Supplies needed:
Two heavy duty eye hooks (or one depending on your chair)
Two heavy duty spring hooks
heavy rated rope (probably at least 20′)
drill
stud finder
dry wall saw
electric drill
A few simple steps…
We used the stud finder to find the ceiling joists – when we found two of the near each other (one for each hook) we marked them. Using the stud finder again – find the edges of each joists (you want to hang the hook as centered on the wood joist as possible for safety)
Next we cut small holes in the drywall until we saw the joist. We drilled into it just enough for the eye hook to catch. We manually screwed the eye hooks in.

You could tie the rope directly on the eye hook – however I realized I may want to move this chair for cleaning or painting the walls, so I put mine on clips. We tied the rope directly on the clip using a noose knot. This knot gets tighter when pressure is applied so it is perfect for a swing or chair.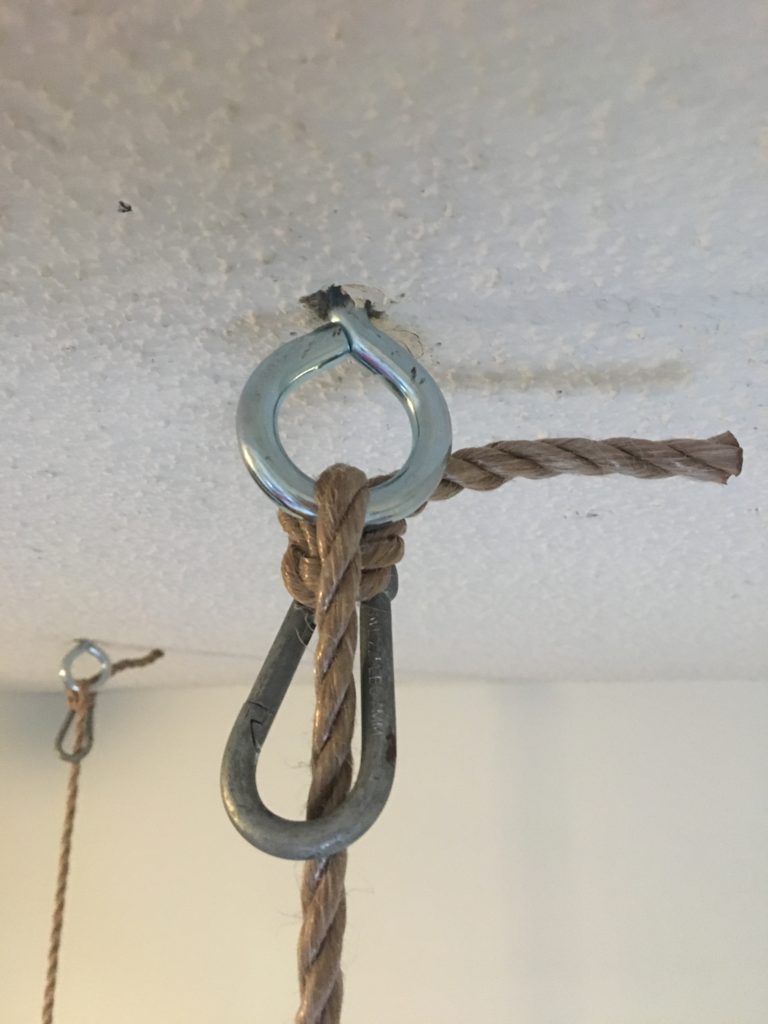 We then tied the other end of the rope on the chair's metal ring using the same knots. Make sure both sides are even or the chair will be lopsided.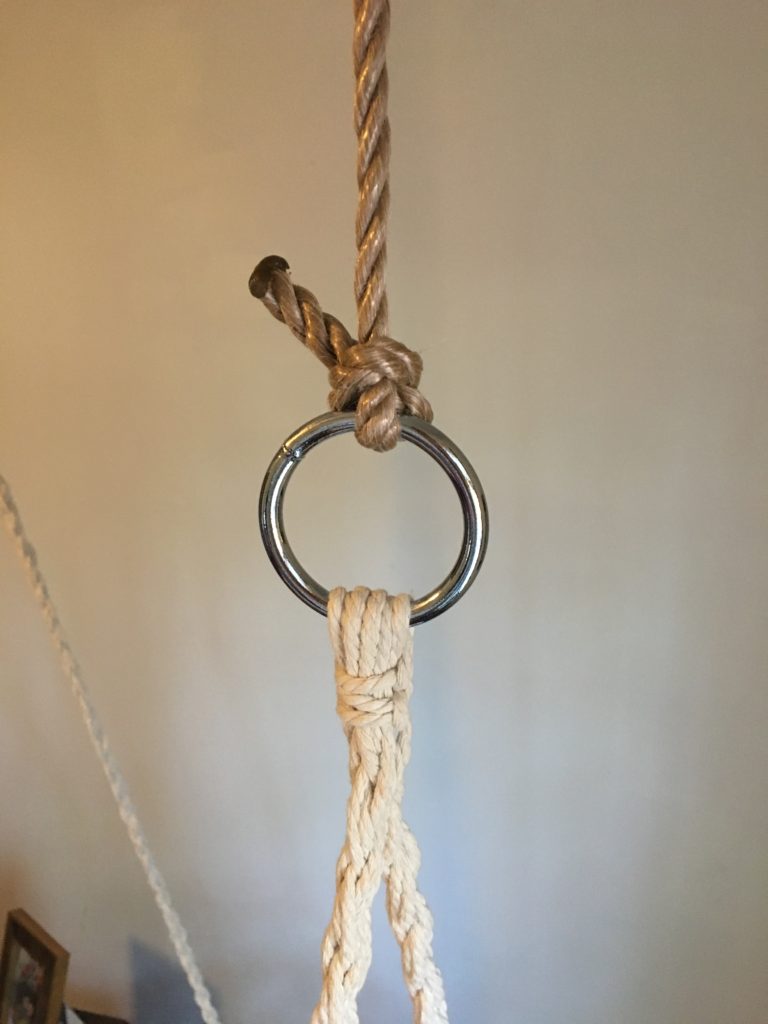 That is all we did! You will want to measure where you want the chair to hang so you can accurately measure your rope before you cut it and keep in mind that the rope and the chair will sag anywhere from 4-10 inches when sat in. Another important tip is to triple check that your hardware and rope is all rated for you to sit in. I chose items that were rated for over double my weight incase anyone else sits in the chair..or incase my dog decided to jump on me while i'm reading!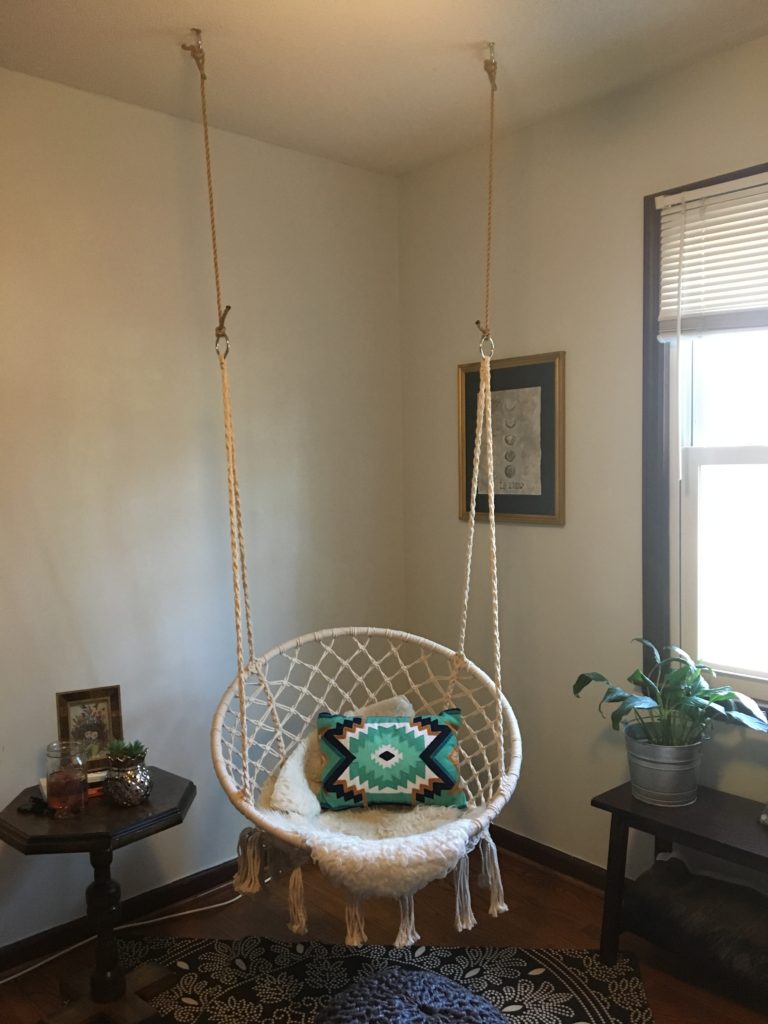 I hope this helps and all products I used are linked below (including the awesome macrame chair!)