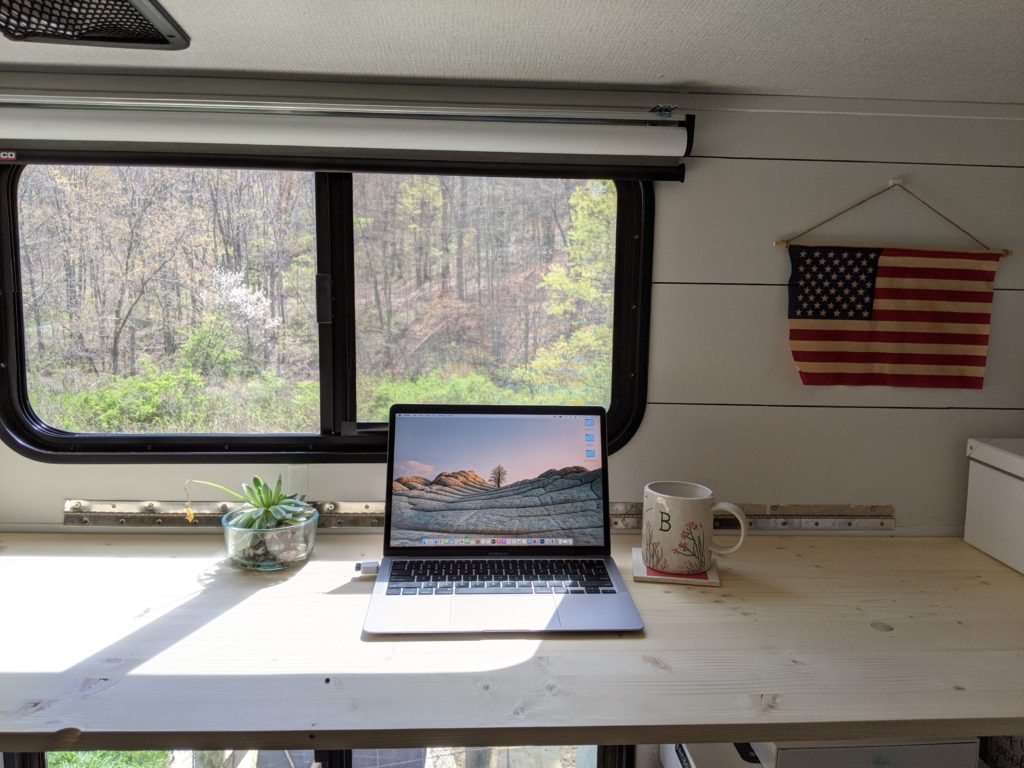 Even if you're not in the world of RV-ing, chances are at some point in the last year you've heard about the insane spike in people taking trips in RV's. Well – not only taking trips in RV's but also going full time! According to the Washington Post, in 2021, just over 1 MILLION people are full time RV-ers. That doesn't include the weekend warriors, the occasion RV campers, or even those who are planning on renting an RV and road tripping it this year. That number blows me away every time I read it.
So what's all that mean? It's hard to find an RV to buy, they are selling like hotcakes. It's even more difficult to find a spot to camp! My husband and I started to plan our transition from 9-5 in a sticks and bricks over 2 years ago. COVID threw a wrench in our plans and we had to delay everything about 12 months, but in 2021 we got on the road full-time. In all honesty, it felt frustrating that after 2+ years of planning, sooo many people decided to start this lifestyle too. Of course that's just me being annoyed because it's trending and I don't like to be trendy. I digress though – because I found a pretty good solution to the issue of booked up campgrounds.
Campgrounds, state + national parks are booked way out…so now what?
In my 2021 Class C (Forest River Sunseeker), I'm fully equipped to boondock for at least a week at a time. We upgraded our batteries, have solar, a compost toilet, low-flow water solutions, and a decent holding tank for freshwater. However, we are newbies, so we aren't quite comfortable yet with searching BLM land to boondock. We also are digital nomads, so having electric hookups is pretty nice when we both need to run computers. I have to admit, we also are pretty introverted people who like our privacy and serene environments, so kid-filled campgrounds with the campers stacked back to back isn't our cup of tea either. We love state parks and national parks, which usually have at least electric or water – but holy cow those book up FAST.
If you want to see the places everyone else wants to see – like any national park, monuments, landmarks or historic areas – it's a slim chance you're going to get a camping spot during peak season, and from the research i've done and by talking to over RV-ers, peak season is truly beginning to be a year-round thing. For example I spent weeks refreshing California's recreational camping website just to try to find ONE night near Big Sur (6 months in advance too!) with zero luck. Unless we walked in with a tent, there was no way we were going to see some of the places we had our hearts set on. UNTIL I discovered HipCamp!
Let me first say – I am in no way affiliated or sponsored by Hipcamp, nor do I benefit from writing this blog post about them (other than the satisfaction of helping others discover this hidden gem!)

HipCamp started in 2013, yet when I came onto the RV scene (lol that sounds ridiculous but you know what I mean!) no one told me about it. No RV-ers I religiously followed on Instagram or on Youtube ever mentioned HipCamp. I was shocked because it's a treasure.
What is HipCamp? In simple terms – it's like AirB&B for camping. From tents, to glamping to RVing – HipCamp offers it all. Private land, by hosts, is available for you to book. There are Hipcamps all over the US, from simple tent pads in someones back yard, to those who transformed an entire acre of their land into a private sanctuary for campers.
"Over 60% of the United States is privately owned. It is essential to the future of our planet that much of this land remains undeveloped to maintain wilderness habitats and corridors that allow plants and animals to thrive and migrate naturally.
By connecting landowners who want to keep their land undeveloped with our community of responsible, nature-loving Hipcampers, recreation can help fund the conservation of this land.
And land sharing isn't just important for the environment—it also creates an entirely new way to get outside. Campers can escape the crowds, reconnect with nature and experience new land and cultures outside of the city—from organic farming, wild foraging, outdoor classrooms, group campouts and indigenous land stewardship."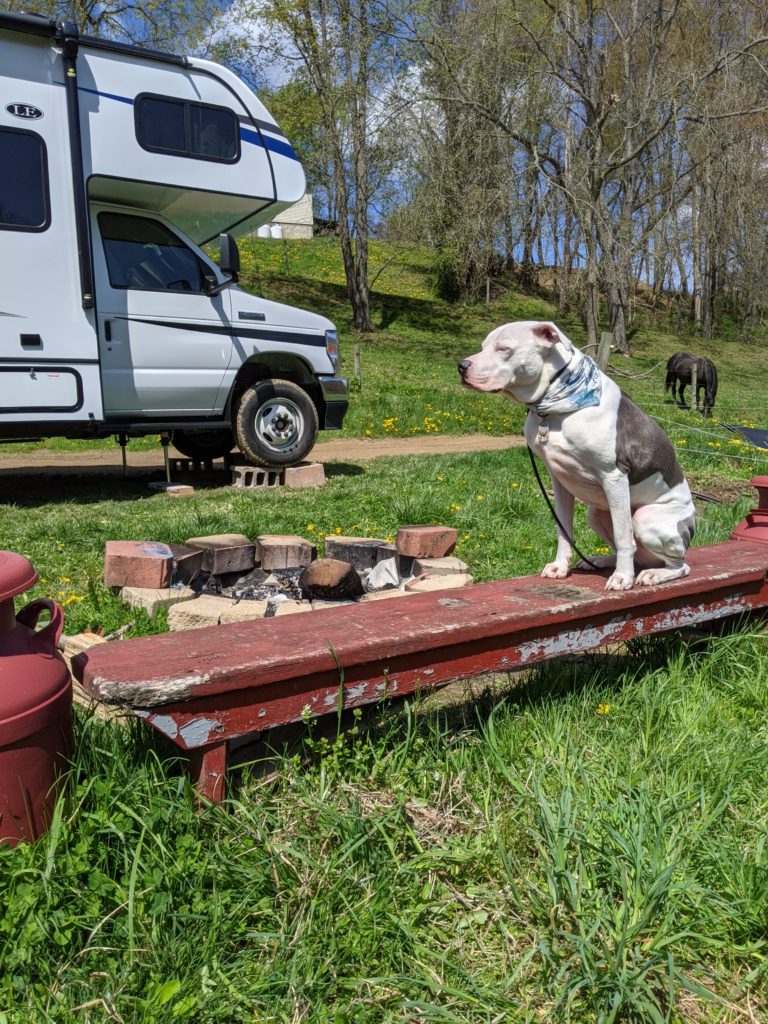 Why we LOVE Hipcamp – and would chose them over a campground:
I could go on and on about it – but instead I'll keep it simple. I like privacy, I don't want to hear my neighbors talking, dogs yapping, or have to keep my blinds shut all day. I also love unique experiences and getting to know people on a personal level (like the amazing Hipcamp hosts!)
In the next 8 months, we have 7 Hipcamp stays booked, totaling over 10 weeks of stays on private land. They go from basic parks in a field, overlooking a horse pasture – all the way to full hookups with free wifi on a paved pad on someone's mountain acreage. We couldn't find a single camp spot for under $50/night near Moab, Utah, so instead we went the HipCamp route, and found a spot for half the price, on private land with full hookups. The best part for me is the security. When you stay on someone's land, it feels safer. With RV theft on the rise and personal property theft, especially in touristy areas, I get a little nervous about crowed parks. On the Hipcamp I've stayed in so far, I couldn't have felt safer. I was almost a mile off the road, on fenced in property, the host and owner was a text away if I had an issue or a question (to me that's like first class service!) and my dog could roam around without me having to worry about being reported by other campers for my dog being off leash or other dogs being aggressive. That is peace of mind!
Another amazing thing – many Hipcamp locations are in places you wouldn't normally be able to stay. We stayed at an organic local farm where every morning we got greeted by the sweetest animals, got fresh eggs, and got to chat with the farmers family and learn about the area. Oh – and it was $15 a night!
Have I convinced you yet that HipCamp is truly the best?
Don't just take my word for it – use my code KATHERINEBCD50D7 (you'll get this code to share too once you sign up with HipCamp – so you can share the love too!) and get $10 off your first camping booking. I promise you'll thank me!