Timeline
The plan to go from our sticks-and-bricks to full time RVing is one that has been in the works for about 2 years now. It wasn't until about a year before we had a "set sail" date as I like to call it that I started a solid plan for purging my household possessions.
I have always been good at purging. I've never had any problem filling up trash bags full of clothes and good for thrift stores…but holy cow. Purging your entire house is a whole other beast. When I started getting serious about eliminating our possessions, I couldn't find a really good resource for it. I knew I needed to get rid of most of my stuff for full time RVing, but how? when should I start? what should I keep? These were all questions I needed answers to and couldn't find them. I did find the answer through my own experiences and so I'm sharing them with you today!
How to purge successfully:
I am a huge fan of Marie Kondo – if you haven't read the book, I highly suggest you do it before you even start the process of purging. (You can buy it here!) I also love wardrobe capsules and replacing all my junk items with quality and sustainable items. That being said, I still felt like I needed guidance in my purging conquest. After a year, I finally feel like I have a solid guide.
Before you start, remind yourself of the end goal. When you have a hard time giving something away, or deciding on what to do with items, ask yourself if that item is worth more than the end goal.
I often had to remind myself of my end goal; living simply and minimalistic so I can enjoy my family and nature without material distractions. Remind yourself of your goal, write it down, say it daily.
Categorize into different "piles".
My husband and I had a system when we would go through a room. (OH yes, you need to go room by room. Don't just jump around the house picking up random stuff…learn from my mistakes.)
Our system was to make four literal piles: Keep, donate, sell, trash.
Keep: This is the one that can pile up quick. Here is my advice: Pick up each item and look it over. Is it in good shape? Have you used it recently? Will you absolutely need it in the RV, and if you're not sure, don't add it to the keep pile. If something is broken, and you plan on fixing it…just donate it. You will not fix it if you haven't already.
Donate: My donations on my taxes this year were astronomical. We donated so much. SO MUCH. My rule for donations – if I can't sell it easily and get $20 or more for it, it's a donate. If it's something really unique, I'll ask my friends or family if they want it. If not – it goes to donations!
Sell: This one is my favorite. I am quite the thrifty gal, and I love selling and buying secondhand. My husband and I made a rule early on when we starting purging for full time RVing; if we can't sell it for $20 or more, it's not worth selling it. Selling items takes time and patience, which can be difficult when you're on a time crunch. Though, after about 6 months of purging and selling, I've made a little over $2,500, all which will go into upgrades for the RV.
Trash: Truthfully, my least favorite. I hate throwing things out, only because I think about the landfill they will forever live in. Going through my home and trashing things made me take a hard look at my consumerism and wasteful habits. However there will be things you have to trash when you purge for full time RVing. For instance, I couldn't believe how many receipts I had held on to…for years. Why? Why did I need to keep that Trader Joe's receipt from 2017?
But what about sentimental items?
I imagine if I had lived 20 years in my home, raised kids, had a house full of memories, that this topic would be a lot harder and complicated for me. Truth is, I'm in my 20's and my husband was in the military so he is used to moving around with little possessions. We don't have nearly as many sentimental items as a couple double our age, but we still did have things to sort through that were difficult to decide on what to do with.
Souvenirs, knick-knacks, and gifts:
I love to travel (duh) and I like to buy things from all the places I go. I have a mug from every dang city I've been to in the last ten years…and probably a sweatshirt too. This wasn't hard for me to part with these items. None of them were great quality, and I have pictures and memories from those trips. That was any easy donate for me!
The harder stuff was the gifts. My mom is the queen of gifting. She buys me and my husband something for every little life event, and all her gifts are so great. I love my mom so much, she is my best friend! So that being sad, I had a hard time getting rid of anything she bought me, even the set of dishes shaped like roses that she sent me for Valentines Day 4 years ago (the ones I never used) However after a few weeks of piling all the gifts I got in the keep pile, I realized how silly that is. I have memories of those people. I will visit them in my RV and make new memories. Keeping items that don't truly add value to my life is not necessary. I did fill one box with items that were invaluable to me, and I am going to keep that box at my mom's house until we are done RVing. It's filled with photographs, some of my wedding stuff, and mostly heirlooms from my family that I want to pass down to my kids. I limited myself to one moving box because that was right for me. You have to decide what is right for you.
One year out from full time RVing
I know your timeline might look different, but take my advice and experience, chop and screw it how you will, and I hope you walk away with something helpful!
In Spring 2020, we knew we wanted to set sail in the RV in Spring 2021. That was our rough goal, and we set it. That is when I stopped buying anything for my home. Yes – nothing new came into my house. This meant no new mugs, clothes, books, throw pillows, decorations, etc. This is especially hard for me because I love to shop and I'm an interior designer so I am constantly changing my home up. However once I stopped buying new things, I was able to see how much I really had already – and I saved a crap ton of money!
Now, to be fully transparent, we did get new stuff. I got married in 2020, which means wedding gifts! However, we only added things we needed for RV living to our registry. I also bought myself quality clothing items and new plates and cups – all for the new full time traveling lifestyle. However, I followed a rule:
For every one thing brought into the house, I had to get rid of 5 items. If I bought a new shirt, I had to donate 5 shirts.
This rule really kept me accountable, and in the end I have clothes I truly love in my wardrobe that are quality pieces instead of a bunch of fast fashion that I never wear.
6 months out from full time RVing
I will be honest, 6 months snuck up on us! We kept thinking we had a lot of time to get rid of things, then all of a sudden it was fall of 2020 and we knew we wanted to leave our sticks-and-bricks in 6 months. It was a kick in the butt to get fully purging!
At 6 months out, we started to get rid of bigger items. Arguably looking back, I might have done some of this in reverse as far as what to get rid of first, only because we got rid of a lot of furniture and now have all the small items that was housed in said furniture sitting on the floor.
However, no matter if you get rid of all the items from your bookcase, or flat out sell the bookcase, 6 months out is a crutial time to evaluate your needs.
At 6 months out, we changed our RV living plans from planning on buying a 45′ Class A to a 32′ Class C. That is a huge change in the amount of storage we will have at our fingertips.
Now that I knew the tiny amount of space in a class c motorhome I'd be limited to – I kicked it into overdrive. I sold off the entirity of my guest bedroom. We didn't use it, we didn't need anything from it, and that was the rule I used. So 6 months out, here is my suggestions for purging:
Start with the spaces you use least (basement, guest room, spare bathroom, formal living spaces, etc)

Purge those spaces entirely. Sell, donate, or trash everything in the space (unless it's something you need)

Get rid of seasonal items (we sold all our Christmas, spring and summer décor including outdoor furniture. We would be gone before summer hit, so we no longer would need any of that)
Six months out from full time RVing is also when we decided as a couple that we wouldn't be getting a storage unit for anything. We plan on RVing for 1-2 years. Then we plan on buying a small sticks-and-bricks home and RVing seasonally after that. We will probably be the youngest snow birds in the world but I don't care!
However, no storage unit meant we had to part with those things I said I'd never part with. For instance, I bought a very rare Mid-Century Modern dining set from an estate sale when we bought our home 3 years ago. It was my pride and joy as an interior designer and design history fanatic. Storing it would cost us a lot, and after 1 year, I would be able to buy that table new. That's how I decided to sell it. I made nearly $1,000 in cash for the dining set, which meant I had $1k to put towards fun gear for the RV. To me, it was worth it. I also knew that when we did find a new house and need to furnish it, I would want to go for a whole new look and style.
3 months out from full time RVing
This is when we bought our RV. We bought a 2021 Sunseeker Class C…and seeing it in person made me sober to the fact that I was going from 15 cabinets and a full pantry in my kitchen to 3 cabinets and no pantry. WOWZA. Three months out is when we RE PURGED everything. We went through everything from the linen closet to the silverware drawer with a fine tooth comb and got rid of 1/2 of the "keep items". I mean, how many spatula's does one person need? Not 5 like I had in my keep pile.
1 month out from full time RVing
Well, this is where I am right now! Maybe I am writing this post prematurely, but as someone who has been planning for RV living for nearly 2 years, and purging for 1 year, I feel I have a grip on things.
One month out is an exciting time! We are selling our house – you may be too, or you may be renting it out, or currently be renting (lucky you!) and not have to worry about a home to sell or rent.
Now that we only have one month before we move from sticks-and-bricks to a home on wheels, it's crunch time. I've donated my last bag of clothing and paired down enough that I can at least attempt to fit it in my tiny RV wardrobe. We only have the essential furniture left, like a mattress (on the floor!) our sofa and coffee table (where we eat our meals for now) and our desks, because we are both working full time up until we set sail.
My plan is to keep these very minimal furnishing until we are about to close on the house. I've had luck selling on Facebook marketplace very quickly – as in within 24 hours of posting, my items are usually sold. With that being said, I will wait until the last moment to post the very last of our furniture. My husband would probably not enjoy sleeping and working on the hardwood floors…given that I sold our air mattress this week! ha!
Truth be told, I've found it a bit jarring to live in a 2,000 sq foot home that is nearly empty. It's been an odd experience, and feels like we just moved into the place. However it's also good for me to get used to just using the few items I have. It's funny how when you only have the bare essentials for your kitchen, you appreciate them and take better care of them.
Purging / downsizing tips and resources:
It can be tempting to just pile up everything in your car and dump it at Goodwill. I've definitely done that, but I soon after diversified my donations and selling strategy. I'm going to share done of them below with you!
Donation Ideas:
Find a family in need through your church or community to donate to. If you have a lot of household items in decent shape, it can be a really nice thing to do to help someone in need or a young person just starting out!
If you have blankets, comforters or towels, see if you can donate them to the local animal shelter and rescue. They always need them!
Donate clothing to the local women's or homeless shelter. See if they will take household items too!
Selling: how to do it, and where!
I am a Facebook marketplace addict. It's true. The only reason I got a Facebook was to use the free marketplace platform – it's how I sold 90% of my stuff from my house. I also bought most of my furniture off marketplace too! Here are my suggestions below for additional ways to sell items:
ThredUp: ThredUp is an online thrift store. I LOVE THEM. You request a 'clean out bag' from them, which they send for free, pre-labeled for return delivery, and fill it up. I filled up 4 of these with my name brand gently used clothing. I made roughly $100 from them, which I turned around to buy NEW WITH TAGS clothing items from them (mostly hiking boots and fleeces for camping!) I love them so much. No I'm no sponsored it anyway. However if you use my link to order a Clean Out kit, you will get $10 towards a purchase: ThredUp
Local Consignment Shops: I haven't had luck at these, but if you have really nice items, especially some designer or higher end retail brand furniture and clothing, then I'd give it a try. Remember that selling something consignment can take weeks or months, so try this approach with at least 6 months to spare.
eBay: I don't know how to use eBay, I've never bought anything from it, just to be clear. However, my husband has done both with great success and I know a lot of people love it. If you have collectables or larger ticket items, eBay might be the right outlet for you.
Facebook marketplace: The holy grail of selling used items. The key to selling on Facebook successfully is having really good photos and descriptions. Always staged your items. If you're selling a dinnerware set, stage your dining table with it and get a clear and bright photo. Get photos close up to show detail too. Write clear descriptions, letting buyers know exactly what they get. Also price it fairly. Don't list a used sofa for $800, because no one on Facebook marketplace is looking for that. People are looking for deals – take good photos, price it right, and you'll have buyers instantly. The best part is you can check out people's profile and weed out the seedy people. And always be safe when you sell!
Yard/Estate sale: I am not a fan of people coming to my house, like ever. I don't even like the UPS man pulling up my driveway, so this option was a hard pass for me. I also live at a dead end on the top of a steep hill, so a yard sale was out of the question. However if you have a vibrant and busy neighborhood and love to host things in your yard, then a yard sale might be the perfect way to rid a bunch of stuff quickly! Estate sales are more complicated, but if you want a company to take care of a lot of the purging for you, going this route is perfect.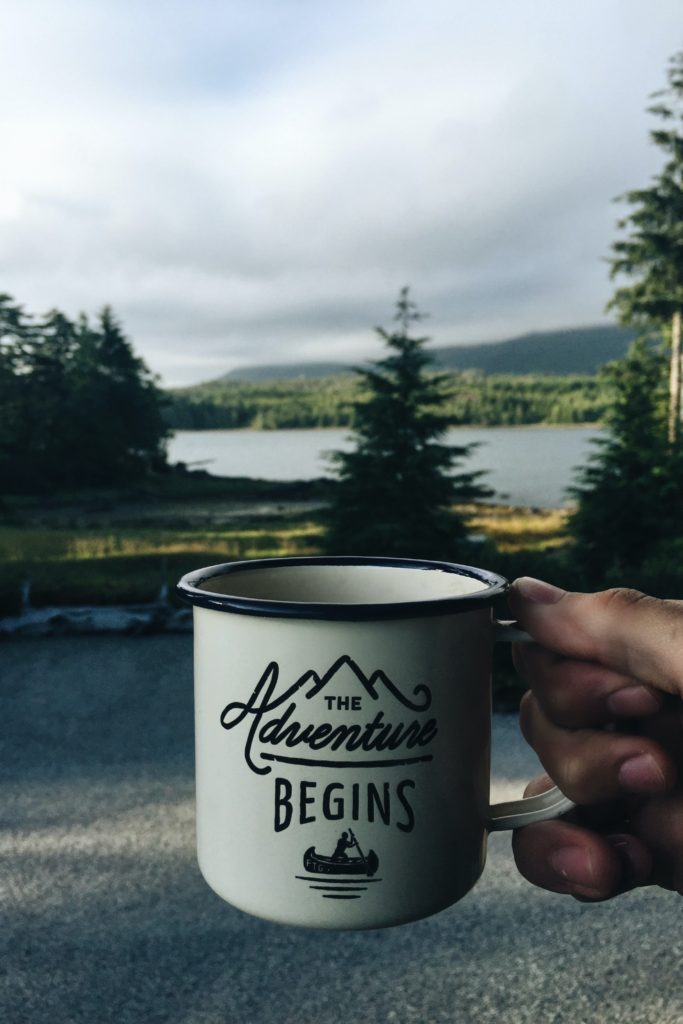 Don't Stress It.
After all is said and done, it's just stuff. Don't let any material item hold you back from the adventure that awaits you! Do you have any purging experience or comments on downsizing? Tell me below!