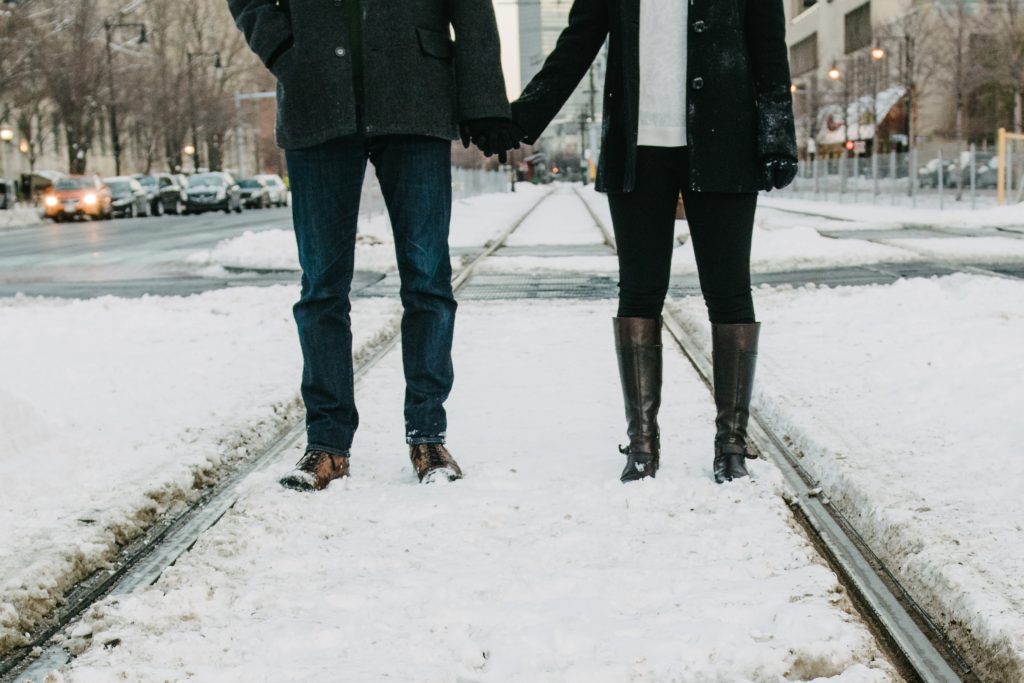 When Brian and I decided that 2019 was going to be our year to become debt-free, we knew we had to cut back on our date nights out. I was determined though that even if we didn't have the money for lavish dates, that we would still have fun. That's why I put together a list of 20 free (or super cheap) date night ideas for y'all this winter!

Some of these can be done any time of year however, so it's a great list to keep around!
20 Free Winter Date Ideas!
 Find a fun new recipe on Pinterest and cook dinner together – get a bottle of wine, light a few candles, and have a romantic dinner! Make it even more interesting by challenging yourselves and making something you've never tried!
Make hot cocoa or coffee, get in the car, put Christmas tunes on, and drive around your town looking at everyone's Christmas lights. You'll be surprised how fun this is!
Have a game night! Get your favorite board games out, make some cocktails, snacks, put on some good tunes, and challenge your partner to a game! This can also be a fun double date idea!
Do a "Top Chef" cooking competition, using on the ingredients in your kitchen. Set a timer, put music on to pump you up, and both get cooking! Then when your done, try each others creations before you try your own! This is a fun one to do with dessert!
Watch dance instruction YouTube videos – learn the cha-cha or fox trot right in your own living room! Don't take it too seriously, because this will definitely end in a laughing fit.
If you have a fire pit, sit out at the fire pit, uncork a bottle of wine, make s'mores and talk about your dreams. I love the "what would I do if I won the lottery" kind of talks. 
Go get coffee at your favorite joint, walk around town holding hands (because not only newly dating folks should hold hands) and site see. If it's too cold to walk – get coffee or a milkshake and drive around town, through the beautiful neighborhoods, backroads, with no end goal it site other than spending time together!
Learn a new skill together. Maybe you both want to learn how to cook, do photography or even woodwork. There are a million free resource videos out there – watch some and try it out together!
Turn your movie watching room into a tent. This isn't just for kids – because it's friggin' magical folks. Put cushions or an air mattress on the floor, get movie theater candy at the dollar store, hang blankets and sheets, and make a fort. Then binge watch your favorite movie series or show. Awesome for a freezing cold day!
Volunteer together. I've went on my fair share of dates to the local animal shelter, playing and walking the pups. It's undeniably bonding for you and your partner, free, and your are doing a good deed. You could visit nursing homes, shelters, or help out at your local church.
Spa night. Because any guy who denies liking being pampered is lying! Get mud masks, make yummy spa waters, get your robes on, soak your feet, and make it fun! You can give each other foot rubs and massages, and I promise you'll feel relaxed and better than ever. And don't forget to take a selfie together when the mud mask is in full effect.
Go to the mall and walk around, exploring all the stores. Go get all the free samples at the food court, try all the free hand lotions, pick out outrageous outfits for each other to try on, and don't spend a dime! You'd be surprised how this seemingly "teenage" activity can actually be quite entertaining!
Look for free events in your city! Many colleges will have donation based comedy or improv shows and plays, which is perfect for a relaxed night out. Go to museums or art galleries that are having free open houses – this is especially popular around Christmas.
Go on a scavenger hunt! We did this when we moved to a new city. It was $10, but we found free ones after. Some scavenger hunts will take you all around your city which gets you out, seeing new things and learning a little something about where you live.
Go hiking! If it's cold where you are, bundle up! Even if it's a bit of a drive to hike, it's free and will lead to lots of photo opts, memories and it's exercise, so win-win!
Be a kid, and go play in the snow. Build a snow man, have a snow ball fight, so sled riding, and cozy up inside after with hot cocoa and a marathon of cheesy Hallmark movies.
Karaoke or trivia night at a local bar! Food and drinks aren't free, but karaoke and trivia are fun and free entertainment! Eat beforehand and each get a drink while you're there. This one is not for the introverted (like us!)
Bake Christmas cookies for your friends and coworkers together. What's more fun than baking and decorating cookies with some good ole Christmas tunes on!? 
Have a pot luck with other couples! Invite them over, asking them to bring their favorite winter dish. Then you end up with food, friends, and lots of good times!
Go to free winter festival! This time of year there are usually tree-lighting events, Christmas light snows, Caroling, and parades. Make a date of it!
Have any fun date night ideas? I'd love to know what they are! Tell me in the comments below!