With the holiday season quickly approaching, more and more of you will be hosting guests! Personally, I love hosting guests in my home. Being able to share my home, make it cozy and comfortable, and be gracious with my house makes me so happy! We don't have a dedicated guest room (because we rarely have overnight company) and many people don't have space for a dedicated guest space, but you can still make their stay comfortable.
I put together a list of things to do and prepare for to make your guests feel at home. Especially over the holidays, we want our company to feel at ease! One thing i've learned from being the guest in the situation is I hate to have to ask for anything. Asking for the wifi-password (why does that make me feel like a jerk?) where the towels are, if there is coffee, etc..it makes me feel like a nuisance at times. That's why I am making this list – make your company love every minute at your home (but not too much or they will never leave! haha just kidding!)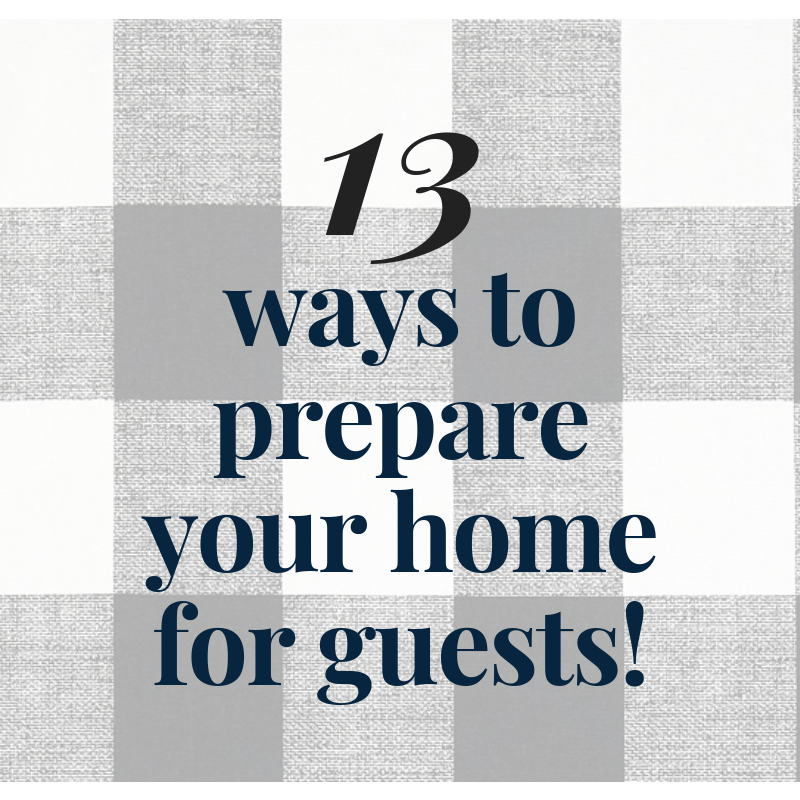 Whether it's a whole family staying with you or just one person, these tips are simple and will make their life and yours easier!
Wifi password

This may seem like a funny thing – but I know when i'm traveling I want to check in with people or work, and connecting to wifi so I don't have to use data is very nice. Instead of making your guests ask for it – have it written somewhere accessible! Bonus points for making it cute!
IDEAS: Paint a frame with chalk paint and write it on there (or print it on paper and stick that in the frame!)- then put the frame on a bookcase, dresser or nightstand where the guests will be staying. That way they don't have to go hunting for it!

Towels

Have you ever traveled all day and all you want is a nice hot shower? Don't make it hard for your guests to find things they need like towels! I like to roll up my fluffy towels and put them in a basket in the bathroom, or better yet put them in the guest room. Add all hand towels and wash clothes – it's nice for your guests to feel like they have all that they need to be comfortable.

Toiletries

I know most of us travel with our own toiletries, but have you ever got somewhere and realized you forgot something? You don't have to supply your guests with everything but simple things like cotton balls, Q-tips, kleenex, toothpaste and hand-lotion are nice touches! You can put them in little jars on your bathroom counter or in the guest room – so they know they are welcome to it.

Toilet Paper!!!

Are you confused? Of course you'll give your guest toilet paper, but make sure the bathroom is stocked. Stack extra rolls in a basket next to the toilet, along with a room spray. I know i've ran out of toilet paper at another persons home and had to decide to either snoop for some or ask, both which I dread. Plus this is a good idea to just do all the time – it keeps the bathroom looking a little more stylish and practical!

Water bottles

We don't use water bottles in our house for eco reasons, so I give our guests refillable glass water bottles. (either way it's a nice touch!) Instead of them asking right away for water, put a few bottles on their dresser or nightstand, it's very convenient for them and simple for you!

Blankets

Not everyone runs the same temperature, so wether it's hot or cold outside, make sure your give your guests options for their comfort. I like to make the guest bed how i'd normally make it and then leave some folded blankets at the end of the bed or in a basket next to the bed.
TIP: put a few different pillow options on the bed – not just one pillow. I like to add a thick pillow and then a thinner one so they can choose.

Phone Charger 

It never fails that either I forgot my phone charger when I travel or one of my guests do. I always have an extra charger lying around, so I will put that in the room. You don't have to plug it in for them, but lay it nicely on the dresser or where you put the WIFI password so guests can use it.

Luggage stand

This may seem like an old fashioned thing – but if your guests are staying for more than a day, having a luggage stand in the space is nice so they can unpack. They are relatively cheap, and can be used as a cute decor item when guests aren't over, so it's a win-win!

Laundry basket (empty basket will do!)

I'm not saying you have to do your guests laundry – I don't suggest that! But if you have people staying for a week or so, it is nice to have an empty basket or hamper so they can put their dirty clothes in there. (that way they don't have to pile up their dirties on the floor in a corner!) And if you do offer them to wash their clothes, they then feel comfortable with their own basket!

Fan

If you don't have a ceiling fan – this is a must. Many people get hot in the night or are used to different sounds, so having background noise can assure that they sleep well. A simple floor or desk fan is a nice touch, you can just coil it up and put it in the corner of the room so that it is seen.

Flowers or plants

If your room already has house plants – just make sure they are nice and healthy (you wouldn't want to stay in a room with a bunch of dying plants would ya!?) Adding a vase to a surface and putting a few flowers from the supermarket is a sweet touch. It brightens up the space and will add a nice aroma to the room.

Coffee cups + items

Not everyone drinks coffee, but if your guests do, it's nice to have it all readily available. I like to put out K-cups, a bowl of sugar and let them know where the creamer is. I also make sure my mug rack is full of clean mugs and tell my guests to feel free to make a cup whenever they want. I can't express how much I appreciated this when I was at others homes! Nothing is more comforting in the morning that a big cup o' joe!

Declutter and clean

This is a no-brainer. Most of us clean before a guest comes over, but I encourage you to go a bit further here. Declutter the guest space and bathroom they will be using. If the room doubles as a child's room, playroom or office, then put things away. Put toys in the closet, take items off the surface of dressers and nightstands; this makes space for your guests items. A decluttered space is also more peaceful and welcoming!
My final thoughts:
 I like to think of my own best guest experience, whether that be at a hotel, bed & breakfast or at someone's home, and recreate it for my own company!
Do you need a few last minute things for your guests? I put together a simple list of items below that are inexpensive and quickly available. #tipshostingguests

Do you have anything you like to do for your guests that isn't on the list? Perhaps a plate of cookies or something else? I'd love to hear what it is! Leave me a comment below and maybe I will add it to the list! ♥