When I started to makeover my basement living room, I knew I wanted to keep my modern boho style going down there, which meant keeping things light and airy. I love gallery walls as much as the next home decor enthusiast, but I was also wanted to see something new above my sofa; a simplified version of a gallery wall.
The walls in my basement living room were dark wood paneling when we moved in. They were dark, had a tiny of orange, and were oddly shiny (Why did anyone think this was okay to ever put in a house?!)  Needless to say, the first thing I did after getting keys was slather the walls with as much primer as I could manage to put up until the paneling was out of sight!
After I put my furniture in the space, it still felt like it was missing something. I still need to change out the light fixture, and have future plans to add hardwood flooring, but until those items are done, I continue to decorate with smaller and budget friendly tricks that make the space feel cozy.
This brings me to my modern boho gallery wall. I wanted to keep it simple and use muted colors. I've been drooling over cactus art, and photography of Joshua tree that is currently  sweeping the modern boho decor scene (that IS a thing). But there are two issues there; I've never been to Joshua Tree National Park, and the photography I do have of the desert are also featuring 18-year-old me making the peace sign (no judgement!). So I knew I had to search farther!
Unsplash.
The other issue was the art or prints I did find were out of my price range. Wanting prints in a minimum size of 16″x20″, I knew I was looking at $200+ (and that's just for the prints, not the frame.)
I had the idea to start perusing my favorite photography site called Unsplash. On their site it says "Over 550,000 free (do-whatever-you-want) high-resolution photos brought to you by the world's most generous community of photographers." That's no joke. There are so many free and stunning pictures, which have extremely high resolution. You don't need to sign up, put your email in, or anything. Simply enjoy the generosity of artists contributing to the free site. I searched for what I was looking for – cactus/desert art and found over 20 photographs that I was in love with.
I downloaded them to my computer and arranged them on the screen to pick the three that I loved most. Then to make them more personable and perfect for my neutral schemed living room, I edited all three of them with the same filter.
Inexpensive…not cheap.
The cost for three stunning prints for my living room – $0.
I of course paid to get them printed (1 hour pick up at Walmart) at a size of 16×20. I was nervous the resolution was going to turn out fuzzy, but they look like million dollar prints. Printing three of these in size 16×20 (matte sheen) costs me $36. So far, I'd customized and printed three pieces of art for my living room for less than what one of them would've costed me at a store or even online retailer.
While I waited for the prints to me completed, I picked up three simple black frames. I wanted the photographs to be the focal point, not the frame, so I purchased ones that looked almost seamless. These frames were less than $7 each..that's a total of $21 for frames. My local store actually only had one frame, so I had to order the other two. You can find them here too!
I found inspiration from a collection of artwork that I loved, but was way out of budget at $600 for the set. I wanted to create this look for as little as I possibly could [ check out the Modern Boho gallery wall I was inspired by from Minted. ] 
And here is my $57 gallery wall!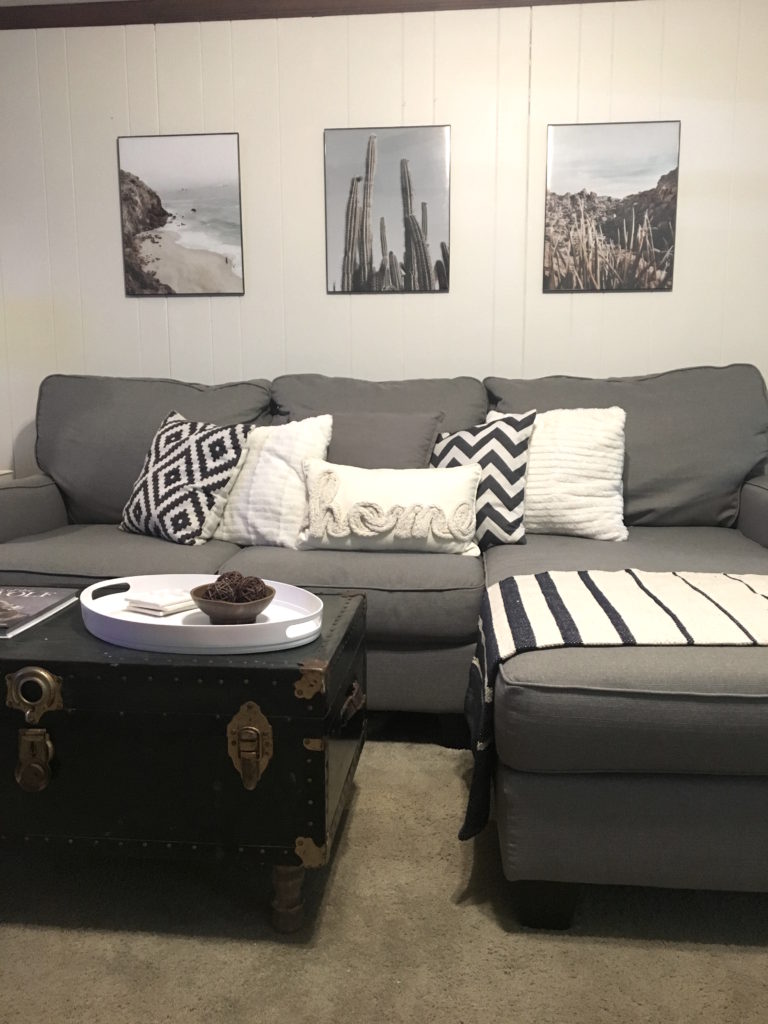 You can do this with almost any gallery wall you want; not just modern boho style!  If you want scenery or photography, but you don't have actual photographs, it's not the end of the world. You can find copyright-free and high-quality prints, and ultimately make it your own. There is just something about photographs blown up large that makes such an impact in a space! Unlike buying pre-framed art at a store like Home Goods or Hobby Lobby, with this option you can chose your size, frame, and even though you didn't take the picture yourself, it is still more original than mass produced art.
Sources:
*Disclosure: This post contains some affiliate links, meaning at no additional cost to you, if you click through and make a purchase, I will earn a small commission. The opinions are completely my own, and I only refer to products that I absolutely love and have tested*