After living in quite a few rentals, I feel like i've done it all when it comings to sprucing up a rental kitchen, so I wanted to put together a list of practical and chic rental kitchen ideas. This is also one of the top requested blog posts I've gotten from viewers, so I decided it was time to give the people what they want! But really, there are so many ways to spruce up a rental kitchen, and it doesn't have to break the bank. The cool thing is, you can apply any of these tips to your kitchen even if you aren't in a rental. It's a quick and inexpensive way to spruce up your space without having to do a total makeover!
Peel & Stick backsplash
You all already know my love affair with peel and stick tiles. I put them in my rental kitchen and loved them so much that I put them in my kitchen (part of my $400 kitchen makeover). They are relatively inexpensive for the impact they have. A lot of people are afraid to use them because they feel they may damage the wall – I am here to tell you, if you do it right, they will not damage the wall. To remove them simply apply heat from a hairdryer, and they peel right off.
I've tried a lot of brands – but my favorite is Tic Tac Tiles – Premium Anti Mold Peel and Stick Wall Tile
from Amazon.
TIP: If you don't want to do the entire backsplash – consider just doing an accent area, like above the sink or stove top!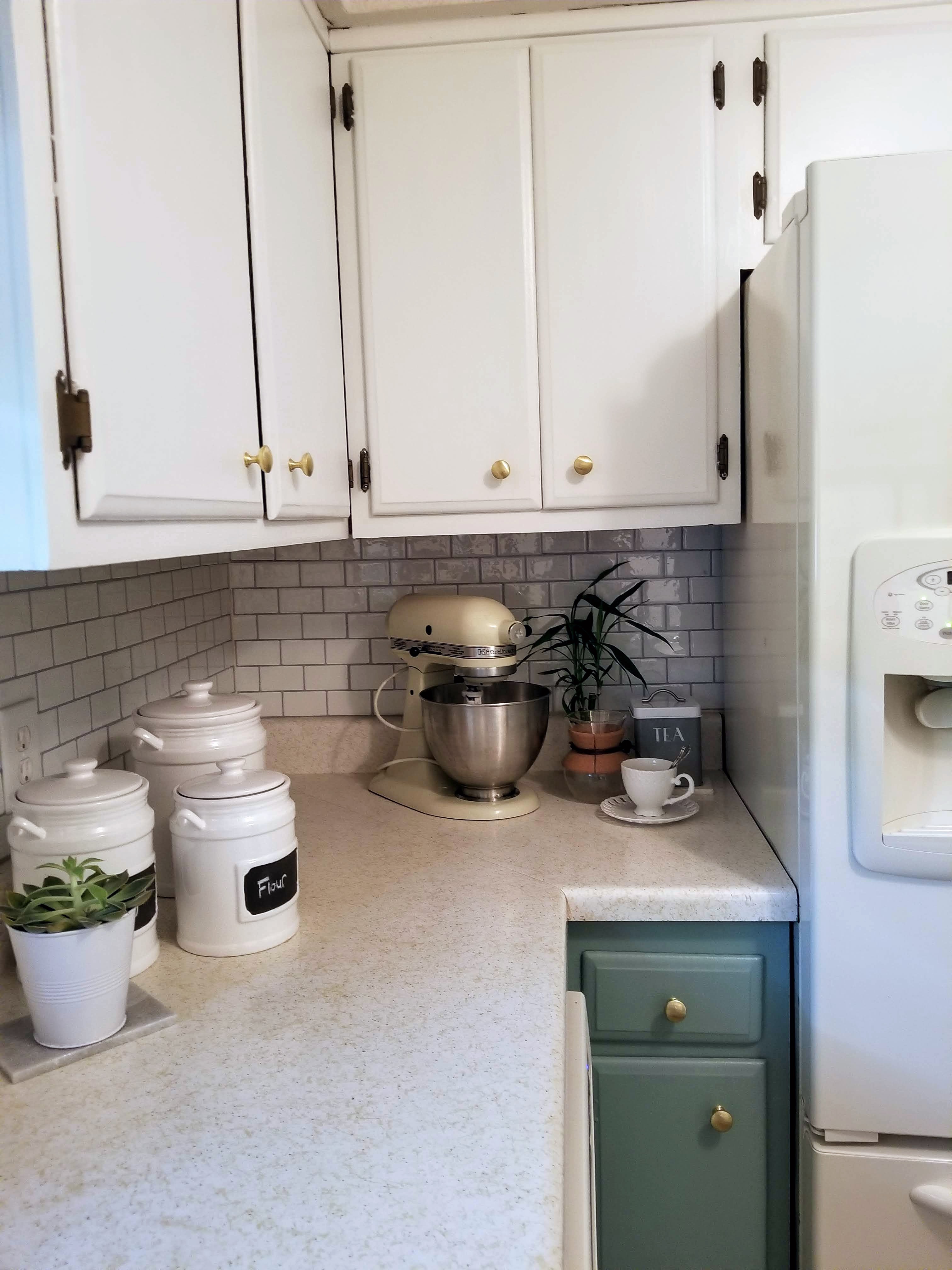 Contact Paper Countertops
In all but one rental i've lived in, the kitchen counters were hideous. I didn't know I could do anything about it though, until I discovered contact paper. I used it in my bathroom in my old home, and now my new home. (Featured in my $200 bathroom makeover) Contact paper is as easy as wrapping a present – and it has come a long way from your grandma's contact paper. You can scrub it, you can clean it, it resists mold and bacteria, and it's durable. Personally, the best ones I have found are from Amazon, and range from glitzy gold marble to high end granite. I bought this Grey Marble contact paper for $10
 for my bathroom!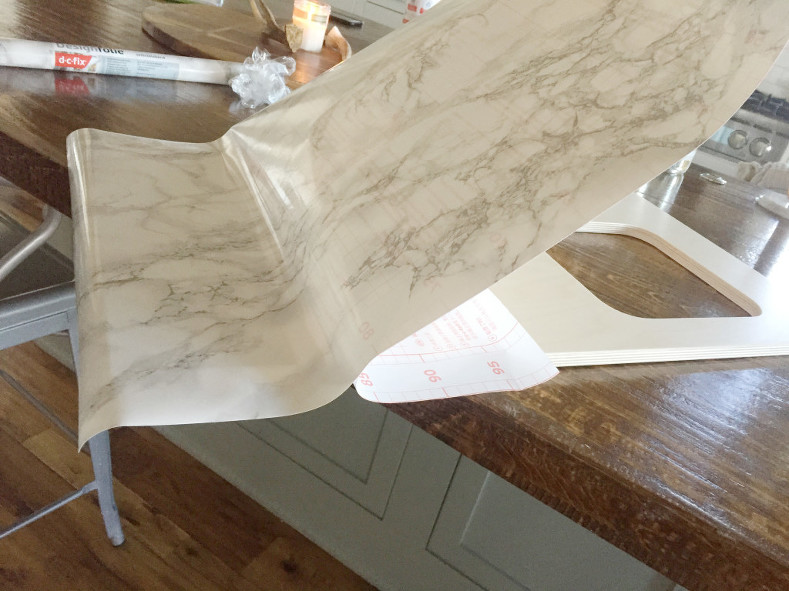 Use Rugs!
When sprucing up a rental kitchen, most people just think about the counter tops and cabinets – but usually floors aren't the prettiest thing either! Instead of just putting a $12 rubber matt at your kitchen sink, consider getting a larger rug, one that covers 3/4 of your floor. I have a large nuLOOM hand woven rug
 in my kitchen. If you are worried about keeping it clean – buy something that is durable like sisal or jute, or something machine washable. (I wouldn't advise doing shag or white) Rugs add color and style, and can cover an unsightly floor. The best part about them – you can use the rug again when you move, so it s a very practical purchase!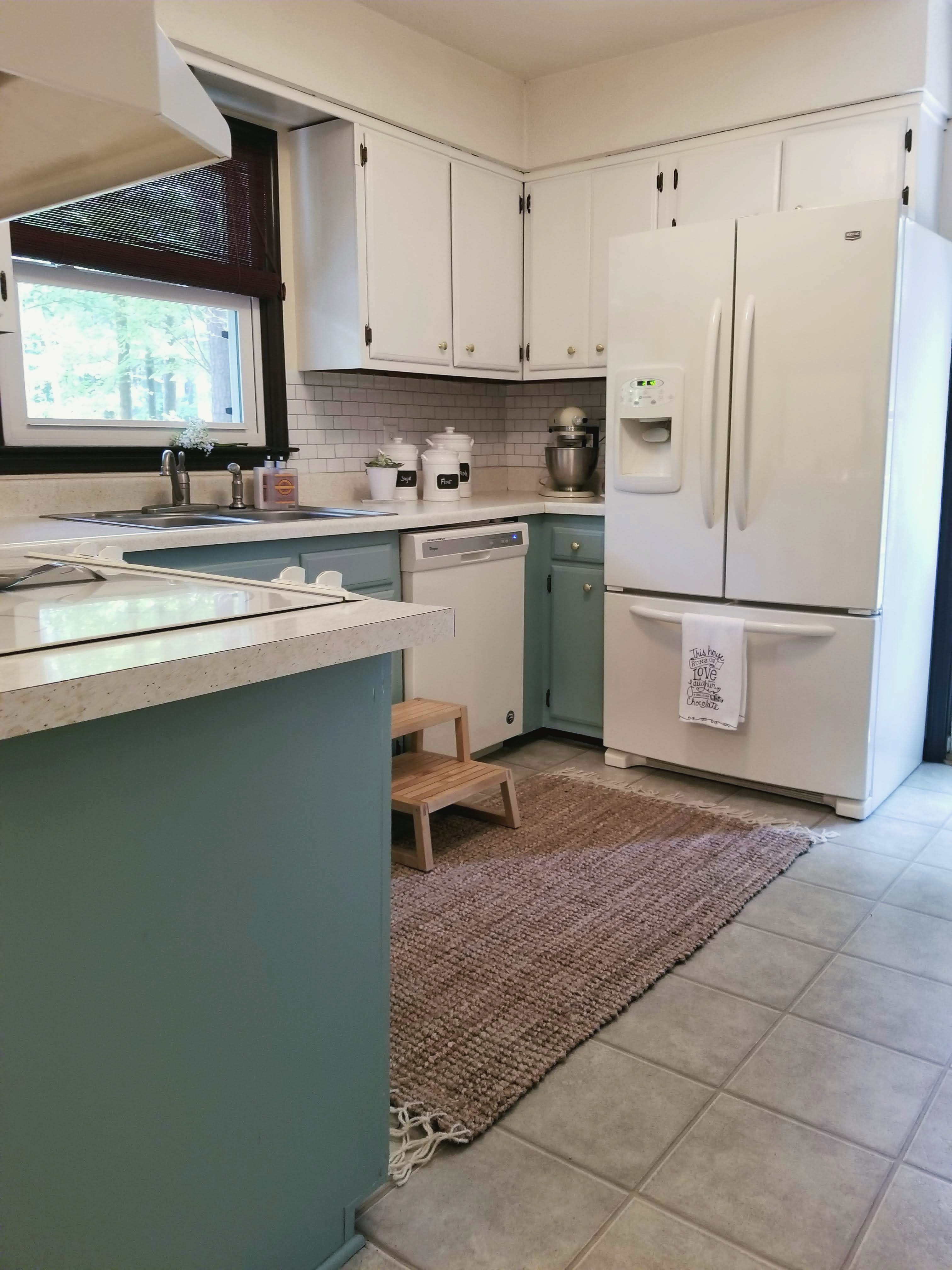 Use the space above the cabinets
Do your cabinets not touch the ceiling? If you're in a rental and need extra storage, this is the perfect space to not only utilize extra space, but it also will make the kitchen look more appealing. Use baskets, bins, or ceramic bowls on top of the cabinets. You can put spices, baking utensils or other items you may not need on a regular basis. The great thing is – these can be packed right up and taken with you to the next place!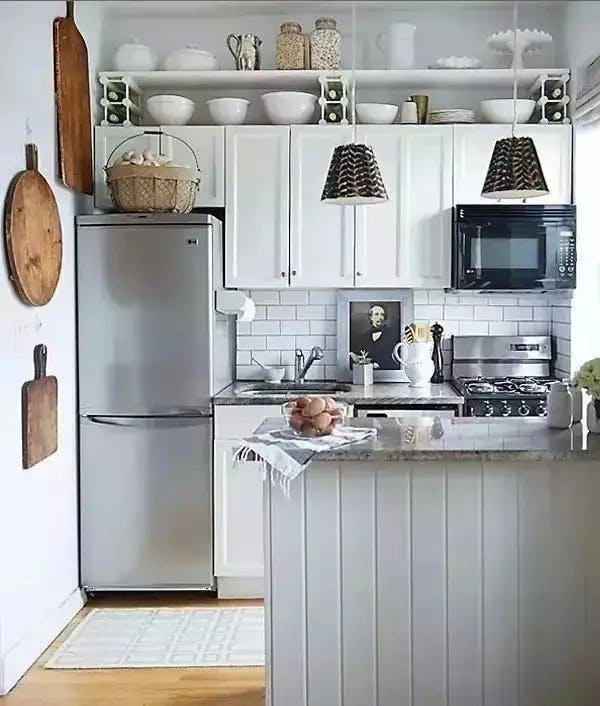 Take Cabinet Doors Off
I wouldn't advise taking all the cabinet doors off, but if you have a beautiful set of mugs or dishes that you want to display, you could remove the cabinet doors and arrange them so that it looks like decor. If you have a small kitchen that is dark, this can also open up and brighten a small dark kitchen. Want to go the extra mile? Add fun contact paper to the back of the cabinets (like below, they put chalkboard contact paper in…how cute!)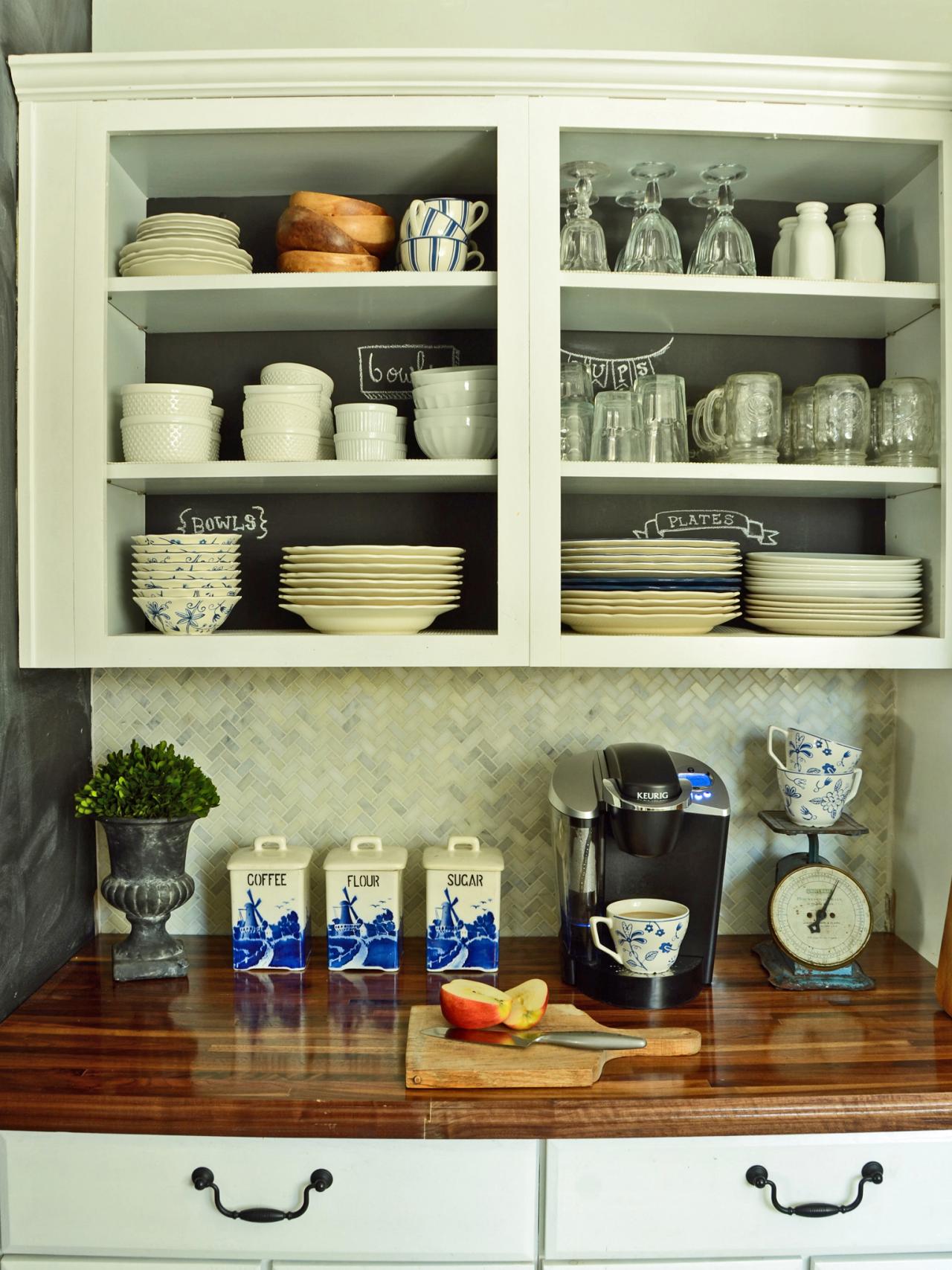 Decorate Your Counter Tops
Instead of just throwing your items up on the counter tops, invest it some decor that not only is functional and organizes your items, but is stylish. This will distract from any blemishes you dislike in your rental, and can add color and personality. Buy flowers, a pretty cutting board, something cute to keep your flours in – this will make a difference!
Ps check out this farmhouse canister set
, I love it!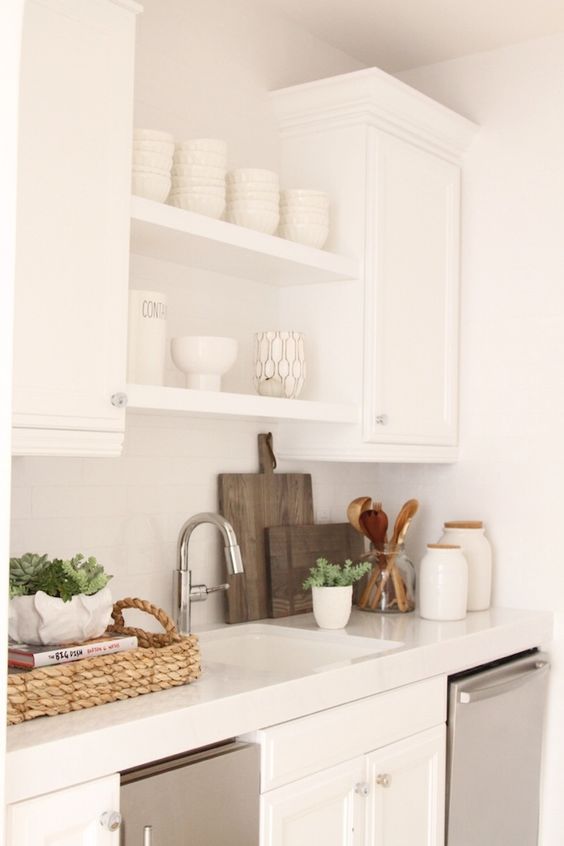 Add (or change) Lighting
I have never changed light fixtures in a rental – it just seemed like more work than it was worth when I was only going to be someplace for a few months. If you are renting for years however, this is definitely worth it! Adding lighting however is something that is a must! In my last rental, the kitchen was super dark, so I added under cabinet lighting. I bought LED puck lights ( Led Puck Lights on Timer
) and stuck them under my cabinets. This added ambiance, and gave a custom glow! You can also add string lights above cabinets for added light up there too. Candles of course are a must too!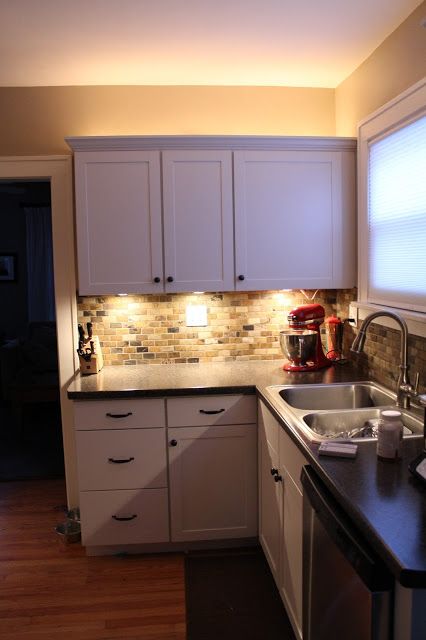 Change hardware
When sprucing up a rental kitchen, not many people think about the hardware. Hardware can totally update a space, and only take a few minutes to change out. This isn't structural, and as long as you change them all back before you move out, there should be no issue from landlords. I bought a 10 Pack Brushed Brass Cabinet Hardware
 from Amazon and it transformed my kitchen! It's simple and it makes the difference, plus you can reuse them!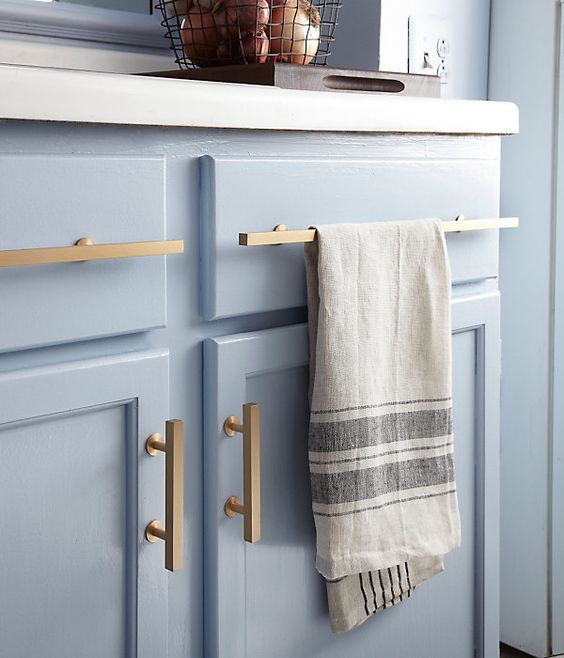 Want to reference this later? Pin it for later!
Have you spruced up your rental kitchen? Show me by tagging @myeclecticgrace on Instagram, or even better yet join our growing Facebook community of home decor lovers!