I've always been a fan of the easy and free-spirited bohemian look, from fashion to home decor, it's me, through and through. It seems just recently however that it's become trendy, which is actually amazing for you all who are trying to achieve this look in your own digs. You can find boho decor items online [especially Etsy, and even Amazon!], in big box stores, and most definitely at your local thrift shop.
To be honest, creating a bohemian & eclectic home isn't about buying mainstream items. You can't achieve this look by going into a retail store and buying everything from one showroom..eclectic boho is a "collected" look. Pieces form different eras, unique trinkets, and a sense of blurred boundaries between indoor and outdoor. Promise it's not tricky to create this effortless look..and I'm going to show you how to do it on a budget too!
---
What's eclectic & boho style you may ask…this sums it up perfectly.
"Overall the style portrays an organic sense..like it came together over a period of time rather than all at once. It is  a representation of the dweller's life, experiences, and personality."
Here are a few ways to achieve it..simply and on a budget!
Matching 
I'm going to start this off with the #1 rule here. Throw your matchy-match and symmetrical beliefs out the window. If you can't live without this..then boho style is not going to be your cup of tea!
Mixing up elements and letting each piece be it's own star is the way of the game. This goes for nightstands, lamps, and pillows. Your sofa should be an array of different pillows [fabrics, textures, colors, and size]. Don't go overboard with items that don't match in the slightest – you want to keep things cohesively organic and boho.
Your rug doesn't have to match your sofa, and your four chairs at the dining table don't need to be the same either. This rule of thumb only aids in the budget department. How many times have you found the perfect lamp, or chair, but it's just a single lonely little thing? Now you know to buy it, bring it to your home, and love it. Because it's going to work in your space with this style!
Check out my favorite inspiration images for an eclectic boho haven.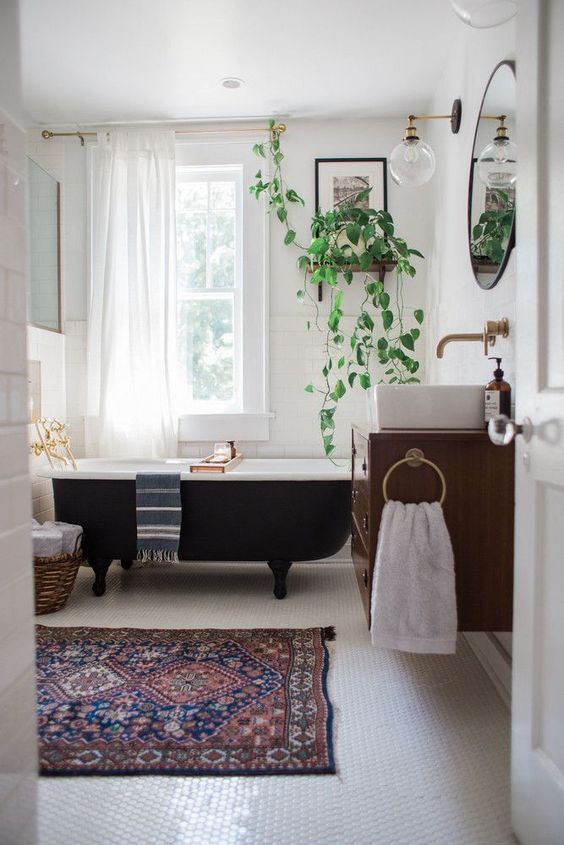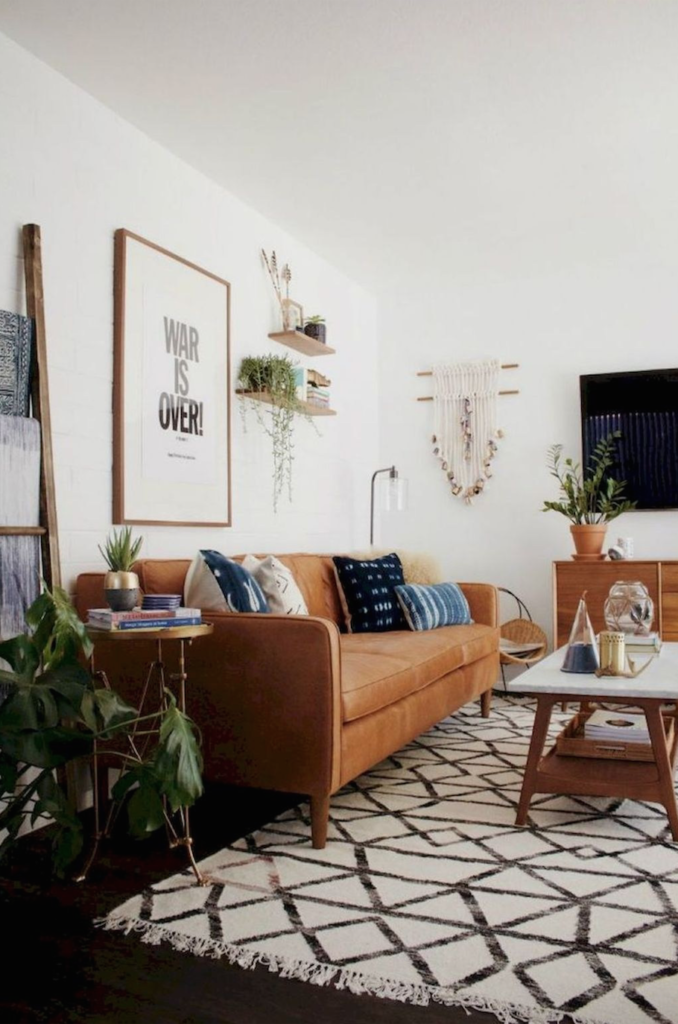 Plants
Plants are essential to creating this look. You may be like me (serial plant murderer); I can not even keep succulents alive, and those things survive in harsh deserts. But if you have any amount of plant knowledge, I say go all out sister! Buy the whole dang nursery and fill your home.
Best thing about plants – other than keeping your air clean and being natural mood boosters – they make the most adorable accessories.
Pop a little plant on your bookcase, your window seal, your coffee table, even try hanging them in your bathroom. They will instantly transform your room into a boho-haven!
If you can't keep them alive or for some other reason can't have real plants, faux is okay! Just make sure they are quality and don't look to cheap.
Plants are versatile and add a gorgeous pop of color in the most organic and natural way, so money is well spent every time you add one to your home.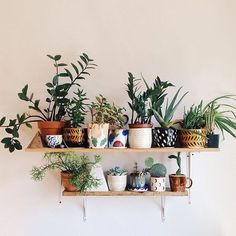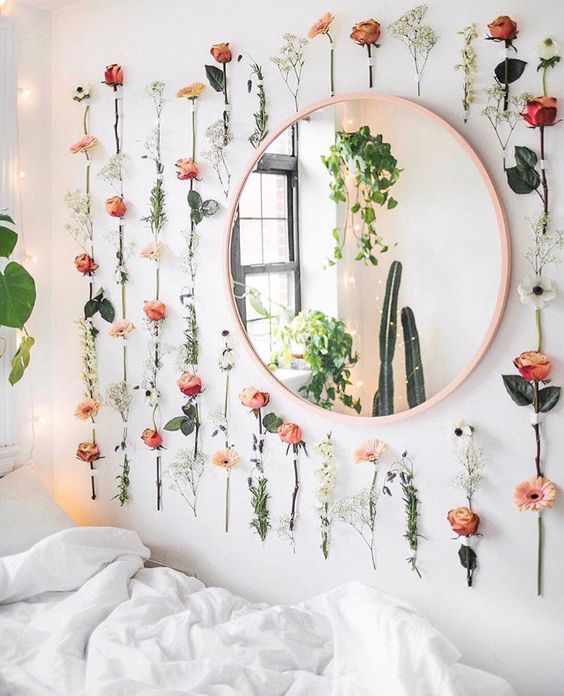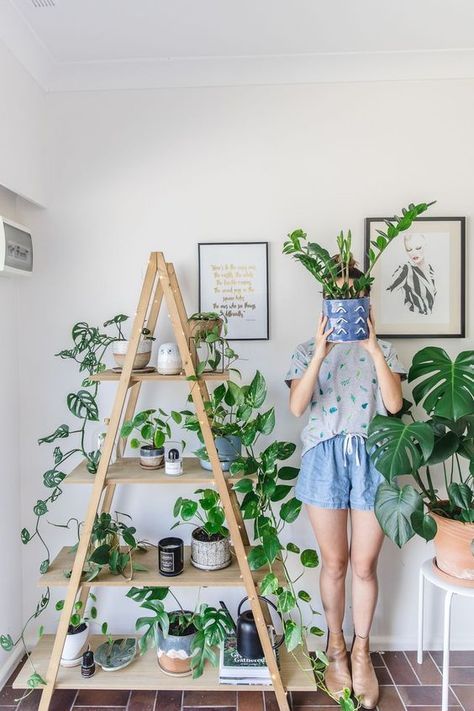 Layer up
Whenever someone used to tell me to layer my space, I had no idea what they meant. Layered interiors? Sounds complicated, but it's really not y'all.
Layering your interiors is exactly what it sounds like – it's the opposite of minimal. It can be as simple as putting two rugs down, a jute over a vintage classic, pillows layered on the sofa so it's not just a few sparse ones, and walls with tapestries, hanging plants, macrame, artwork, etc.
Layering on bookcases means filling in bookcases and shelves so things don't look empty. A big fail I see here is people layering heavily on one side of the room or in one element. For example, just doing one gallery wall, but leaving the sofa bare in the a living room, or creating a heavy looking bookcase but not having much else in the room for balance.
The key to doing this on a budget is by buying used and reusing items in a new way. You can use old scarves that can be hung as tapestries, or throw down a few rugs you already have in a layered pattern, instead of purchasing a large new expensive rug.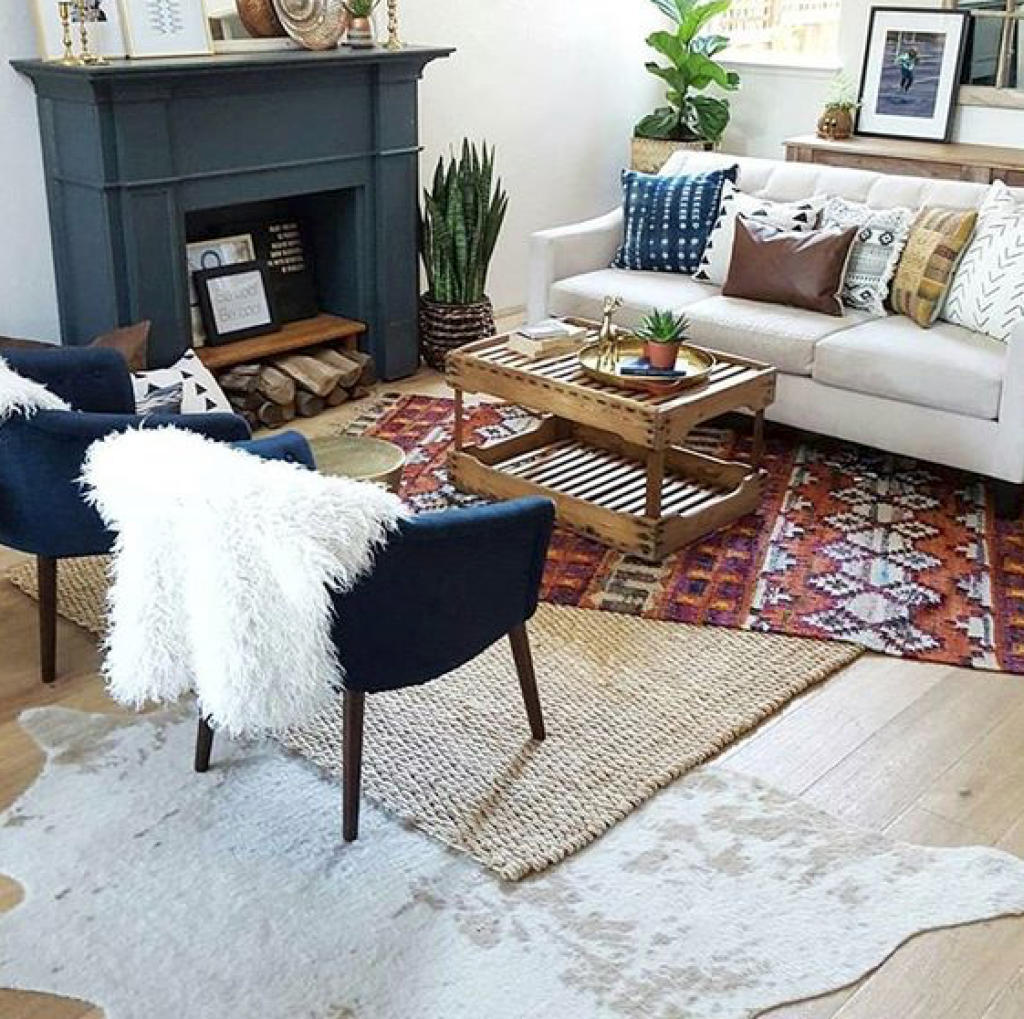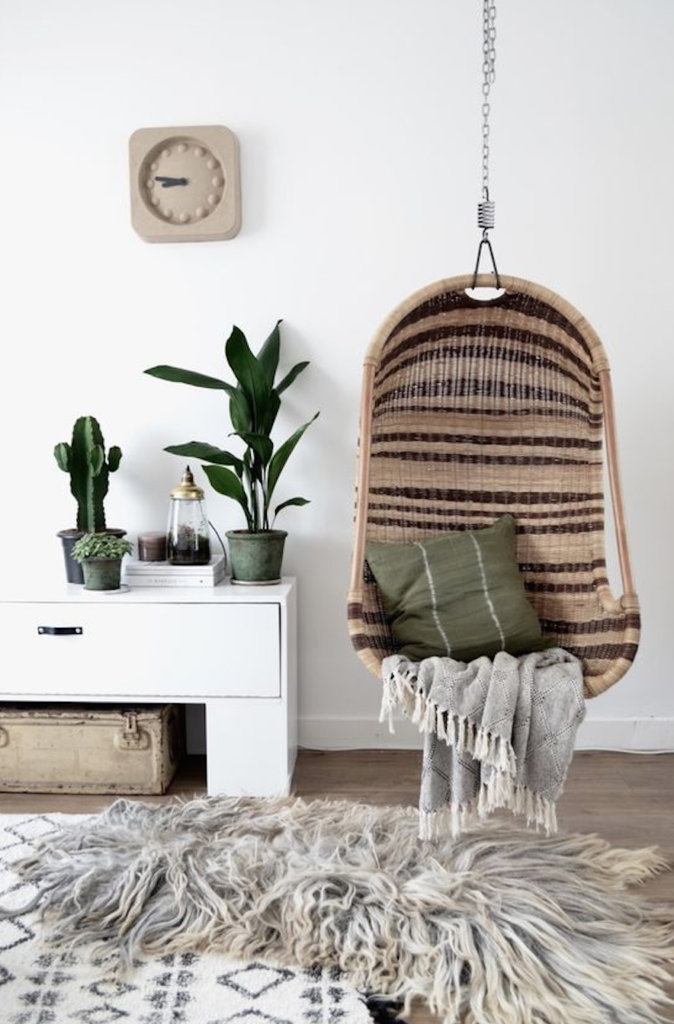 Rugs
Rugs are a beautiful way to add comfort and style to your space. They can be simple, like my favorite nuLOOM jute rug, or they can be a statement! Rug styles you'll want to look for for a boho look include kilim, patchwork, Monaco, Turkish, Persian, and jute.
Boho style is pretty neutral, with earth tones and natural materials, but rugs are the exception. They can be the pop of color in a space, and many rugs are the focal point.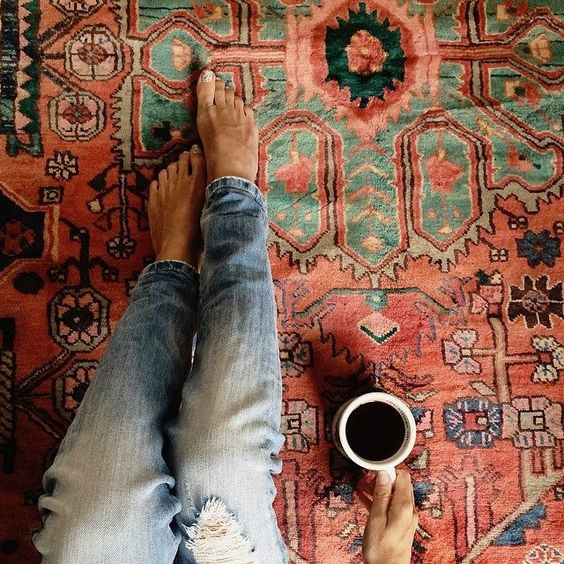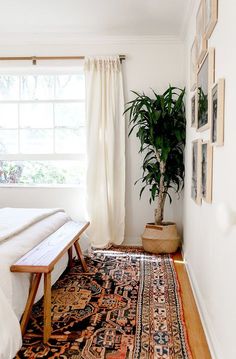 Materials and Colors
There isn't really a rule of what to use and not to use, but bohemian style is all about nature, organic materials and colors, and has a collected look. I like to consider my style eclectic bohemian, because I mix vintage elements along with some rustic touches to create a look that's all my own. That's what eclectic is all about – collected interiors that are an outwards expression of who you are.
Boho style can be neutrals, think drift wood, white macrame, woven jute and different shades of white and grey thrown in. Boho can always be a little louder with natural materials rooting the design,  but bold jewel tones, like green and gold being present in the space.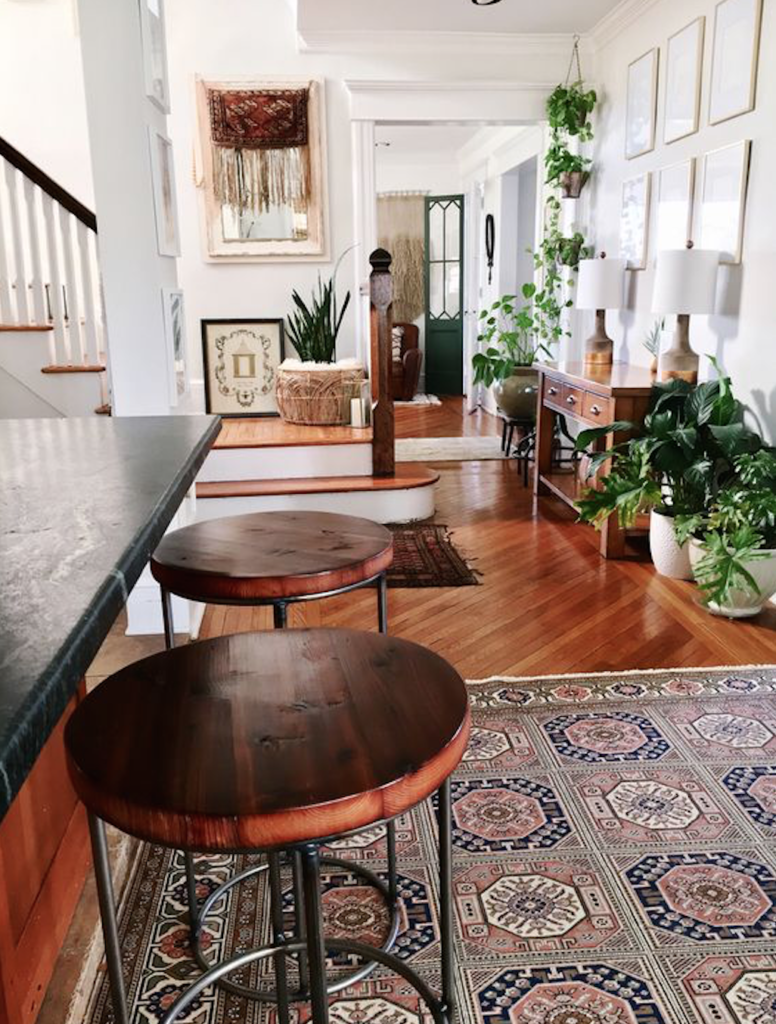 It's all about what you love. You do you ♥
Additional budget tips:
Wait for sales, whether that be holidays or for coupons, buying items at a discount takes some pre-planning but is always smart.
Thrift is up. Some be afraid to scrounge your local Restore and Goodwill. Hidden treasures are sure to arise!
Flea markets and Estate sales are the way to go for vintage pieces. Pieces with a story all a staple for a true boho look.
Reuse items in your own home – an old chipped mug might be the perfect new pot for a plant
Things don't need to be perfect – worn and weathered are actually strived for.
Want to get started NOW? Click on my links to my favorite boho Amazon products that are tested (by me!) and affordable!
*Disclosure: This post contains some affiliate links, meaning at no additional cost to you if you click through and make a purchase, I will earn commission. The opinions are completely my own, and I only refer to products that I absolutely love and have tested*