I've been teasing you all about a bathroom makeover since I moved into my 1970's house. The vanilla color on the walls..cabinets, countertops..paired with the grey floors made for a horrific sight. Plus the faded green curtain on the rusty metal rod? So cute, right? I know, I know, it could've been worse. I wasn't dealing with yellow or pink tile or some horrific peeling wallpaper, but still, it was uninspired for lack of a better word.
Last week I shared my inspiration for my bathroom and the elements I loved from each picture. You can check that post out here. 
There were elements I knew I wanted in my bathroom, like brushed gold (DUH) and high contrast design. I also always loved the idea of a Vintage/Persian style rug in a bathroom space, so I made it my mission to find one. Just like my thrifty kitchen makeover [if you haven't checked that out yet, you don't want to miss it] I didn't want to spend an arm and a leg – I capped my budget at $200, and ended up spending $170! I love budget makeovers, especially when I surprise myself and come in under budget.
A lot of the items I already owned, like the soap holder, tray, plants and some of the baskets. What I really was searching for were the big impact elements, and I was on the hunt for deals!
Before I show you the after, let me show you what I was working with.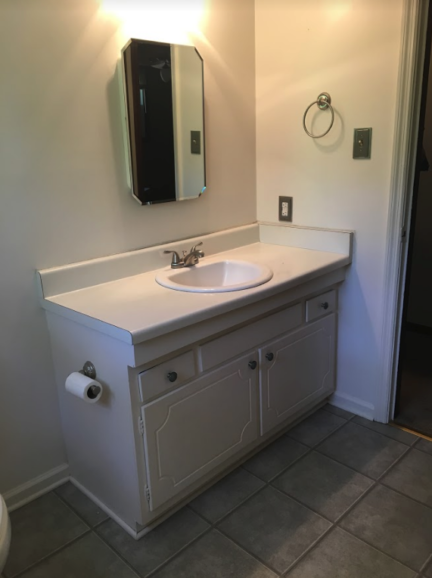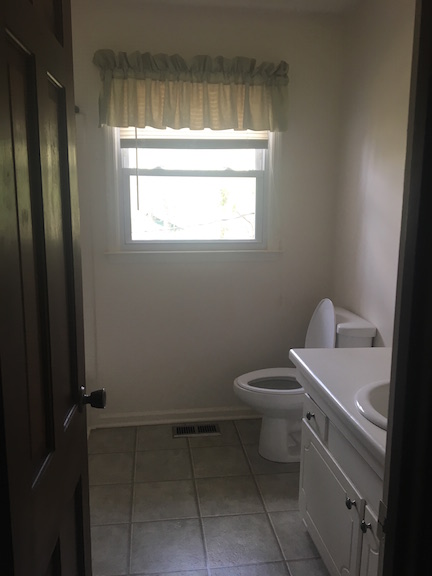 There was nothing special about this bathroom, and the only thing that wasn't older than me was the floor and light fixture, which were kept (for now) . It does get great natural light and is relatively spacious, so there were some positive aspects here folks.
160 dollars and 48 hours later, we have this…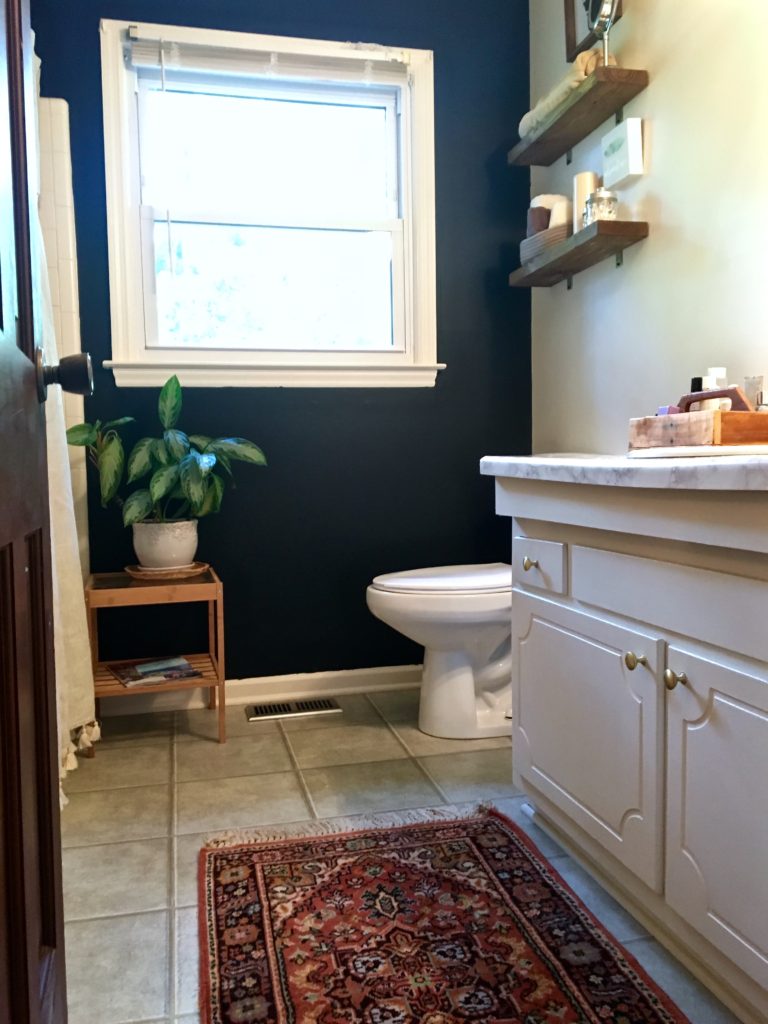 I am so happy with how it all turned out! I painted my back wall and the wall above the tub black – specifically Onyx Black from Valspar [links at end of post]. I was super nervous about this, but i've been talking about painting a wall black in my house since I moved in. My boyfriend..and frankly everyone including the lady mixing my paint, thought I was insane. A black wall? And a black wall in a small bathroom? SO.MUCH.YES. It came out incredible – i'm biased I know, but the high contrast of the black wall to the white cabinet and marble counters just makes this bathroom look rich.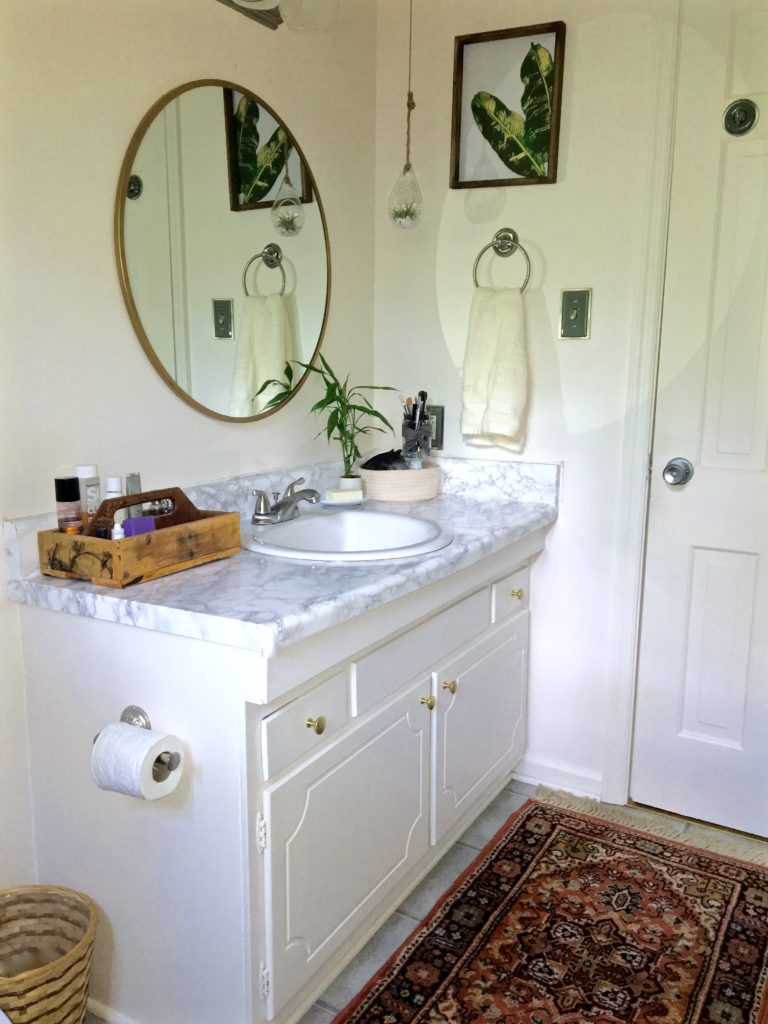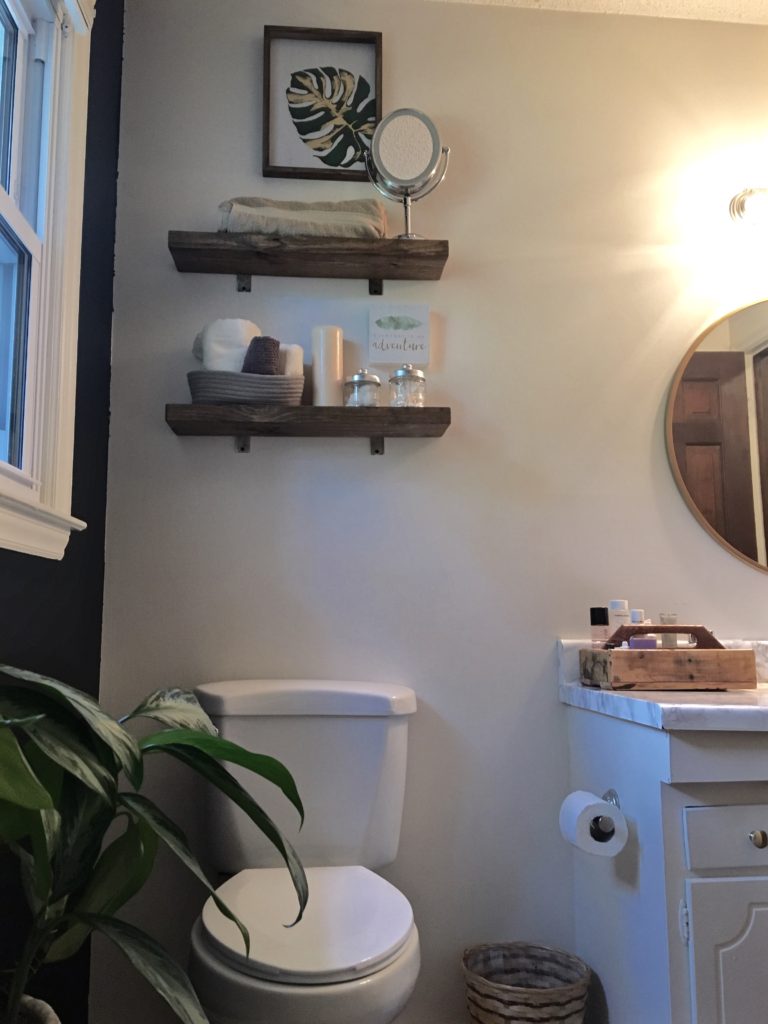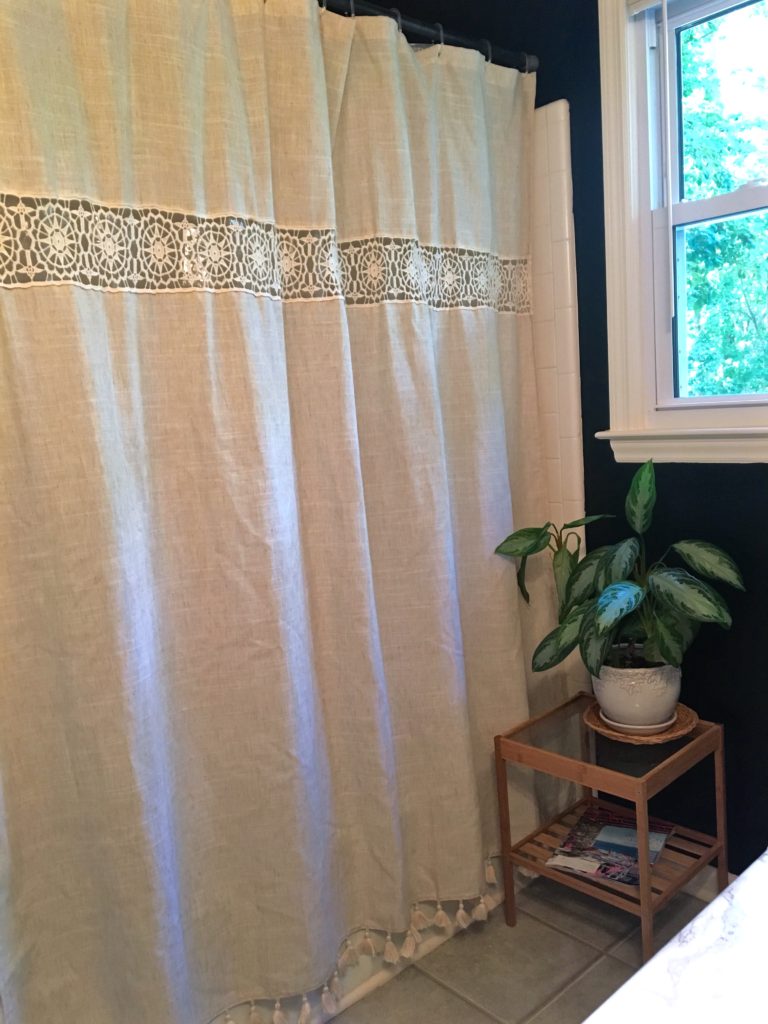 All in the details..
The Countertop Makeover
I love using contact paper. I had used it before in a bathroom wayyyy back in college for a bathroom makeover and was so floored by the results, that I decided to try it again in this bathroom. I love marble…real marble. But since my budget was capped at $200 and my timeline was 48 hours, obviously that was out of the question. Now this isn't real, or even close, I mean it's paper people, but it covers my chippy 1970's countertops and adds a bright touch. You can buy this on Amazon (only place I've found this one) for less than $10. Pretty amazing! It's easy to apply, and one roll covered my entire 3 foot counter, with some to spare! Check out the Marble Gloss Vinyl Film
 here!
Plant Lady
When planning my boho bathroom, I knew plants had to be in the mix. I also can't keep plants alive. Well most plants. So I bought an air-plant (from Aldi's) because I heard they were extremely low maintenance, and figured he'd be a cute touch! I also have two existing plants I added to the space. It's really a nice touch to add some living greenery to the bathroom, and I plan on adding a few more in the future.
Boho Shower Curtain
I've also had a million questions on where I bought my shower curtain. I love it, and I think it's my favorite thing in this entire makeover! It's stunning, and the first thing I bought for my space (I actually bought this a month before I even got keys to my new house. It was love at first site.) I found it at Target for $24.99 – it's from their new Opalhouse brand, which is swoon-worthy if you don't already know that. You can buy it too – here.
My $10 Steal
I almost gave up the search for my vintage rug. The weekend was coming to an end..and I didn't want to buy a new one online because to me that feels like cheating. It just so happens, as I was letting the paint dry, I was perusing Facebook Marketplace and a neighbor of mine listed a 3'x5′ 100% wool vintage Persian rug for sale. For $10. I literally leapt off the sofa and screamed my talk-to-text to her! Needless to say, I love my rug. It was the finishing touch in my bathroom..and not only do I enjoy it, but someone else in the household thinks it was MADE for him…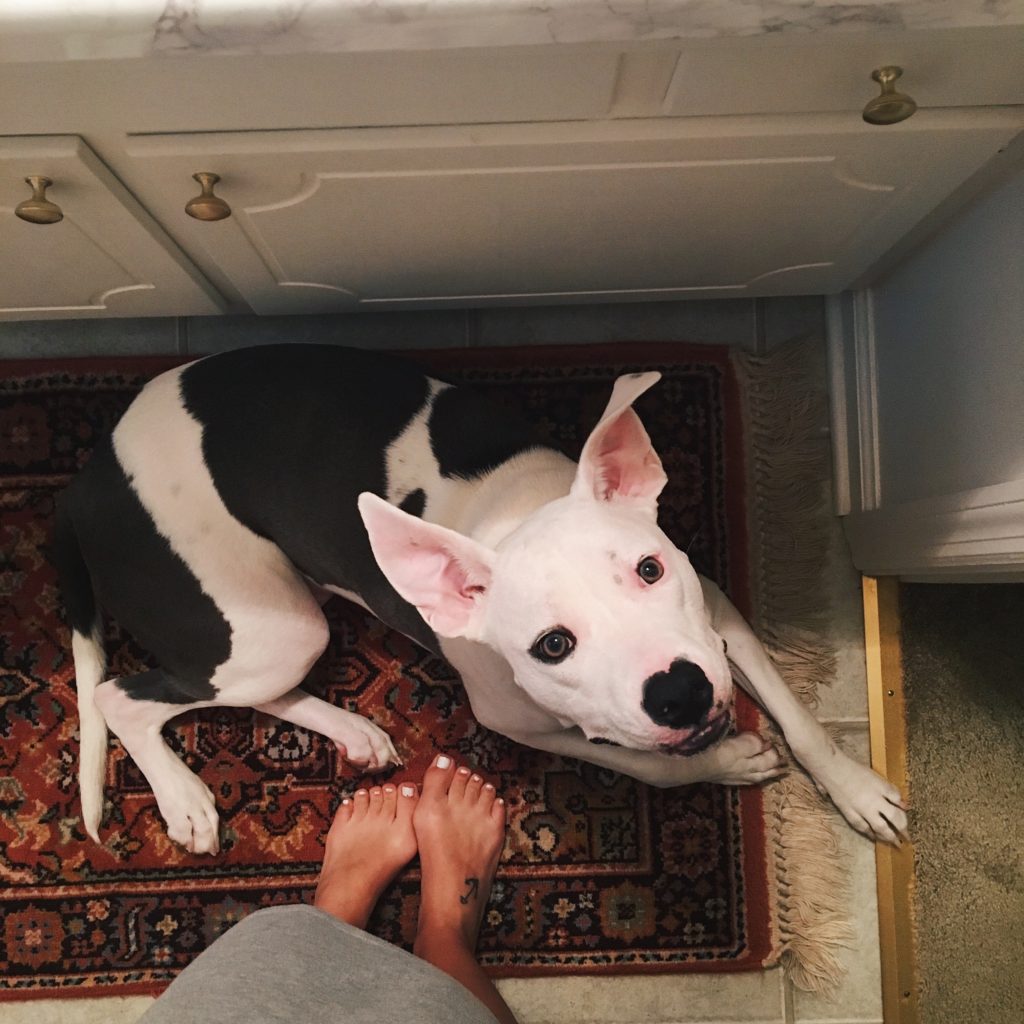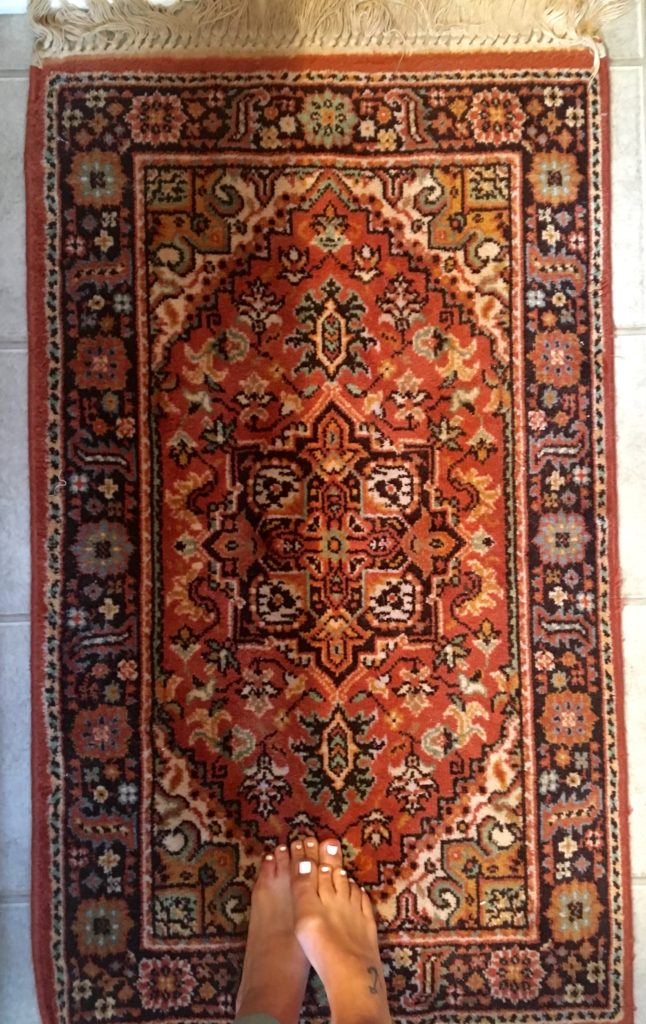 I found some artwork at Big Lots that had a tropical feel, but also pulled the wood element in from the shelves. All about balance.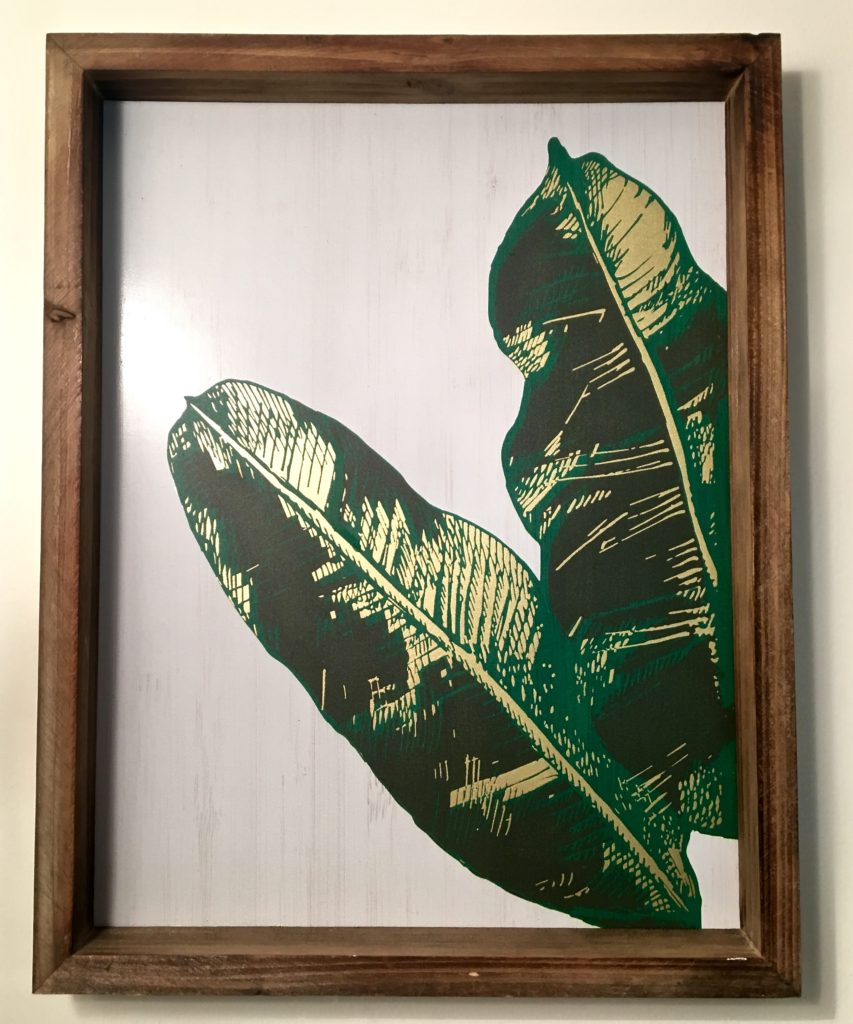 I needed extra storage, so I found these amazing shelves on Amazon and put them above the toilet for some open storage! Well, my boyfriend put them up, but I styled them, and I love them. I have been on the search for good shelves, but didn't want laminated ones or cheap looking shelves,which was all I could find. When I found these sturdy real-wood ones that were not only affordable, but were Amazon Prime, I ordered them immediately. You can buy my Floating Wall Shelves
 here.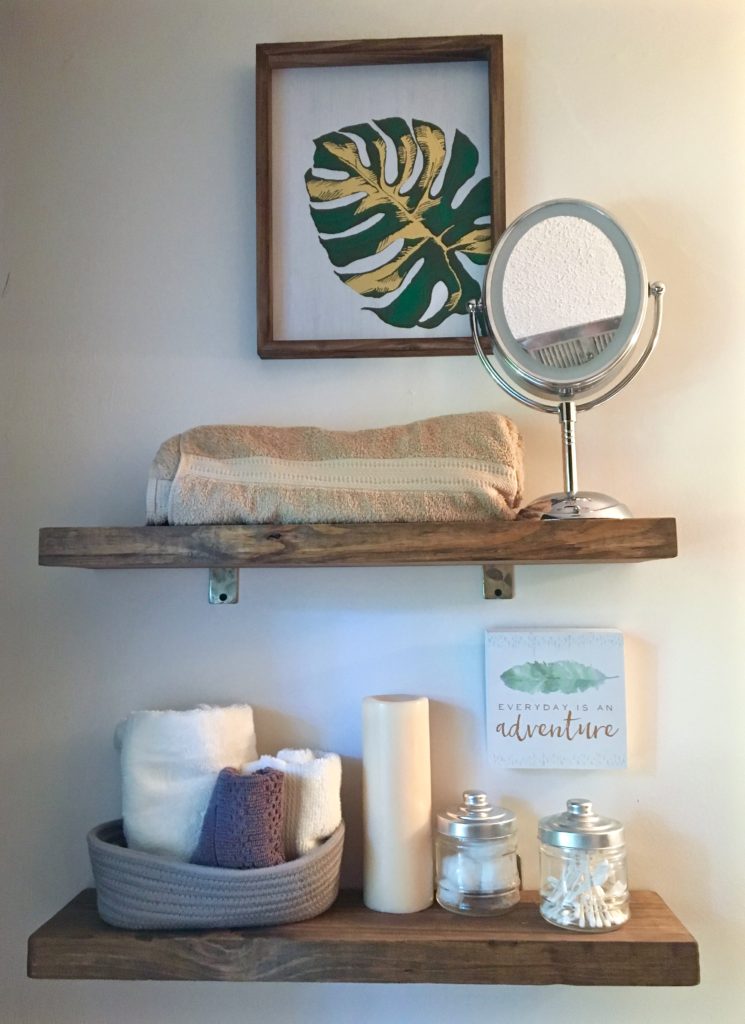 More Pictures
I love breaking down the costs for you, so you can understand how to achieve a makeover on a tight budget!
Total: $170
Sharing is caring! Pin it, or share it for future reference! xx
*Disclosure: This post contains some affiliate links, meaning at no additional cost to you, if you click through and make a purchase, I will earn a small commission. The opinions are completely my own, and I only refer to products that I absolutely love and have tested*