How do I know what are the best things to buy at IKEA? Well if you've been keeping up with me on Instagram, you know I've got a lot of love for IKEA. Many people think of IKEA as a starter store – people shop for dorm furniture, first apartment stuff, "cheap" goods for the house. Let me tell you a little secret, half of my designer friends who have plenty of money to go elsewhere still swear by IKEA.
Why is that? Well the potential is endless! Not only does walking through the store ignite your imagination for how to use their items in your own home, but their items rarely have just one use.
They are affordable, and their furniture is very customizable! From painting, to completely over hauling stuff, there are about a million posts out there on how to customize IKEA furniture – they are dubbed "IKEA HACKS". But that's for another day!
I'm here today to tell you WHAT to buy from IKEA – where you will get the most bang for your buck, because let's be honest, when you're walking through the ginormous home goods store with your big yellow IKEA bag, and things are labeled $1.99 or $5.99, you end up wanting it all. So I'm going to give you a list of my favorite tried and true items that are truly worth getting on your next IKEA trip.
Low on storage space? You MUST buy a Wardrobe!
This is something I always overlooked every time I went to IKEA, because they seemed big and unnecessary; sure, in Europe apartments don't have closets, so these are practical, but every place I lived in in the states had closets, so I ignored them.
Then I moved into an apartment with no closets, and there I was..buying myself some Brimnes wardrobes!
I created a wall of them in my dining room. And folks – these aren't just for clothes. I used one for cleaning supplies – everything from buckets and brooms, to all my rags, went into one wardrobe. The other one was for coats and boats since we lacked a coat closet. The third one? Well it had shelving and hanging room, so I made it into a kitchen pantry!
These wardrobes were a life saver! Now that we live in a house with plenty of storage, well I still use them! They sit in my office, and hide all my ugly office supplies, like files and papers. I swear by them – one of my most valuable IKEA purchases to date.
Find them here.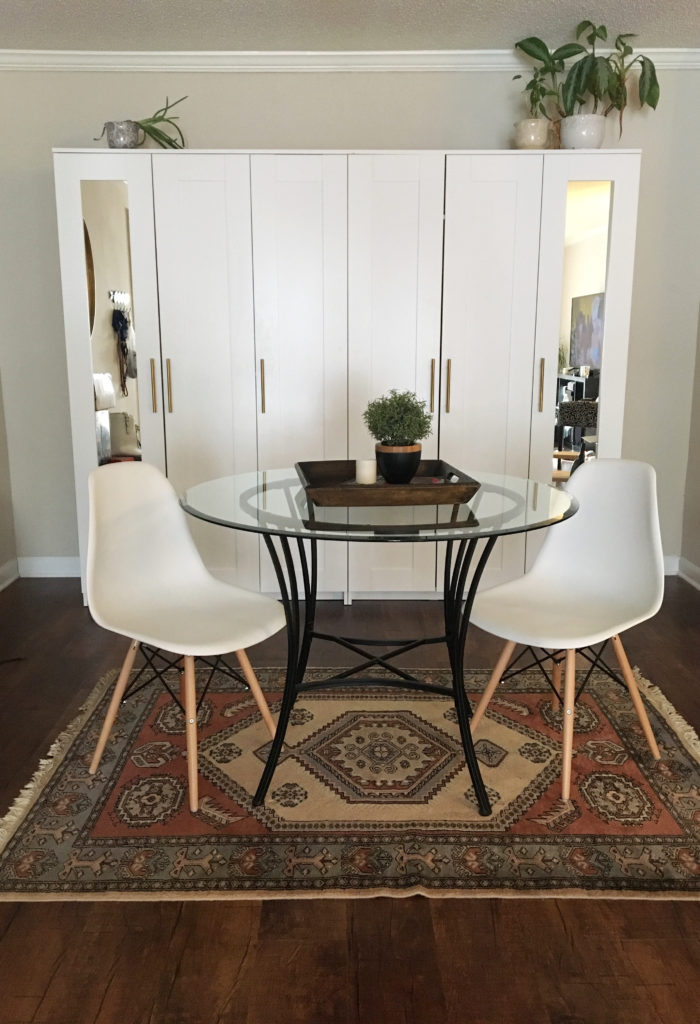 Tarva Dresser & Nightstands
When I was looking for an unfinished dresser, I couldn't find one for under $300, but then I found the TARVA series from IKEA and was smitten. They have dressers, nightstands, and a bed all in unfinished pine. Your creativity is endless here – I painted mine and switched out the hardware, and for under $200 I had made the exact dresser I wanted.
If you type "Tarva Ikea hacks" in Pinterest, you will be flooded with ideas on how to customize this line, whatever your decor style is.
Find them here.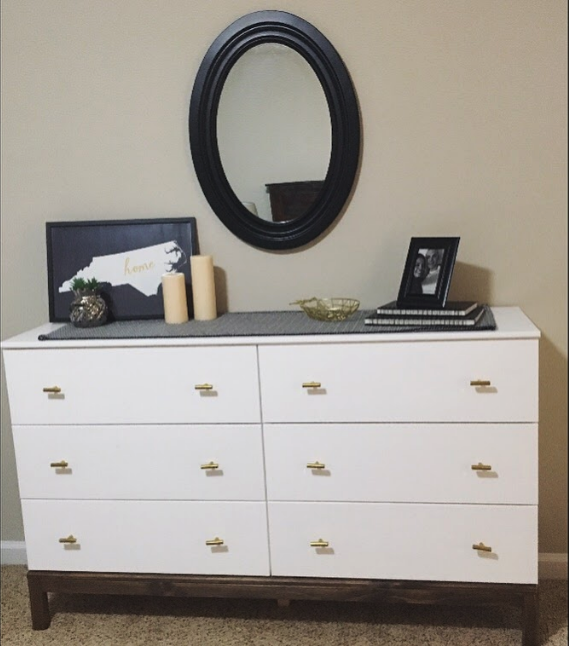 Pendants
I've spent a lot of time looking for affordable lighting..and I mean a lot. On my most recent trip to IKEA I found so many woven pendant lights that I was floored! I had been seeing a lot of them online for $100-600 and I got mine at IKEA for $29. So I'll call that a win.
The best thing about IKEA's lighting is like the rest of their items, it's simple. You assemble it and can install it in a few minutes.
Check out the Industriell Pendant I bought here.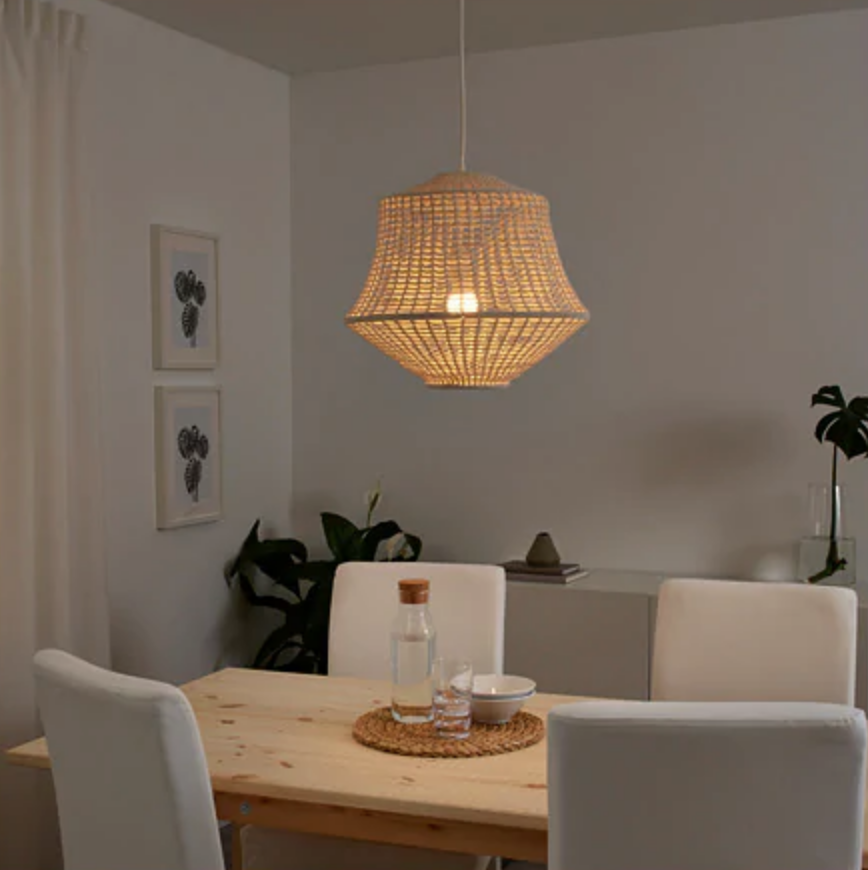 Dinnerware
IKEA's dinnerware is my favorite. I recently bought wine glasses and a whole dish set for under $30. Tell me where else you can do that and get trendy & quality pieces?
Wether you need just a few bowls, or want to feel like a grown-up with all new matching plates and glasses – IKEA is the place for this.
While you're at it – check out their placemats and trays. These are also incredible!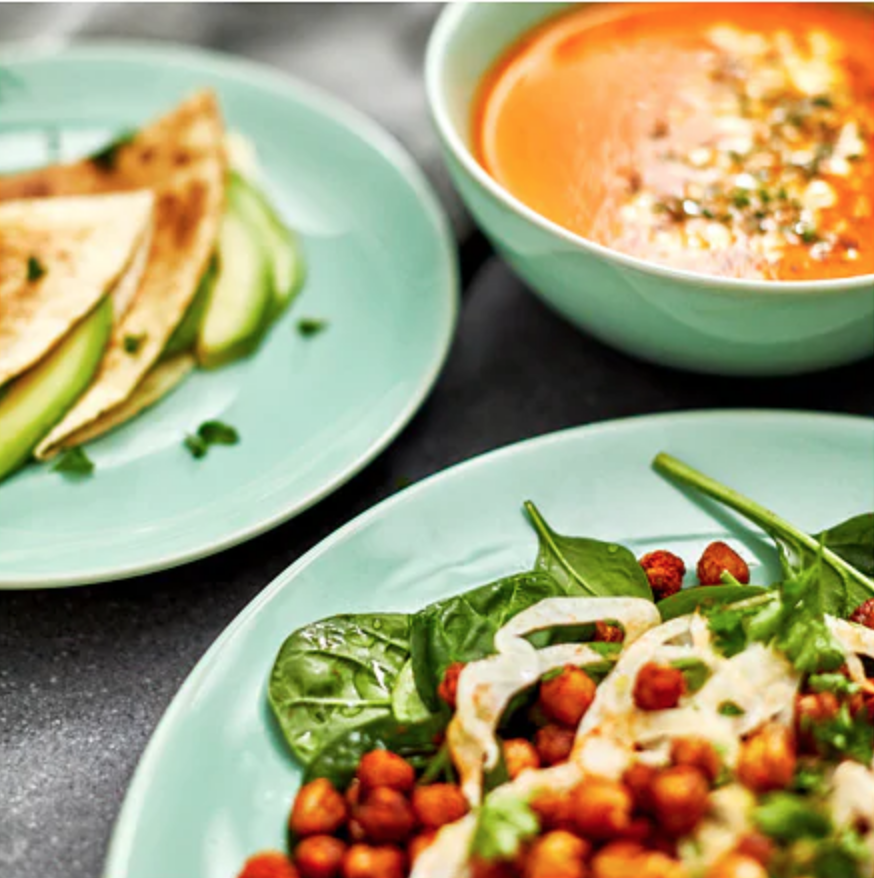 Bedding
Did you know IKEA sells bedding? And when I say bedding, I mean everything from throw pillows to mattress toppers. I recently purchased new bedding and was so happy with the prices after looking at other places prior. For example, I bought a new winter comforter for my bed – queen sized for $29. I found one similar at another home goods store for close to $150. Holy savings!
I've been an IKEA bedding lover all my life, even my childhood bedding was from IKEA. It's simple, but always adorable. Whether you want simple, or you want to create a layered bed look, it's possible – and possible on a budget!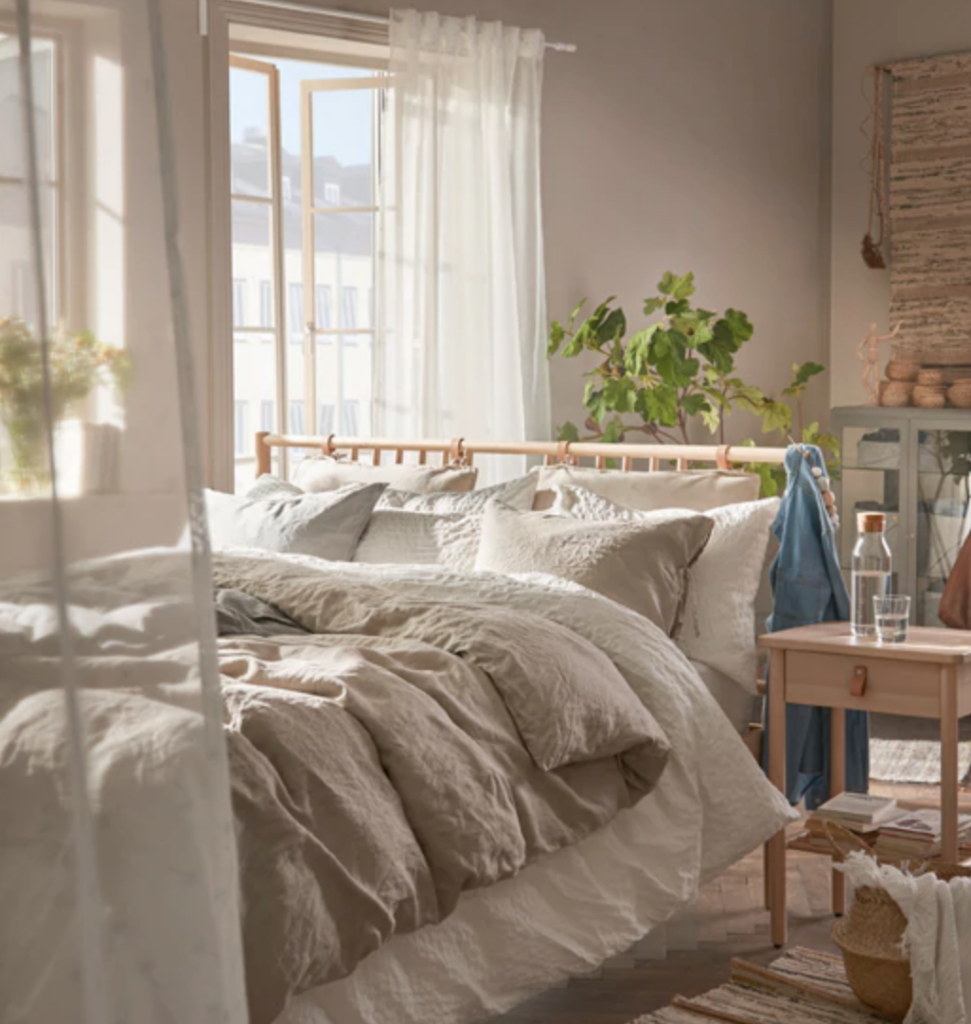 What are your favorite IKEA pieces? Let me know! And remember, sharing it caring, so pin this post to your favorite Pinterest board for future reference!