Lately I've been showcasing my bathroom on my Instagram stories (peep them here!) The hallway bathroom in my 1970's split-level home was a blank canvas when I moved in a few months ago. Blank = boring as hell! Not only are the walls a creamy white, but the trim and vanity are painted the same..it's like they just threw a bucket of paint in this bathroom and that was that. I guess the 70's were an odd time…
I love bathrooms. Is that a weird thing to say? I always find myself snapping a quick photo of them at restaurants and hotels (I got over the awkwardness of this years ago. My excuse? "Oh I'm a designer..") I love tile, lighting, and the bold design choices that are nestled into one space! So when it came to my bathroom in my new house, I knew I wanted it to be my little sanctuary, because i'm a glass of wine and bubble bath kinda gal.
So far, I've added a new shower curtain, hung shelfs above the toilet, and changed the mirror out. Once this space is complete, I am going to do a feature blog post, listing all the items I used and such, but for now i'm just going to showcase what we started with (brace yourself) and show you some of my FAVORITE bathrooms I found on Pinterest.
1974 called..and they want their bathroom back.
As you already know, I love to challenge myself and create the most bang for my buck. In order to do this – I spend a few weeks or more gathering items. I seek out sales, flea market and thrift finds, and lots of DIY. My goal is to have a bathroom where I can unwind in the tub, and ultimately enjoy getting ready in. This bathroom is also the only guest bathroom, and is located in the hallway off the entry way, so I want it to be appealing to guests as well! Let me show you where I'm pulling some inspiration from!
Bathrooms I have major crushes on…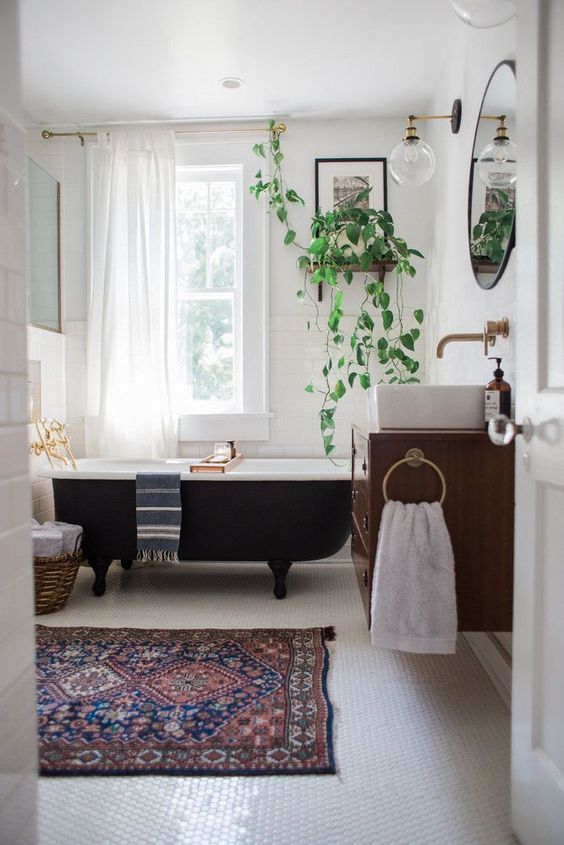 This bathroom hits me right in the heart. I love the simple 1920's touches, like the penny tiles floors, claw foot tub (that black touch is so edgy!) and can we talk about how dreamy is that window with the sheer curtain?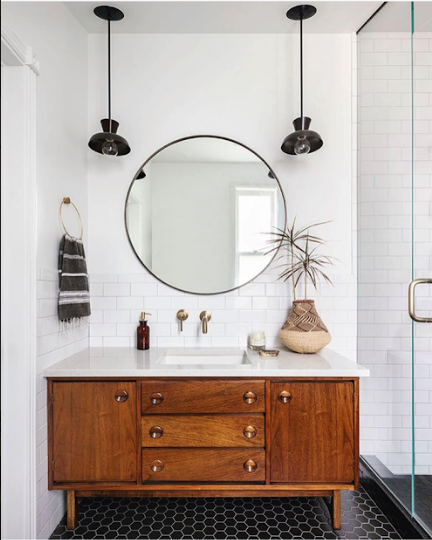 Here is another classic bathroom with updated touches – like the seamless shower doors and sleek subway tiles. I also an IN LOVE with this vanity. They reused a Mid-Century Modern dresser as the vanity, and it makes me swoon! I love the contrast of the black and white materials with the raw beauty of the vanity. This bathroom is also a great example of tastefully mixing metals – which is something I am doing in my own bathroom.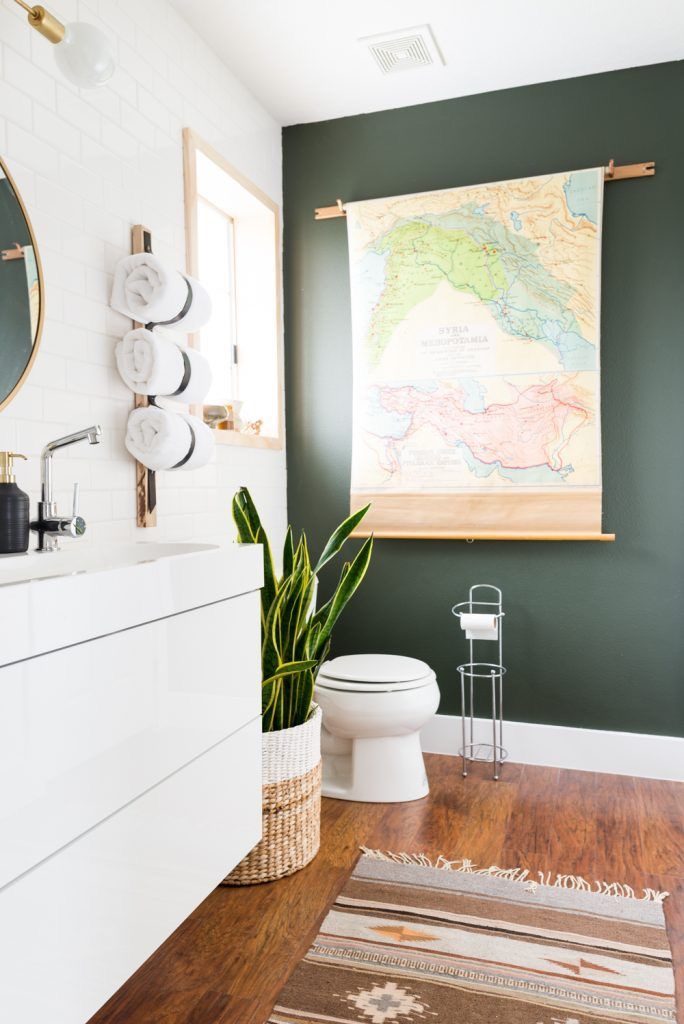 Where to start!!! I love the green wall in this bathroom. Bathroom wall colors are so underrated, as is artwork. I'm a lover of maps, especially vintage maps, so this bathroom is a favorite in my book. I don't have the room for something like this in mine, but the color is definitely something I am considering.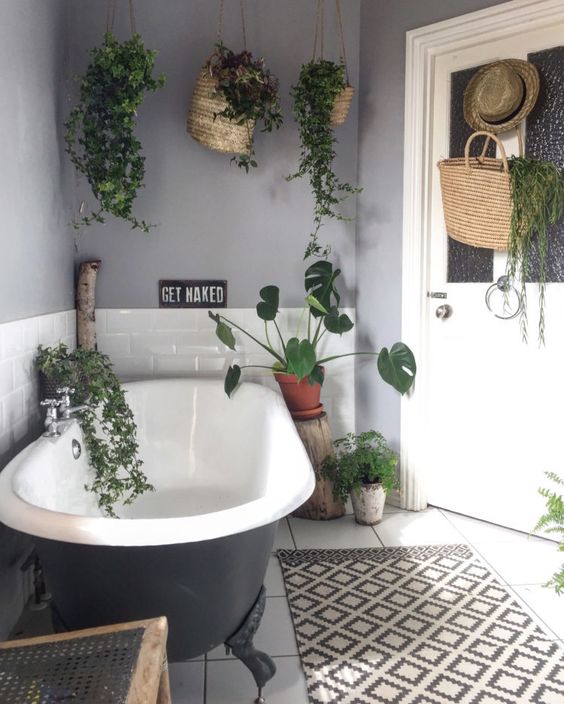 I just recently started to really like the idea of plants in the bathroom. Not only do they freshen the air and keep spiders away (some of them), but they are natural decor. I love the claw foot tub here too..but I have to work with my tub/shower combo for the time being!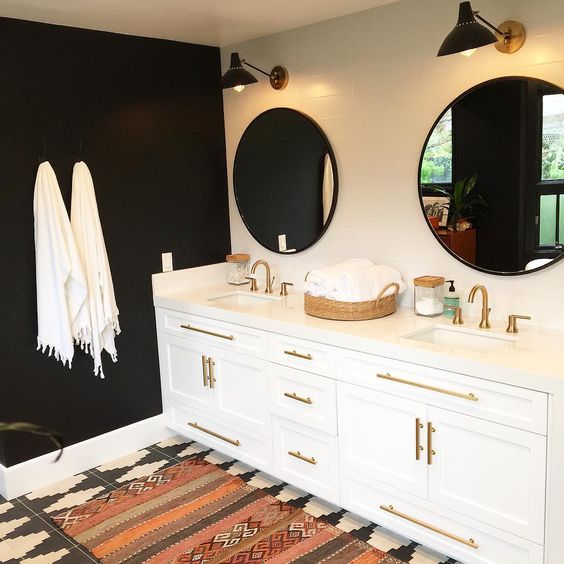 Are you starting to see a trend here? Beautiful rugs, round mirrors, and a bold accent wall. These are the things I KNOW I want in my bathroom. The high contrast in this bathroom gives it a rich feeling, while the southwestern rug adds an eclectic flair.
[wpforms id="57″ title="true"]
Stay in the loop.
Want to follow along with the progress? Follow me on Instagram !
Tell me your thoughts on bathroom makeovers! Must haves, wins/fails in your own experience, etc!
xo
Katherine