I know you all have been waiting for this, and I'm so excited to finally say the living room is LIVABLE. I'd be lying if I said it was done, because truth be told, only 3 of the 4 walls are painted and the TV wall is a sight to be had, but the main living area is complete.
You all know by now, (and i'm comfortable confidently saying) that i've mastered thrifty home makeovers. This living room was no exception coming in at just under $130 for a complete update. At the bottom of this post I will do a complete cost breakdown, and keep in mind for 90% of the room i've reused items in my home from different spaces or just refreshed what was in here. It just goes to show you don't need a huge budget to make a huge impact.
Before
My house was a sea of beige and horribly stained woodwork when we moved in a year ago. Repainting all the trim and doors has been a chore to say the least. The living room was one of the last rooms to get a good coat of fresh paint and white trim and it was like breathing a breath of fresh air into the space!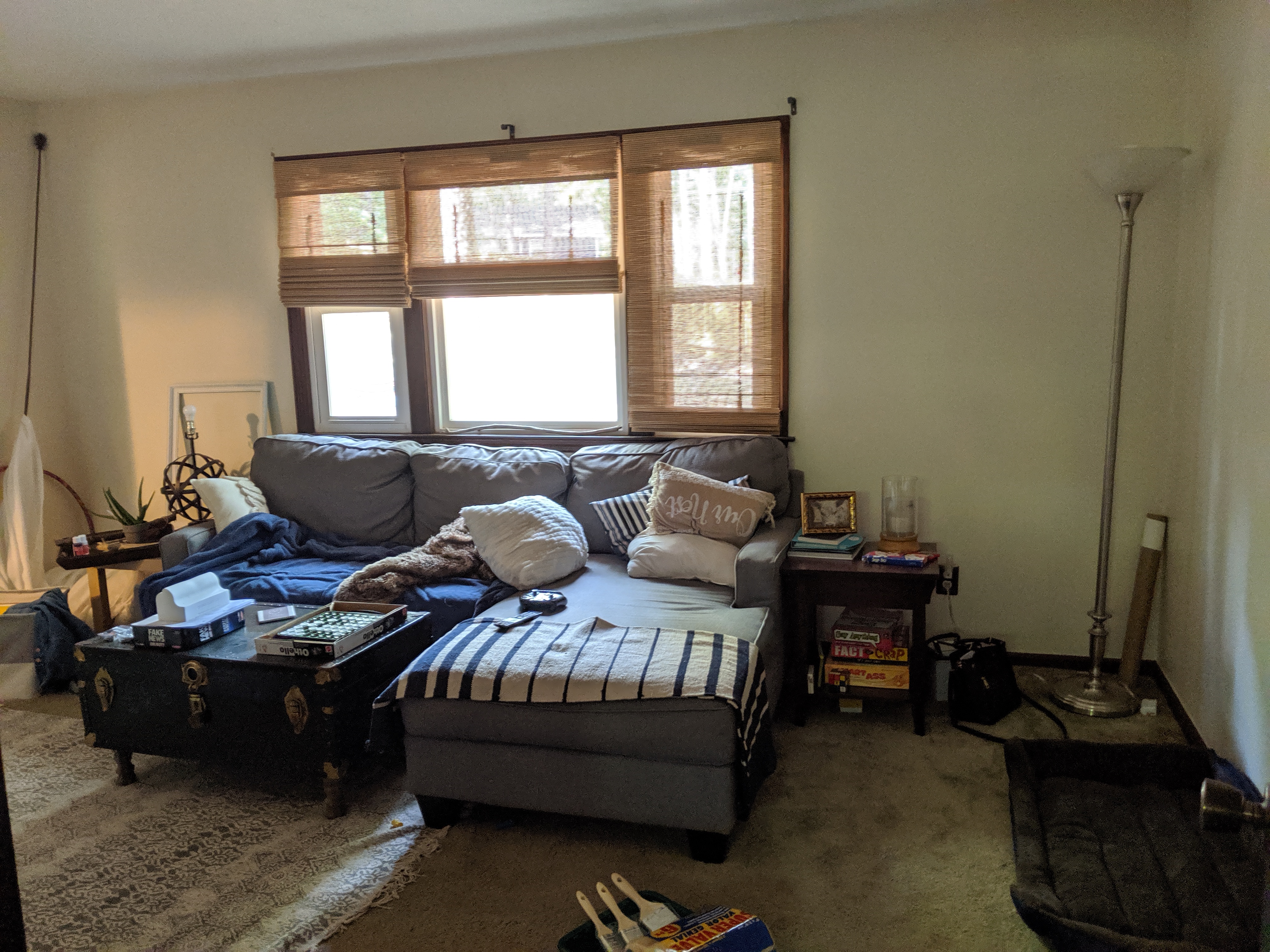 I'm embarrassed that my living room ever looked like this, especially because this is the first thing you see when you walk through the front door, but this is #reallife. And my real life was (is) super messy and chaotic.
I was on a tight budget and timeline – I didn't want to sink a lot in and buy any new furniture, and I also am very limited with time in this season of my life. Let me show you what 3 days and $127 did for this space…
After
Don't let Wilbur distract you from the amazing transformation of this room! Yes – it was simple changes. I didn't get new flooring (like I want) or a new sofa, but the magic of paint and a sharpie is kinda freaking amazing.
Is that shiplap….???
That is NOT shiplap! It is sharpie. Yepp you read that right, I DIY'd faux shiplap on my living room wall. It cost a total of $28 for the paint and sharpie and took about 3 hours to do total. This post just focuses on the transformation of the living room, but if you want to see how I did the shiplap on my wall, I wrote a tutorial with all you need to know here!
Simple + clean
A lot of my house is bold and not so simple. Like my green dining room and two toned kitchen, but I spend a lot of time in my living room and wanted it to feel serene. I also knew I wanted to do something visually interesting, and after doing a stencil wall in my guest room, I was feeling fairly confident that I could hand sketch some shiplap on my wall.
I had a collection of driftwood that just sat in the corner forever, then I found this rattan basket for $3 at the thrift store, added my driftwood, and there you go – visual interest and height!
Taking the curtains down and adding simple cordless bamboo blinds opened up the space and added the organic element I wanted. You may also notice the hanging light – I didn't have a table lamp, but I did have a hanging bulb kit from IKEA and an old lamp shade. I simply screwed a hook into the ceiling, nailed the cord neatly to the window trim, and now have a very practical and FREE hanging lamp.
Cost breakdown:
Paint: Valspar (Benjamin Moore Simple White) $25
Sharpie Oil Pen: $3
Rattan Basket $3
Gallery Wall Frames: $24 (4 total)
8×10 prints: $12
Bamboo Cordless Blinds: $60
Total: $127

Sources:
$12 Hanging Light Kit
Gallery Frame: Mainstays 11×14 Matted to 8×10 Linear Frame, Rustic
Natural Cordless Burnout Bamboo Roman Shades 48″ W x 64″ L
To shop other items in room – click here.
To see more of this space follow me on Instagram! Don't forget to check out the faux shiplap tutorial as well!