I can't believe it's been two years since we've moved into our Raleigh home! On one hand, two years seems like forever ago, and on the other hand, it seems like we've been here for a week. When we bought this house, it was as if the house has been wrapped in plastic and was a blast from the past from 1970 [the year it was built]. The wood paneling was freshly polished, the wood trim newly stained, and of course the speckled gold countertops untouched. Because the house was in such good condition (as dated as it was) it was misleading and led me to believe I could cosmetically flip the home in no time! Boy was I WRONG.
If you've followed along for any amount of time on my Instagram, you'll know the trials and tribulations we've gone through with the house. The never-ending painting of brown trim, uneven walls, and floors throwing everything off..and oddly placed windows (like the window sandwiched between two walls?) Nevertheless, every month the house is getting to a more acceptable state. It's a house I'm proud to call home, and the progress we've made for money spent makes me feel extra proud.
House Tour Break Down
I've written a post on almost all of the makeovers individually, along with the paint colors used in my house..but I've never done an evolution post of my home! I've redone some of the spaces twice now, and want to show how my style has evolved and my house has progressed. We still have much to do (like replacing all the carpet with gorgeous blonde hardwood floors!) but for now, I want to look back and appreciate how far we've come. Let's dive in, shall we?
Kitchen
This is the first room we tackled! The thrifty $397 makeover launched my blog, and the look has been changed twice already. I may be working on a new look again, but I sure do love this kitchen!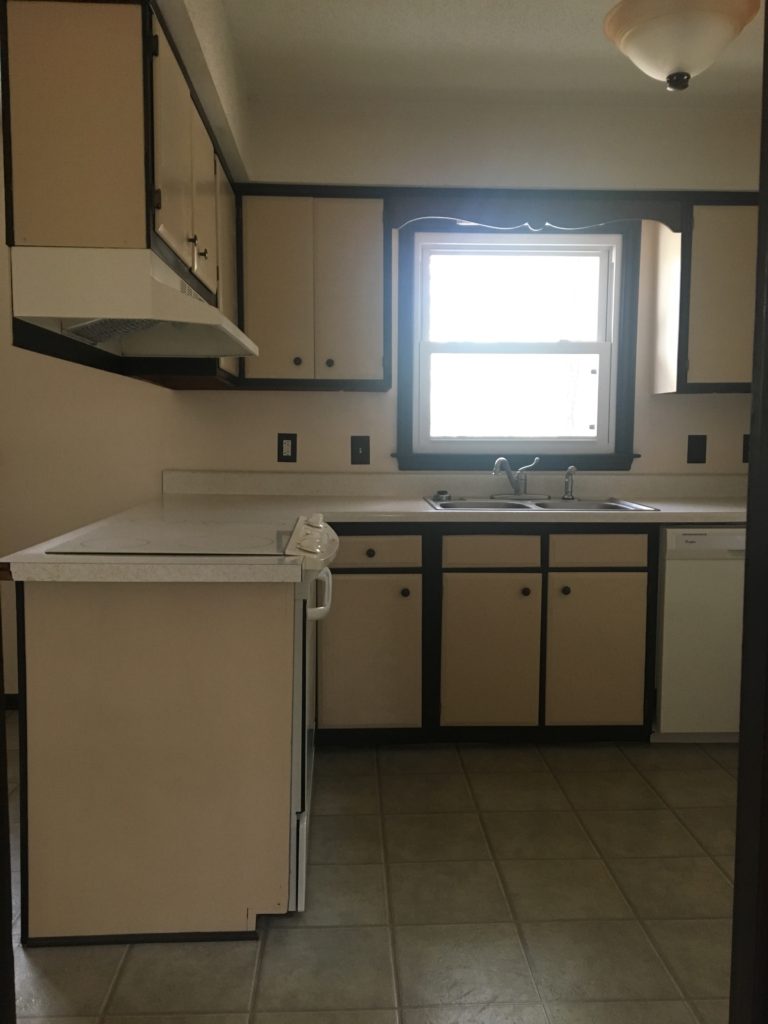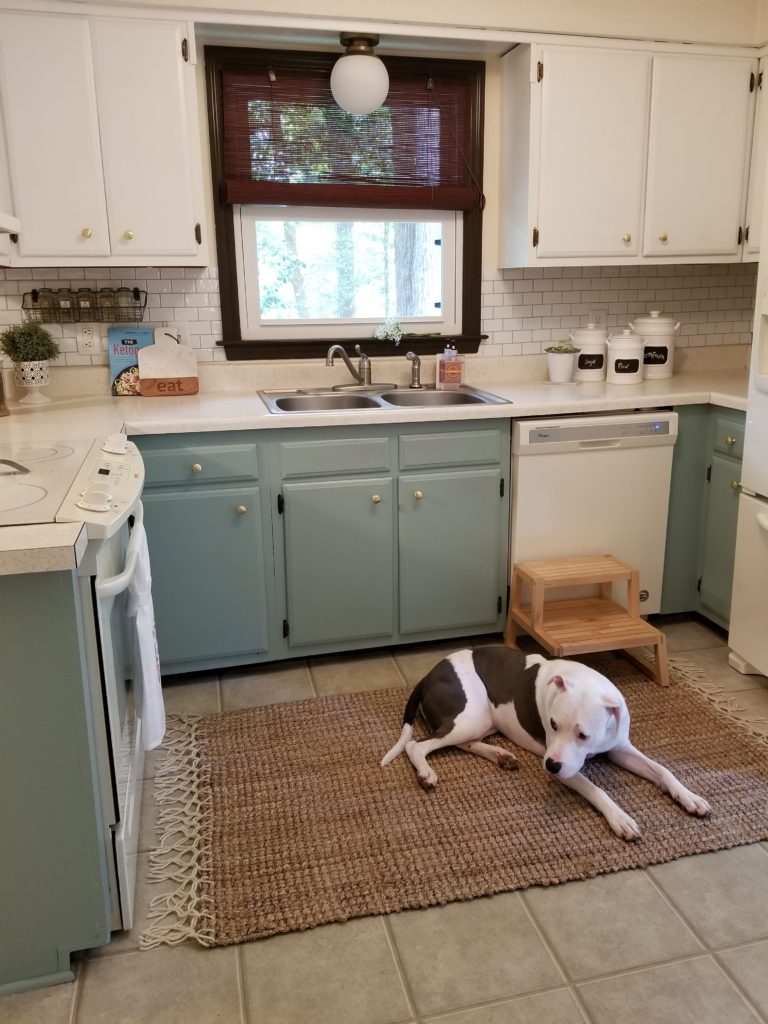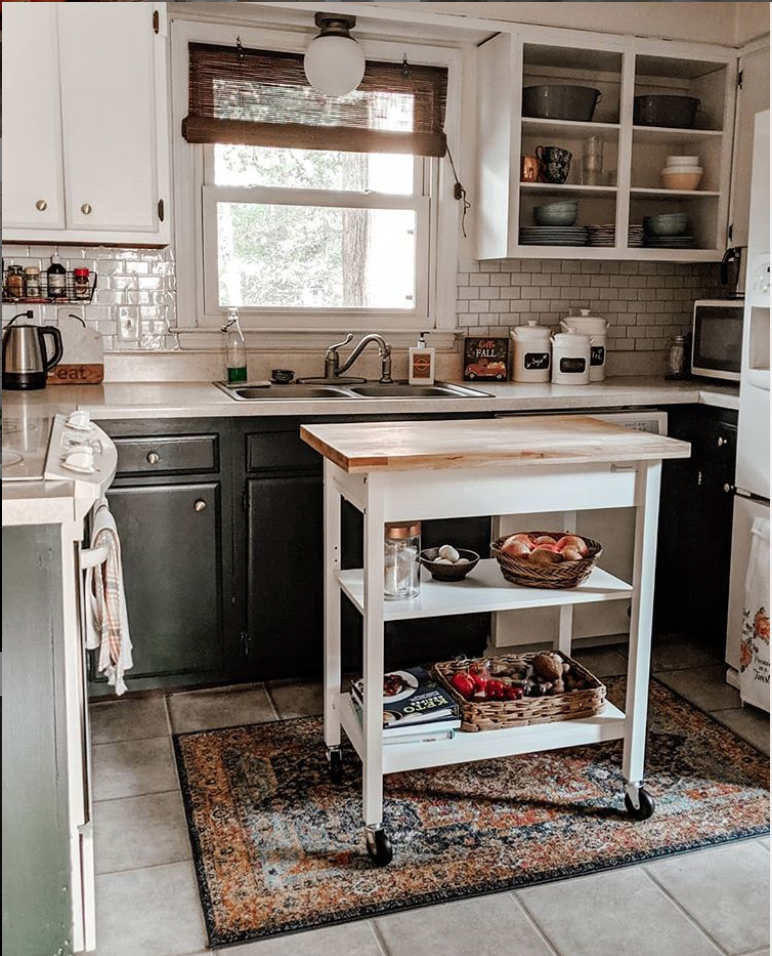 You can see that a lot was changed in the kitchen over the last two years! We repainted the cabinets twice, swapped out decor and rugs, and added a rolling island cart. I also removed the doors from the upper cabinets on one side to open it up a bit. There isn't too much more I want to do investment wise into this kitchen. Truthfully the cabinets are awfully laid out (you can't even open some of them) and if we were to do more to this kitchen it would be a complete gut job. But that's not likely to happen because we don't plan to spend more than another year in this house!
Bathrooms
I started by redoing my bathroom, which is the bathroom technically for the two other bedrooms. Our master bathroom is much tinier, and is my fiance's bathroom. The key to a happy relationship…separate bathrooms!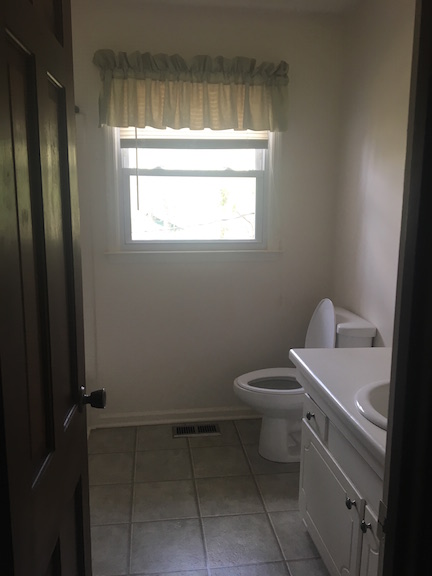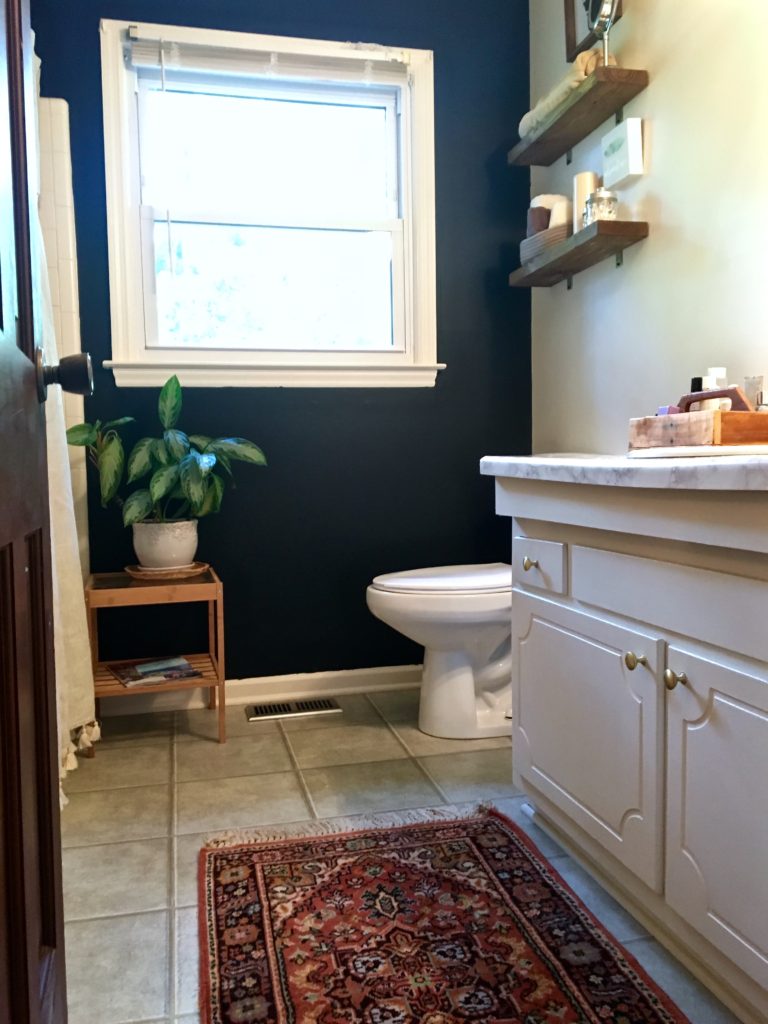 The first rendition of the bathroom was moody and bohemian! I painted the wall black, hung shelves, swapped out the lights, mirror and hardware, and added contact paper to the countertops.
I decided to go light in the bathroom the 2nd time around! I did a sharpie shiplap wall over the black paint, swapped out the shower curtain for a brighter and colorful one, and painted the vanity sage green. [check out my favorite boho shower curtains here]
Master Bathroom
One of my favorite makeovers in this house was the master bathroom! It was featured in Apartment Therapy and On The Today Show website. That's because we flipped the bathroom for under $200! [You can see the whole makeover here.]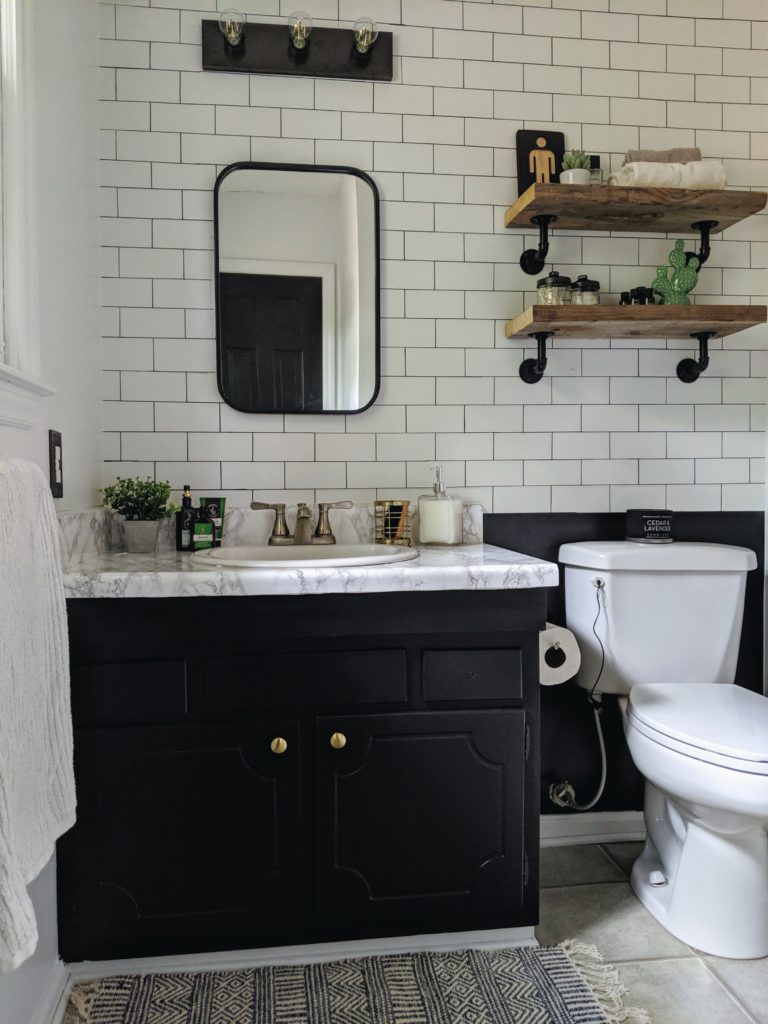 Dining Room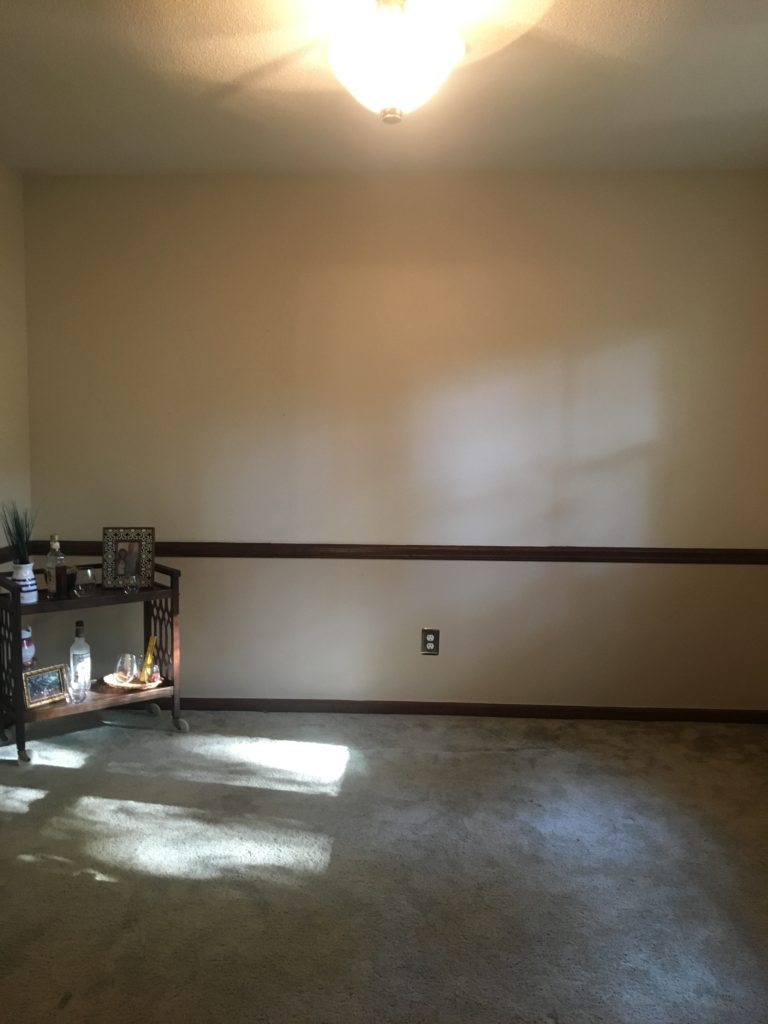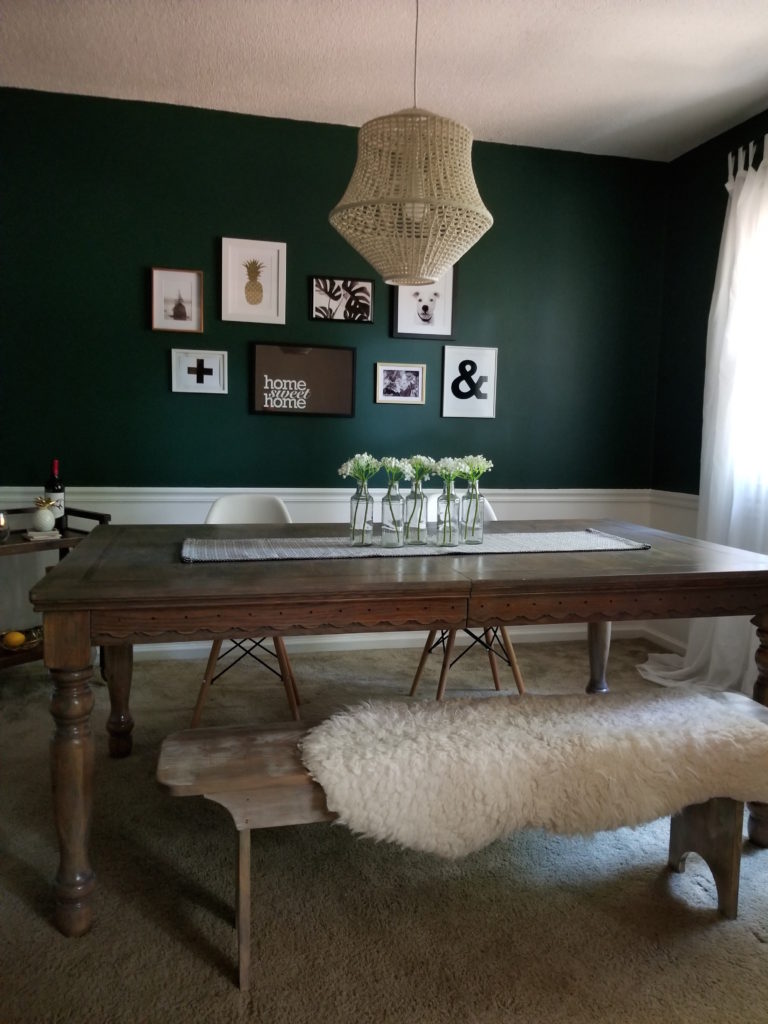 The first thing we did was paint the dining room and switch out the light fixture. We used furniture we had and I refinished the dining table. Then I found my dream dining set and swapped the dining room around again! Most recently, I painted the walls a light green [Clare Paint Review] and simplified the gallery wall. It's serene and coastal now!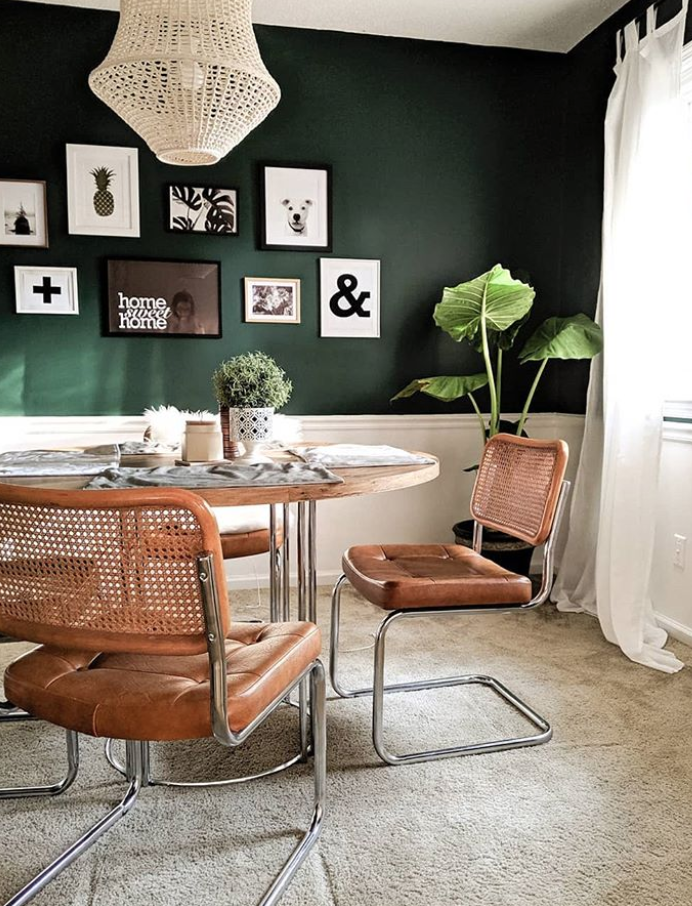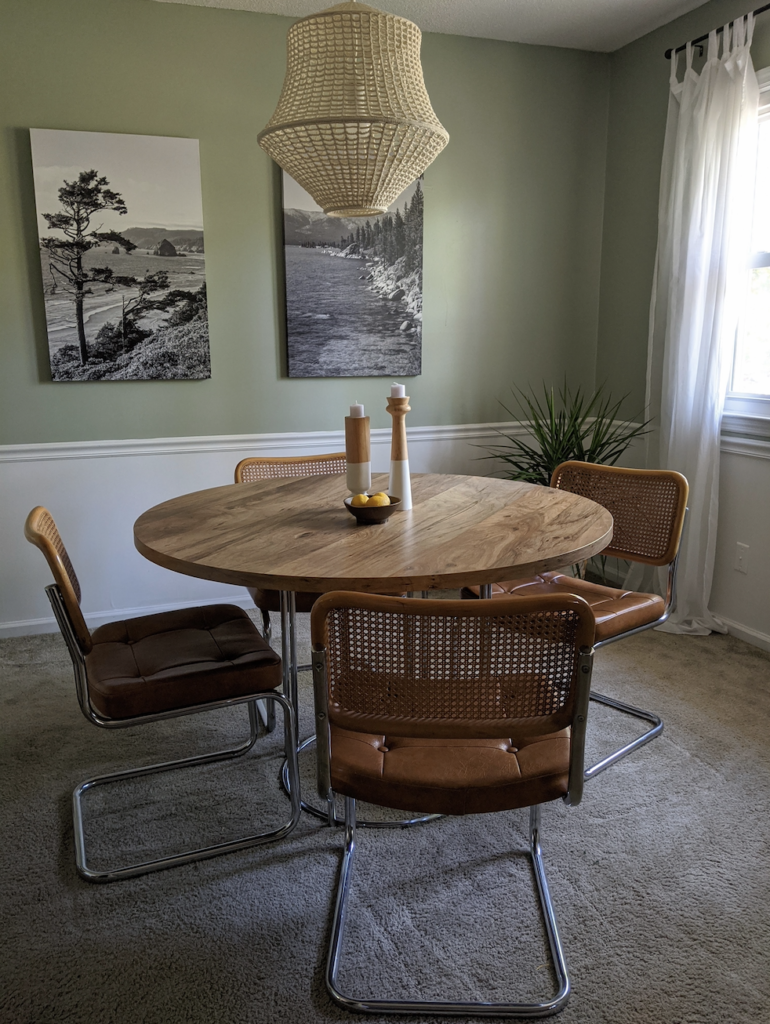 Most recently, I repainted the dining room in a dusty olive green. I'm going for a lighter and more beach house feel in my home. The gallery wall got simplified with just two oversized photos on canvas too!
Master Bedroom
Our master bedroom has been laid out in every way you can think of. I've played musical rugs in here, swapped art around, you name it. But..it had two main phases I would say. The first was the canopy and super bohemian look. I loved this set up so much! The room is tiny and I have pretty bad allergies..so the netted canopy had to go, but it was beautiful while we had it. Now, the bed sits on the floor, with a backdropped of a satin black wall. It's minimal + cozy, just how I like my bedroom retreat.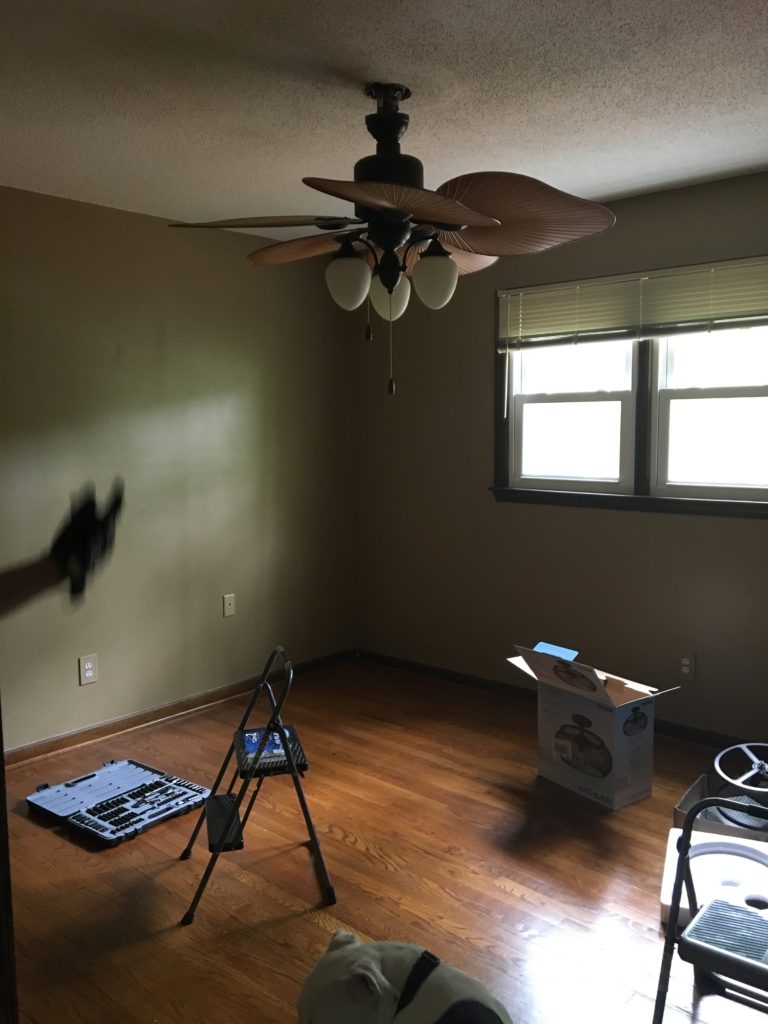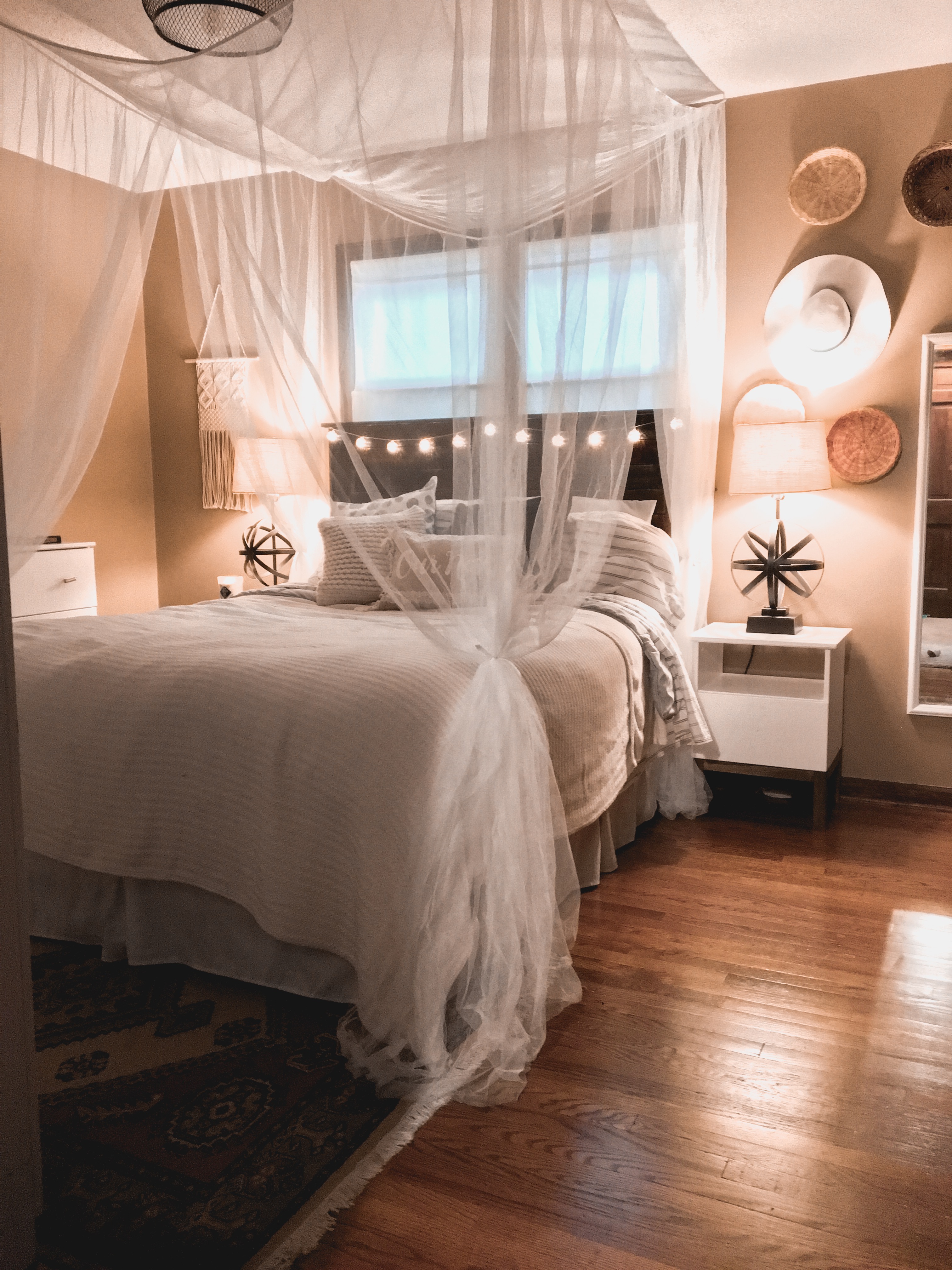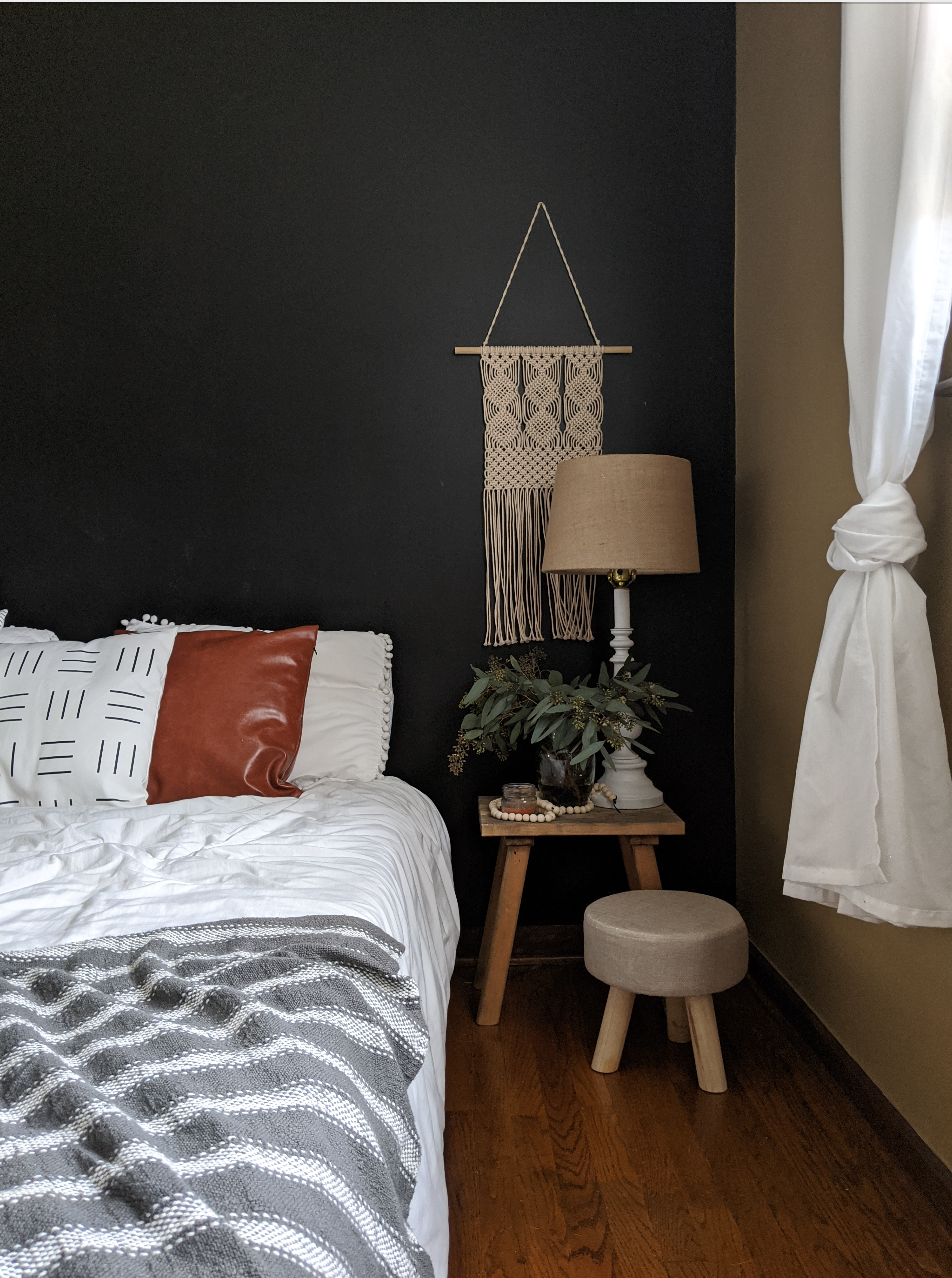 Guest Bedroom
The guest room started out as a fun experiment! $100 and a can of old paint, plus a gifted wall stencil. It was a room that was so fun to create and turned out absolutely adorable, but in the end, it was very trendy and I grew sick of it quickly. [read about the stenciling here]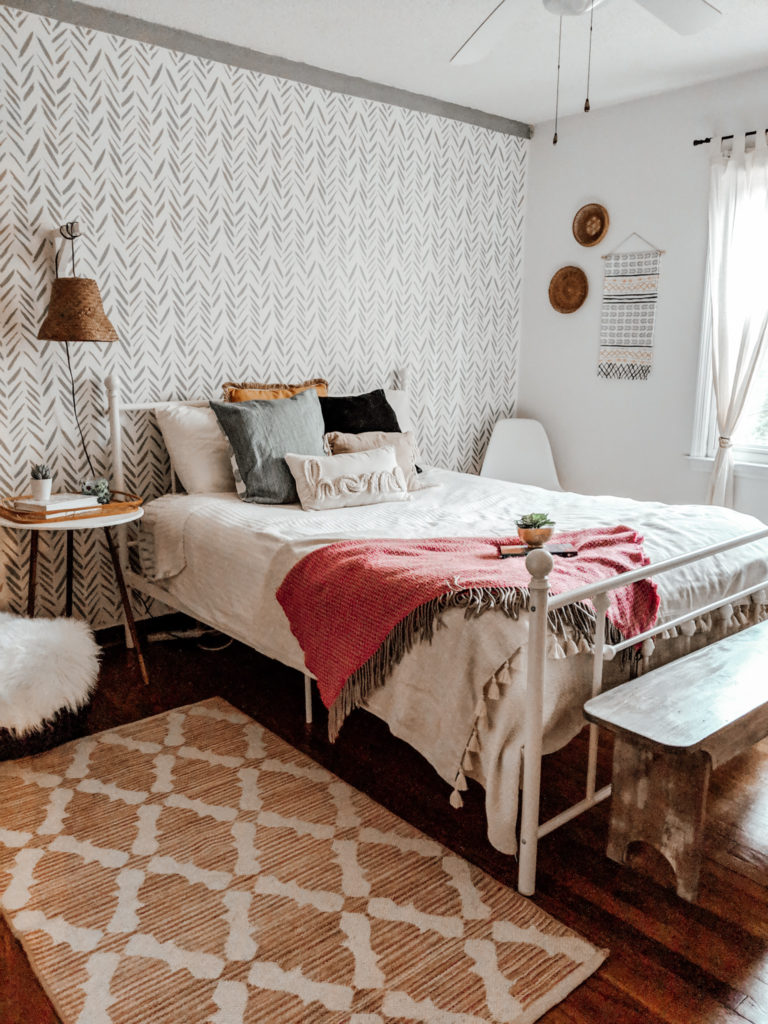 The 2nd rendition of my guest room cost me a grand total of $0. I used items from around my house and the leftover paint from my living room. I wanted to create a more neutral space for guests, and because the guest room was the only super colorful room in my home, so it felt out of place.
Living Room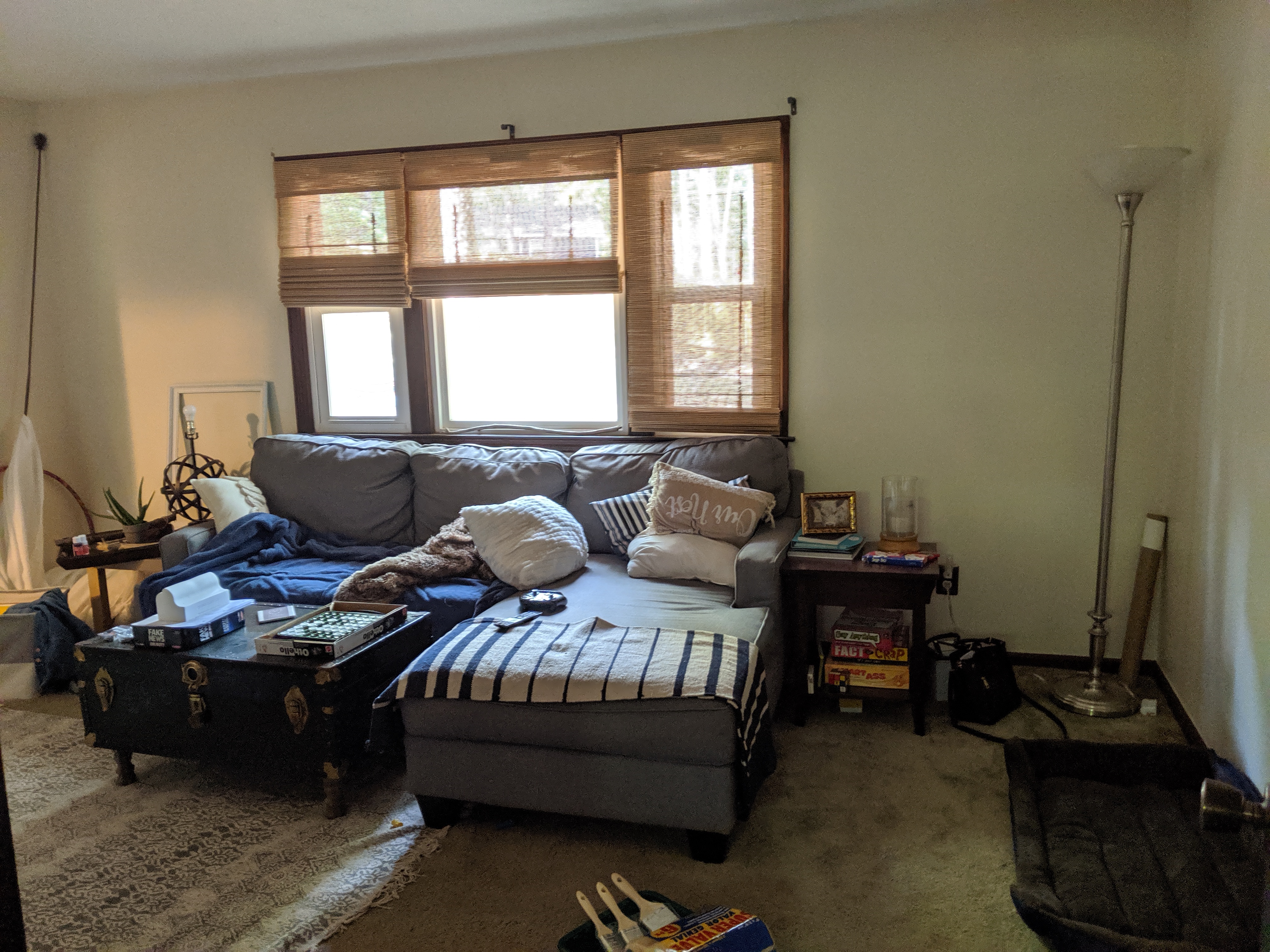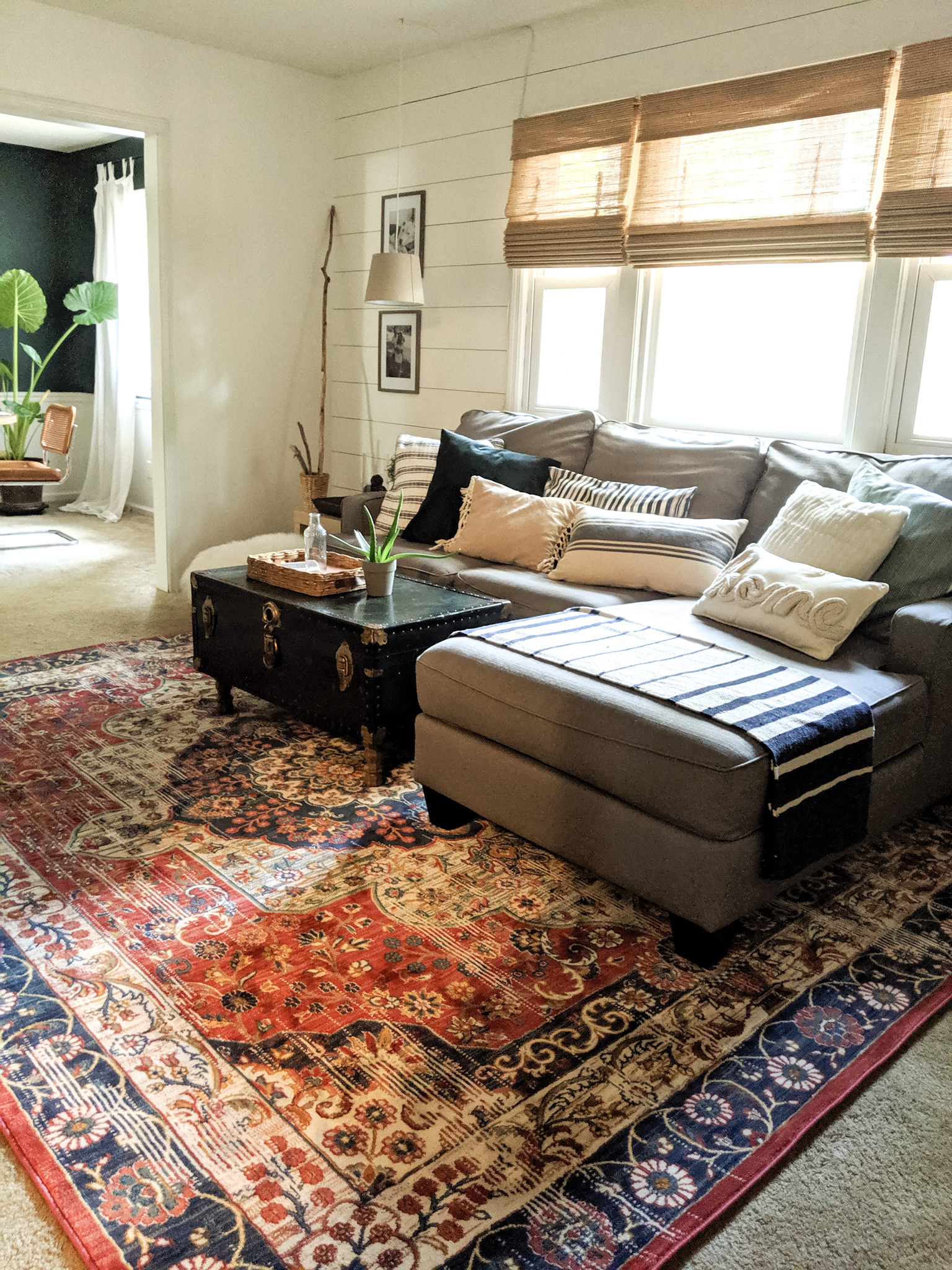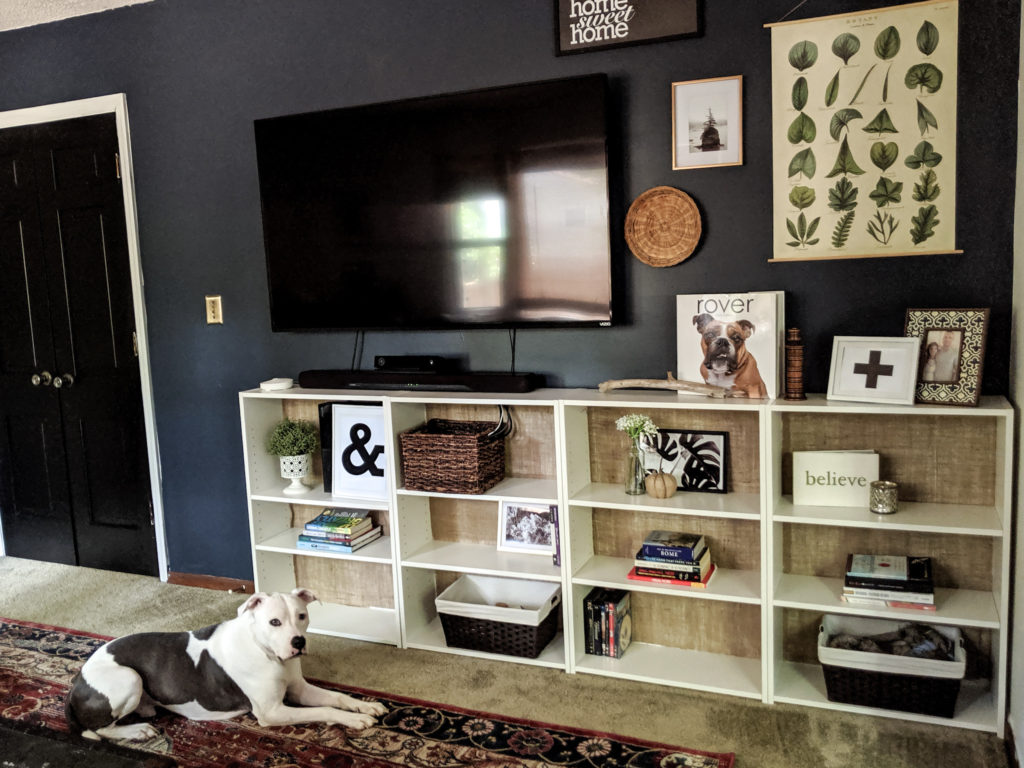 The living room wasn't used for almost an entire year after moving in! We used our basement as a TV room, while the living room just sat as a catch-all for our items. Truthfully I just didn't have a vision for it! Once I found a nice layout, it came to life. I did my first sharpie shiplap wall [check out here] and a makeshift built-in for my TV. This space is evolving and will soon be changed to match the lighter aesthetic of the dining room.
Home Office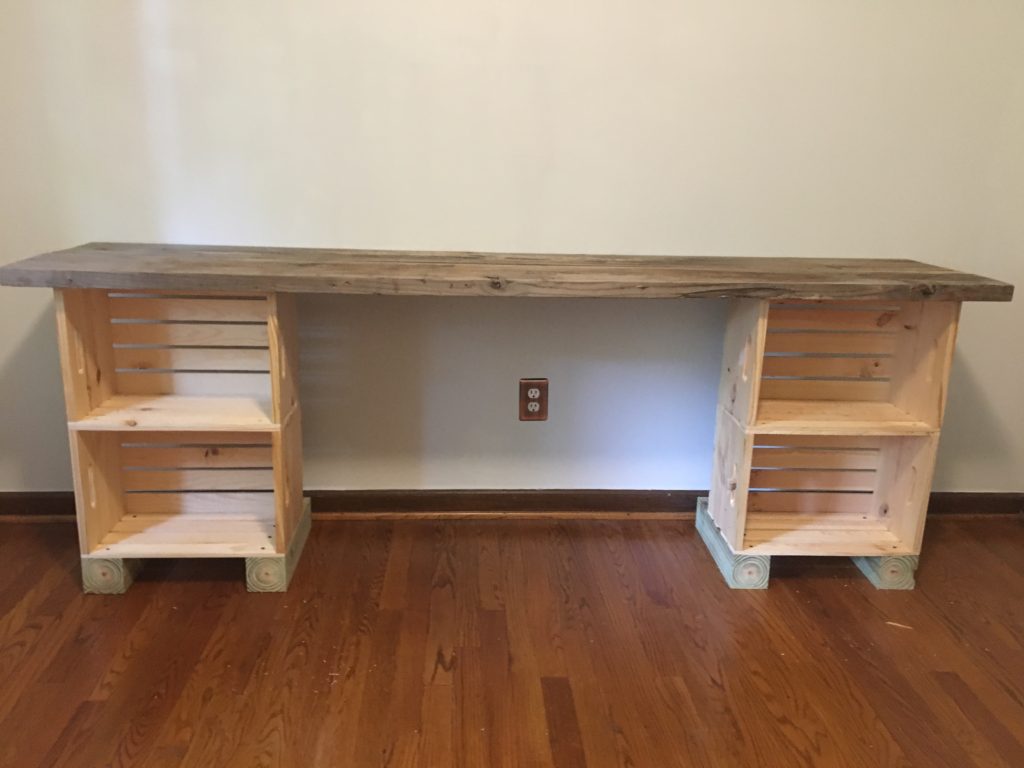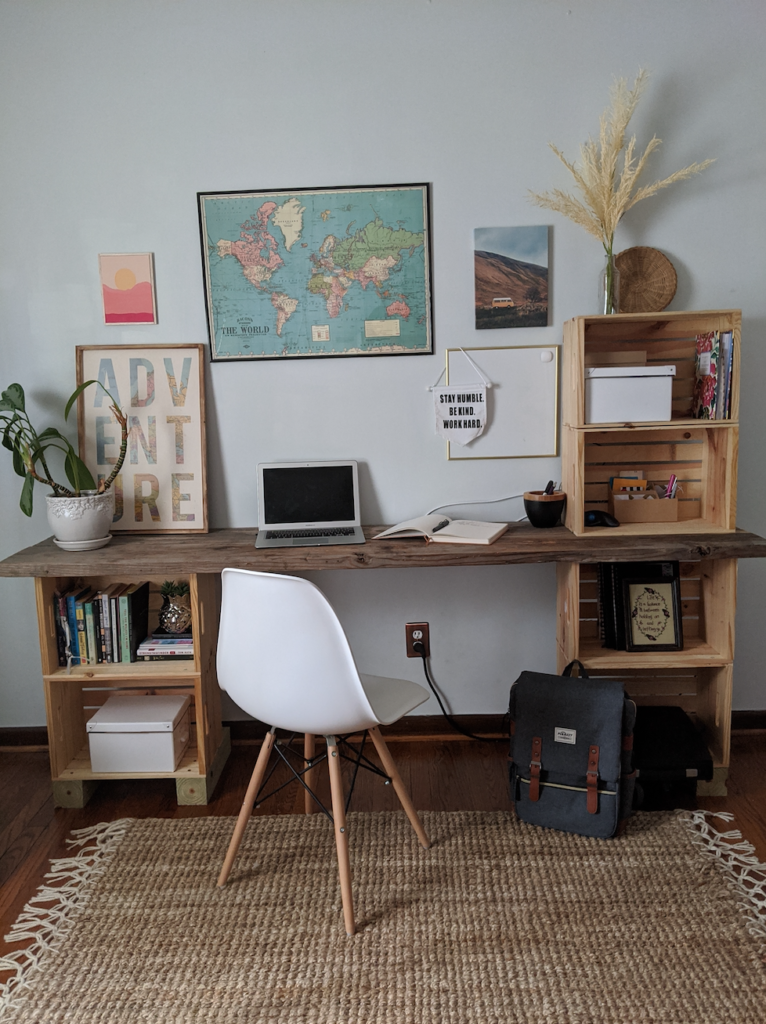 My home office has been through a few different renditions, mostly just swapping out rugs and the gallery wall. However, the structure and layout have pretty much stayed the same. It's my favorite room in the house, and the one I probably spend the most time in since I work from home.
[You can find the tutorial for my $80 crate desk here]
Entryway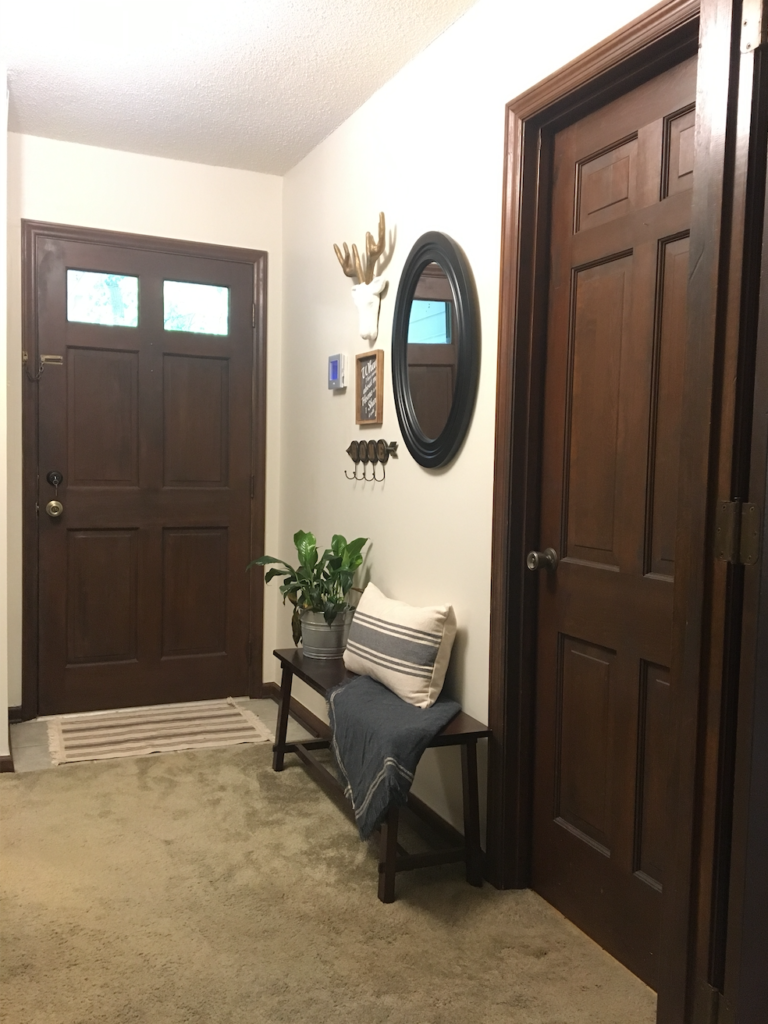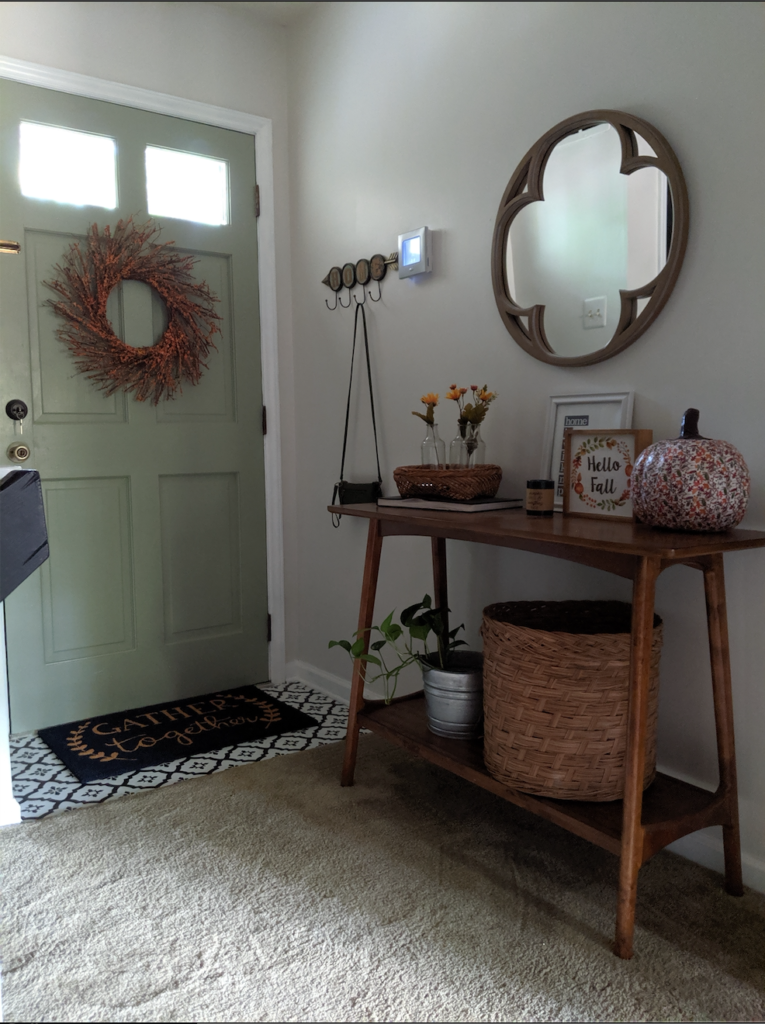 The entryway has come a long way! With brown..everything, the first impression of our home was anything but pleasant. We painted the trim white, doors black and shiplapped the wall. The wood feature also allows for practical hanging space which is much better than the console table. I also used peel and stick tile in front of the door for a pop of pattern!
Cost breakdown + what's next
After being in the house for two years, it feels like lot has change. However, to an outside eye, it may seem like very little! When we moved into the house, we had a bedroom set, a sofa and a kitchen table. Everything else we had to buy! We've made many changes in the house that aren't pictured, like painting all the trim and doors in the house, changing out all the light fixtures, and redoing the steps (in progress!).
I spent some time calculating roughly how much we've spent on the house over the last two years. From paint and supplies to furniture and decor..and every single space was furnished + made-over for under $3,000. Yes, you read that right. We furnished our home and flipped every space for under $3,000 over two years. I am incredibly proud of that! This has allowed us to save up for things that we want to outsource for..like new floors.
Our home was built in the 70's..so things were already strange. The bedrooms all have beautiful oak wood floors, and the rest of the house minus the kitchen and bathrooms have a muddy brown carpet. We've suffered through two years of this awful carpet and finally this summer we will be replacing it with luxury vinyl plank. It will make a huge difference in the appearance of the home and will only enhance the work we've already done! Of course we are no where near done. I already have plans for a new living room set up..and of dream kitchen. We are very aware that we don't want to stay here forever, maybe another year, two tops, but while it's home, we want it to feel the very best it can.
I hope you enjoyed my home tour! If you want more looks into my house, follow me over on Instagram @myeclecticgrace and on Pinterest.
A list of the paint colors used in my house can be seen here