It has been quite a week here! Honestly, it's been a bit surreal. As you know, Brian and I just celebrated a year in North Carolina this month, so we are not up to date on this hurricane thing. We are more snow storm and tornado type people ha! So with this impending hurricane coming our way, things have stalled a bit in the home improvement area of our lives.
Last weekend, we finished building the base of my desk – I shared the progress on my Instagram stories, but if you missed it, I crafted a 7′ desk out of Wooden Crates (From Michaels) and reclaimed wood from Habitat Restore. I spent a total of $60 on this desk, and with the extra scrap wood we sawed off, I have shelves to hang. Like I said, we are stalled until next week (fingers crossed!) on getting this finished.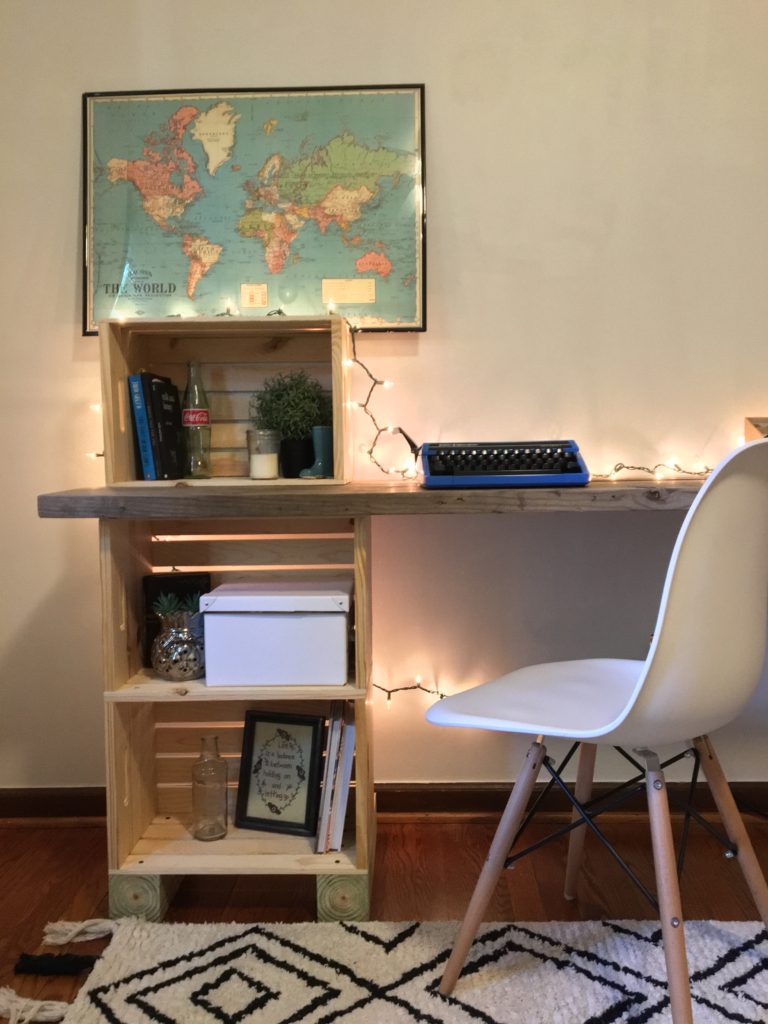 Change is a comin'!
I always strived to make my office my happy place, because i'm holed up in there 40+ hours a week, so I wanted it to be a space that I LOVE. In my previous apartment, my office doubled as the storage/guest room. However, I had spent years collecting items for my office to make it happy and cheery, which in the past meant a lot of pink, gold and white. My office was all pink, gold and white. I actually had this theme going since I was in college (my interior design studio in university was all pink)
This year has brought a lot of change in my personal and professional life. I've made huge changes and grown a lot, so naturally my tastes have changed. I've stepped out of my comfort zone in my home quite a bit, so when I decided to build a new desk, I decided it was time to purge the old office look all togther and find something that fit my new endeavors! Something fresh, something that encompassed me now and something that could grow with me. At first I was actually nervous about this...a non-pink office! After years of collecting glam-chic office decor it was not easy to just rid it all! But it was much needed. I have grown, and my office needed to foster that growth.
I'm going with a very eclectic look (duhh). The reclaimed and raw wood gives a vintage and industrial vibe, so i'm playing off of that with vintage items. I am finally displaying my stunning 1970's Remington typewriters (a gift from Brian) and my collection of poetry books. I have leather bound sketch books and journals from my travels abroad, and a vintage map I framed a few months ago displayed too. I bought botanical prints from a local business in Raleigh a while back – I loved them but had no idea where to put them, until now!
I plan on having plants on my shelves – I will start with real, and if my plant-lady skills fail me, I will resort to some nice faux succulents! And of course – inspirational quotes. But not the generic "believe, achieve, you can do it" kind, but actually curating ones that truly inspire me.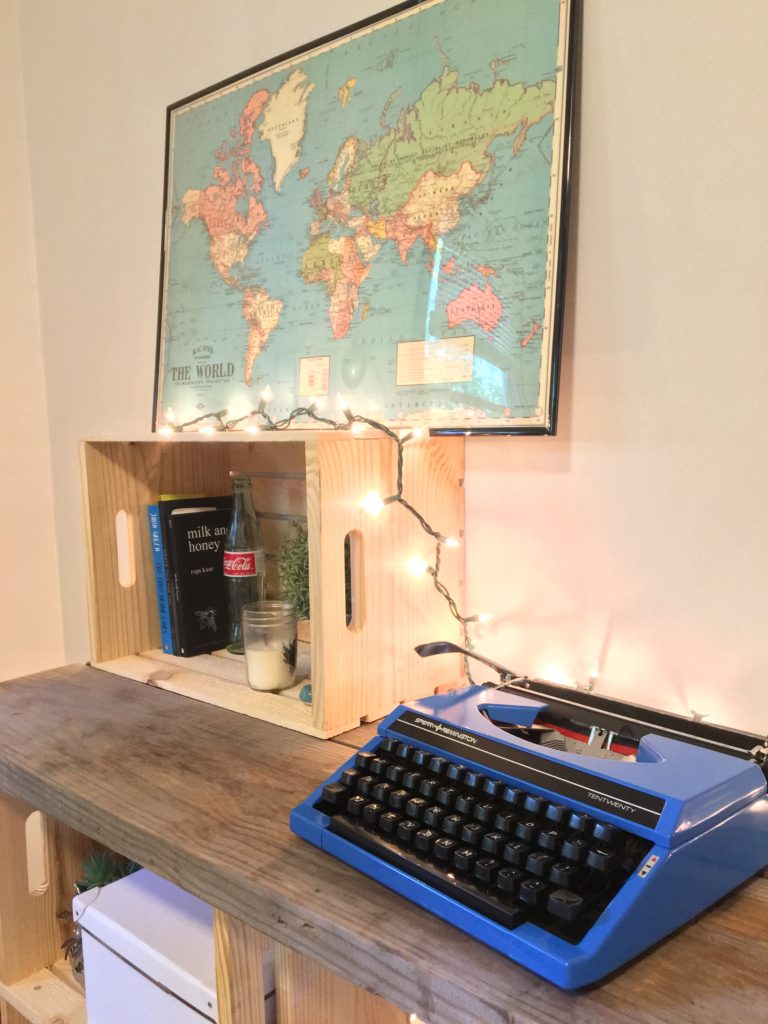 This office is going to be all me. It's were this blog was born, it's where I spent my days writing, working, manifesting my dream. I chose a rug I could stretch out on on the floor with my dog when I get overwhelmed, and chose decor that I wouldn't bore of. Crafting my own desk was an amazing experience too, because I made it just for me. A spot for all my cords for my double monitors, a spot for my vintage typewriter, and a space for my oil diffuser, so when I start to feel cray I can diffuse those calming oils and reel it back in!
I can't wait to show you all the finished space. I'm not rushing this space, because it's so important to me, I want it to be just right ♥
xx