I'm so excited to write about all my fall decorating ideas on a budget, yet it feels funny writing this post while I sit in my living room in a tank top and shorts – but that's September in the South I suppose! Leave it to a relocating Yankee to state something obvious like that. On the other hand, in the design world, it feels like i'm writing this article late – because like fashion, design is always a season ahead!
In my home, I have only just begun my fall decorating – primarily in the kitchen and entryway, but ooohh boy do I have a lot more to do. This is my first house, so watch out world, walking into my house will be like walking into a Pumpkin Spice latte…you get the picture.
I've rounded up some of my favorite fall decorating ideas on a budget! Some of these ideas are my own, and some are inspired by other amazing individuals. Happy decorating friends!
Fall Decor Dollar Store Pumpkins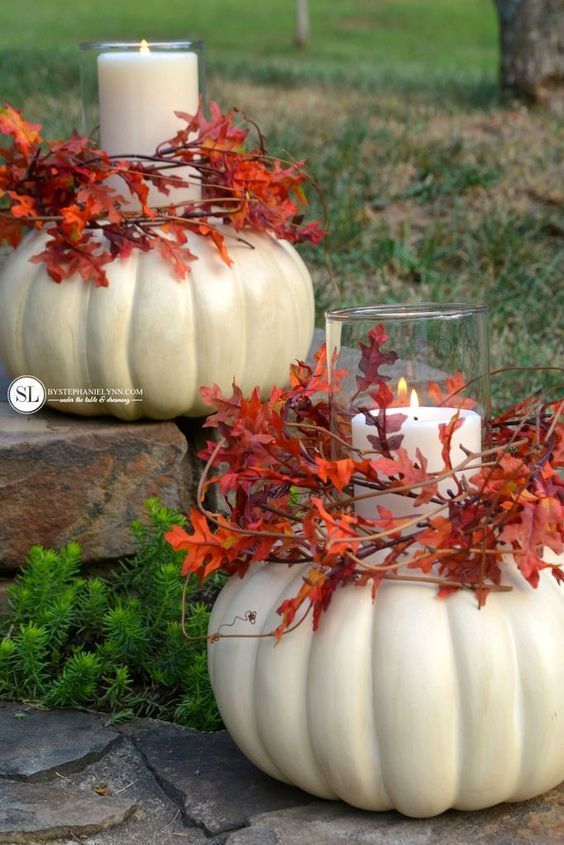 You can do countless things with dollar store pumpkins, but here are a few of my favorite ideas!
 Spray Paint them and put a glass candle votive inside (like seen above) both can be purchased at the Dollar Tree!
Spray Paint them jade, gold, silver, white and create a centerpiece with them by alternating sizes and colors down the center of the table (add a few acorns and candles too for fun!)
Using Mod Podge, cover them in ribbon (like burlap ribbon)
Glue a dollar store plate on top of a pumpkin for a fun autumn serving plate
Stack them from largest to smallest, gluing each one for a pumpkin topiary (paint them first!)
Fall Decor Garland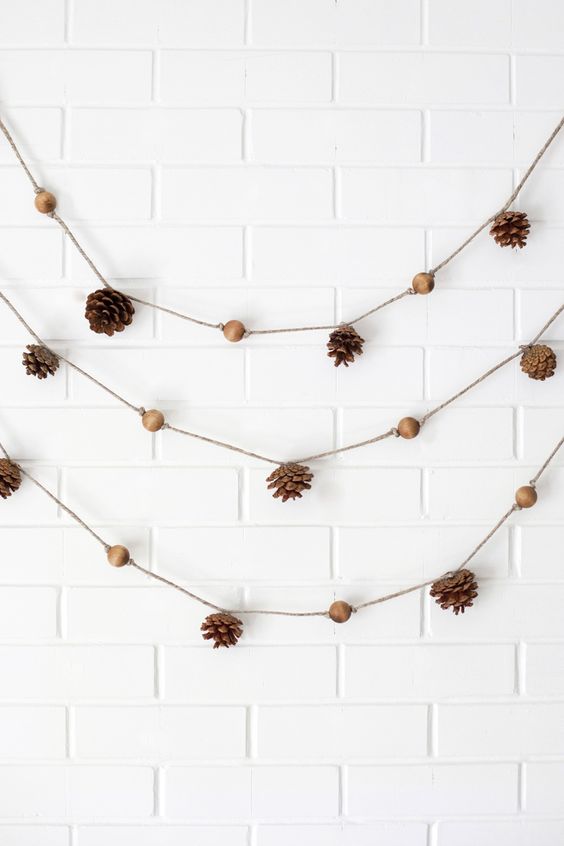 I bought garland from the Target Dollar section and strung it up everywhere. You can easily make it though!
You'll need twine string and faux leafs; hole punch a small hole in the top of the leaf and string the twine through – you can hang this across windows, mirrors, fireplaces, you name it

you can use felt leafs (either precut or you can cut them) felt pumpkins,etc

Get letters used for scrapbooking and do that same thing as stated above; cut holes to spell out words with garland. I have "Thankful" across my entryway mirror currently, but you could do any fall related word. This is simple and super cheap!

Try spraying the words in gold glitter spray for a little fall glam
There are about 400 garland ideas for fall on Pinterest – follow my Fall Decor Board for more Inspiration!
Fall Decor Lighting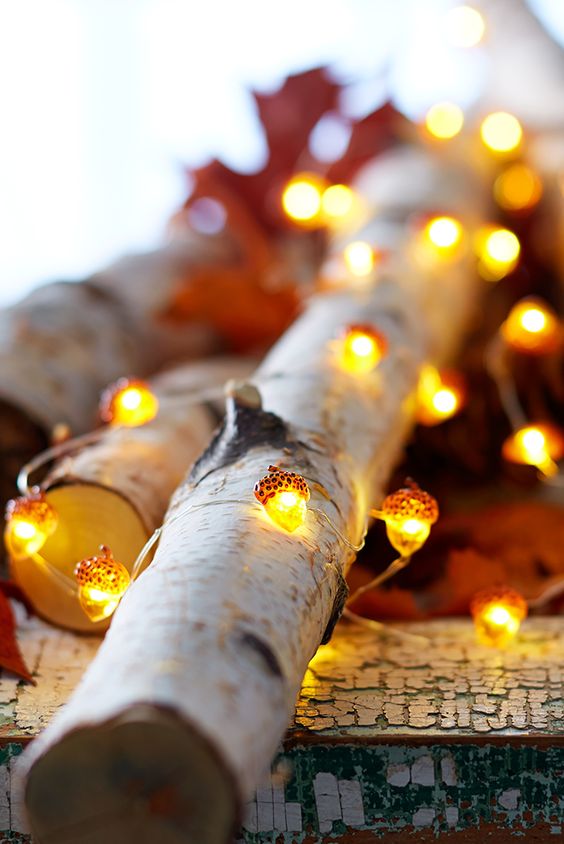 Many people thing lighting is just for Christmas, but I love using lighting year round. I have twinkle led strings that I tangle through my pumpkins and centerpieces. You can find LED lighting at craft stores, Walmart, Target, etc.
String it through your garland for a pretty feature around the fireplace
Bundle lights up inside a mason jar or lantern instead of candles – this great for fireplaces, tables and stairwells
They even sell acorn and leaf string lights – adorable for a front porch!
Fall Decor Prints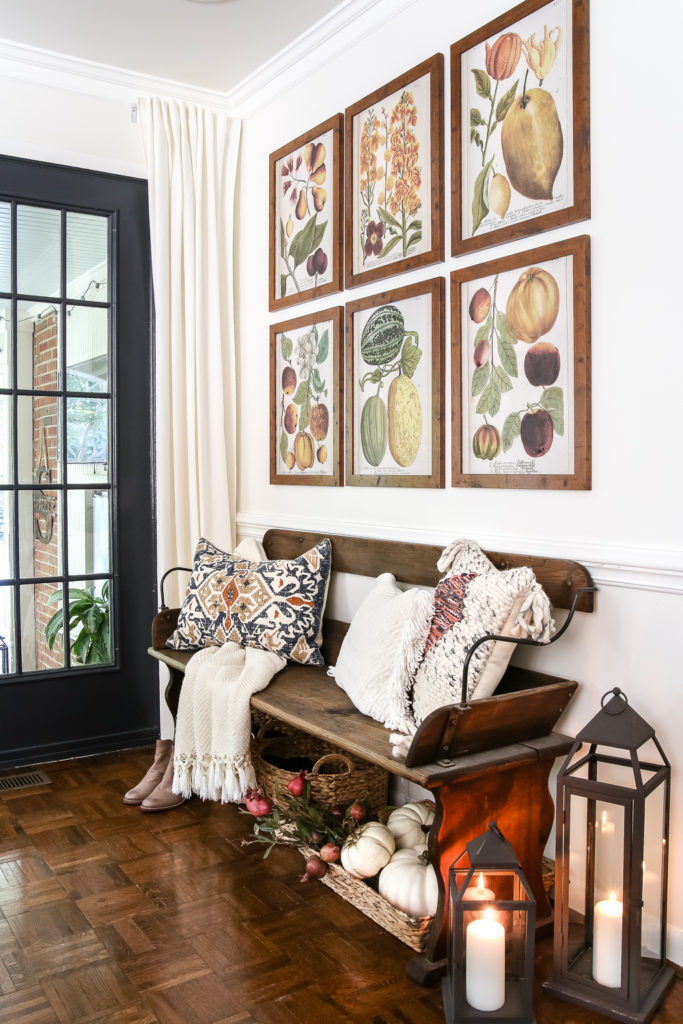 Do you have a gallery wall or frames that could use freshened up? This is my favorite thrifty trick for all holidays! I switch out prints in my gallery wall for holiday ones. For fall, I love using rustic colored botanical prints (Blesser house has amazing free ones!)
I've used season themed napkins form the dollar store and framed them
Use vintage postcards with fall decor/colors
Dry leafs out and press them on parchment or seeded paper and frame them for a high-end botanical look
Fall Decor Textiles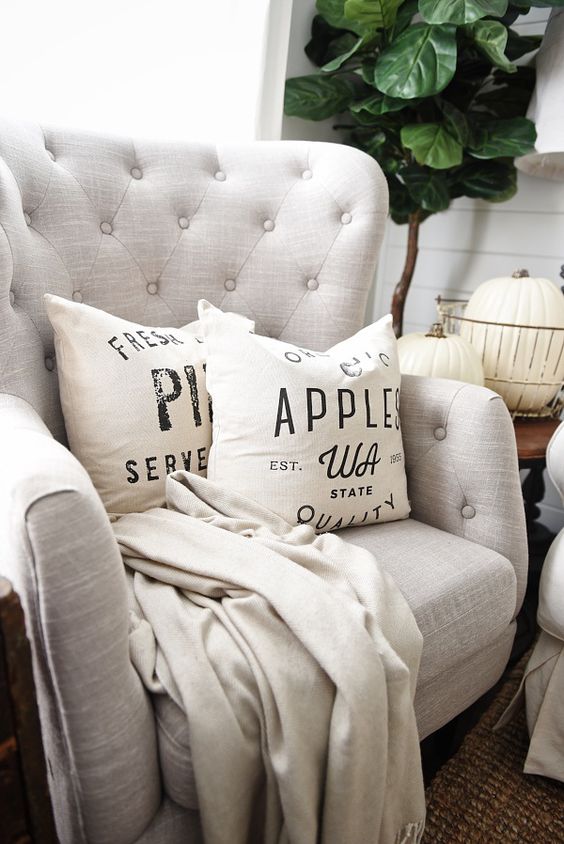 I'm not a fan of going all-out with themed table clothes and napkins..but changing the colors up with warmer and deeper colors works great for fall. It adds instant coziness! If your house is more of a modern or neutral scheme, try using cool colored fall decor like white and jade green (super popular this year!)
I like to add a chunky knit blanket to my sofa, drape a plaid scarf or two out of my baskets in my entryway, and maybe even toss in a few fall inspired pillows.
You don't have to go out and buy fall pillows – that can add up quickly! I like to swap my pillow covers seasonly, which is pretty budget friendly. I have quite a few large plaid scarfs that I place around the house for fall decor – it's free because I already have it!
Add some flowers with colors like red, orange, brown and yellow around in different vases for an instant fall decor vibe!
Want more? Follow me on Pinterest over here!